Post-tensioned concrete (P-T) to date has been one of the most fascinating and yet underrated construction materials. Its history dates to the late 19th century. However, its acceptance gained momentum in the 1950s. Then in 1963, structural engineer and P-T great T.Y. Lin substantiated the equivalent load method for the design of post-tensioned concrete. In the P-T industry's view, this is considered the watershed moment in the history of post-tensioned concrete. Since then, post-tensioned concrete floors have dominated the medium-high-rise building space due to their indeterminate nature and more robust seismic-resistant diaphragm capabilities.
The ability of post-tensioned concrete to be nearly crack-free, reducing the slab thickness, story height, amount of exterior cladding, which lowers seismic weight and foundation cost, has played its part in the popularity of the material. However, despite the popularity of material in the practical engineering world, many eminent P-T experts believe the academic world's response to this material has been somewhat lukewarm. Perhaps, the elective nature of the subject in civil engineering schools and universities has led to fewer specialists in the industry.
Post-tensioned concrete design is generally considered a specialist's job. Structural building design offices, in general, do not carry out the detailed design of the P-T system in the Middle East. However, this may not be the case in the West. In the United Arab Emirates, where high-rise construction is prevalent, post-tensioned concrete floors are the preferred choice for owners, architects, contractors, and structural engineers. Contractors opine that P-T floor plates provide access to other trades sooner than conventional RC floors, where form stripping usually occurs in only 28 days. This may have been a significant factor in the demand for P-T floor systems, apart from its other advantages.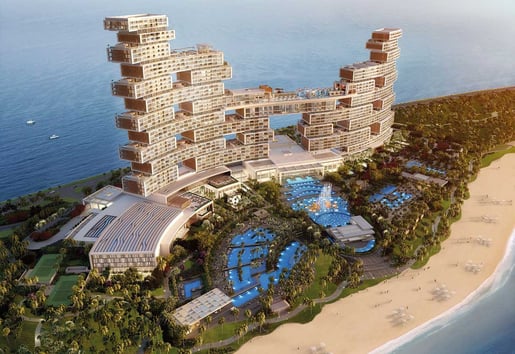 The Royal Atlantis features P-T floors - currently under construction at the time of writing this article
Despite all its advantages, post-tensioned concrete remains one of the most complex design topics. Today's engineer has their job cut out for them to design this difficult material with tight deadlines. Perhaps a comprehensive structural solution that can design P-T efficiently and economically under tight time constraints is the need of the hour.
Bentley Systems offers such a solution – RAM Concept. It is a desktop software application for analyzing and designing post-tensioned slabs incorporating complex floor geometries, powerful task automation, and easily understandable output. With RAM Concept, you can model tendons in their true three-dimensional positions. Banded, distributed, or arbitrary tendons with virtually any profile can be easily modelled. RAM Concept tendon loading analyses consider full 3D hyperstatic (secondary) effects, including restraint from shear walls and stiff columns. These features facilitate a better understanding of the effects of tendons on the slab and with the PT Optimization feature the user has greater control over the design resulting in economy and efficiency. Temperature and shrinkage effects, along with all possible gravity and seismic load options, streamline the design workflow.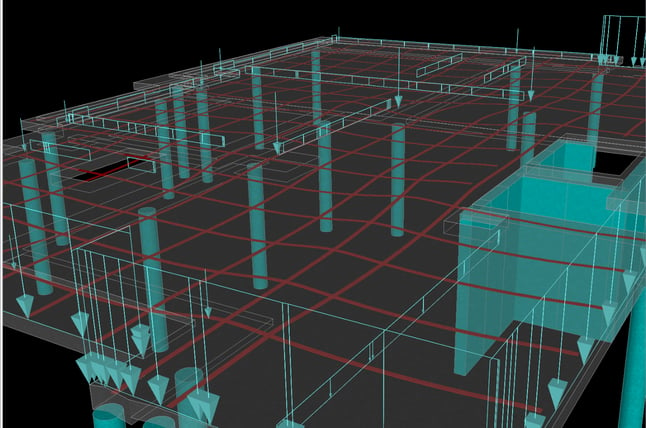 Realistic three-dimensional layout of the prestressing steel in the structure
Take advantage of a variety of design codes:
ACI 318

AS 3600

Eurocode 2

BS 8110with TR 43

CAN/CSA A23.3

IS 456
RAM Concept features that cut above the competition including:
Compatible with

Analytical iTwin format (formerly ISM), including Revit integration.

Direct integration with STAAD and

RAM Structural System

.

Python Scripting API Capabilities.

Import and export of CAD drawings-RAM Concept's importing CAD background considered to be almost seamless.

Superior Load history deflection calculations.

Finite element mesh generating capabilities-automated and most straightforward.

User-defined shear reinforcement feature.
With various options ranging from banded, manual, and generated tendons, and the latest advancement, Optimize Tendon Manager, to optimize the tendon layout most efficiently, RAM Concept is your ultimate global post-tensioned concrete design tool. For all of these reasons, companies worldwide have deployed RAM Concept for PT and R-C plate design.
Dean Genner, Technical Director at Taylor Thomson Whitting, noted, "RAM Concept's ease of use and ability to model complicated floors for both post-tensioned concrete and Reinforced concrete floors is unparalleled."
WSP used RAM Concept to design floor plates and foundation of the unique geometric design of The Shard at London Bridge Quarter.
RAM saved 25% in structural design time in designing a complex basement on Waldorf Astoria Hotel in London to complete the design phase one month ahead of schedule.
Diego Padilla Phillipps, Associate Director of Structures, WSP, noted, "RAM Concept provides a successful platform for analysis, design, and delivery that exceeds all our expectations. We are committed to using RAM software in our concrete buildings."
Learn more information about RAM Concept here.
https://www.virtuosity.com/product/ram-concept/
---

Want to talk to a Bentley Structural Expert?
Looking for the price and benefits of the Virtuoso Subscription? Learn more here.
---
The Uptown Tower Post-Tensioned Concrete Design Webinar
Join us on May 25th, 2021, at 7:00 PM GST in a webinar where we take you behind the scenes in the post-tensioned concrete design of a mega-project - the Uptown Tower.
---
Webinar Series
Watch the Virtuosity team design a brand-new building from Concept to Construction!
Join us on our Digital Construction journey in a webinar series where we take you step-by-step through the conceptual and preliminary building design processes. We will be using a variety of different software products from our collection!
To learn more about what you can accomplish with Virtuosity, you can register for the entire webinar series below or choose to just join in session 5 which is dedicated specifically to Structural Analysis!
The tools that you will see showcased in this nine-part webinar series are: