DGN, the main file format for MicroStation, is one of the many design files that is supported. In this blog, we will have a closer look at all the different CAD file formats you can work with in MicroStation.
What is a file format? It is the way a file with graphic (vector or raster) information is stored on your computer in bits and bytes. Every software provider has its own way that is best fitted for the purpose. You may ask: is there a standard for this? Answer: Yes, but there are many standards for file formats. That is the problem. Luckily, in MicroStation, many different file formats are supported.
"Supported" in this case means:
Open the file for read-only or attach it as a reference

Open the file for read and write so you can make changes in the file

Import – read a file and store it in DGN format

Export – save a file in another file format
MicroStation can work with DGN, V7, and the DWG file formats. The V7 format is an older version of the DGN format. DWG is the AutoCAD file format.
The process of changing the file from one format to another is called a conversion. This is like a translation of a text from one language to another. And like in a translation, there is always the risk of losing information during the conversion process. In a translation, you use a dictionary and grammar rules. In a conversion, sometimes settings are used to control it. So, try to avoid conversions in your workflow. Do not convert files to other formats, unless required.
Now, let's explore the supported file formats for MicroStation!


Saving Design Files
You can use "Save As" for file formats that can be opened by MicroStation in read-write mode.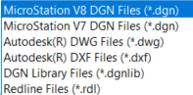 You can also use the Export tool. The difference is that "Save As" will open the new file after the conversion. Export is only creating the new file and not opening it.


Importing and Exporting Your CAD File
| | | |
| --- | --- | --- |
| With Import, you can read vector data from a file in a non-DGN format into the currently open DGN file. In the backstage menu, under Import, you see that the many file formats are grouped in three categories. | | Export is found in the same menu. It is used to read data from your current open Model to a file in another file format. The many file formats are grouped into four categories. |
| | | |

Attaching Reference in Design Files
For displaying vector data of all kinds of file formats, Attach as Reference is used. It has graphical data as a read-only background for your design. In attaching, you can set attributes such as the presentation, symbology, and position. Below is the list of file formats you can Attach as Reference to your design model.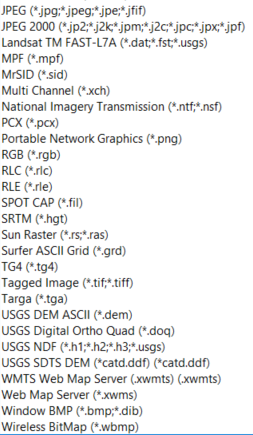 Attaching and Converting Raster in Your File Format
The list of Raster file formats is long. In attaching, you can set the position, display sequence, transparency, and much more.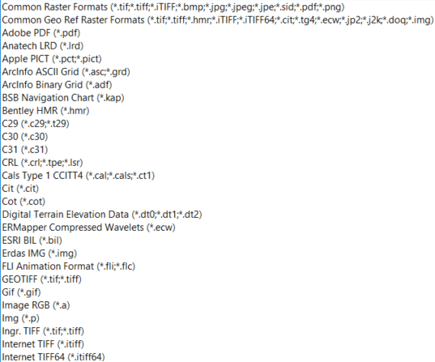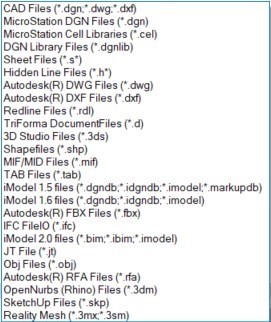 MicroStation also can convert raster files from one format to another. You can change the size, resolution, color, and Geographic Coordinate System. Here's the dialog: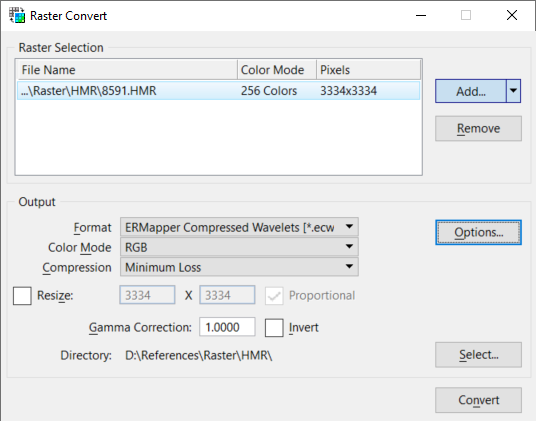 Point Cloud and Reality Mesh
This is the list of all the Point Cloud and Reality Mesh file formats MicroStation can read.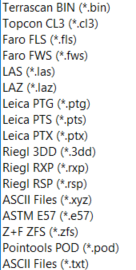 After reading, the Point Cloud is converted to the internal user format (.pod). In the Point Cloud Dialog, there are some options for Export and Conversion.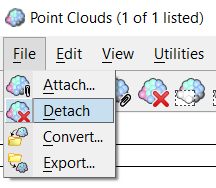 A list of all the supported file formats is

here
.
For the most up-to-date list of supported file formats please visit the MicroStation Help documentation. You can find the help on product documentation. In Update 15 the possibility to attach an iModel as a reference was added.
In OpenCity MAP some more formats are supported, especially GIS related formats.


Learn more about supported CAD file formats and interoperability with MicroStation and watch our webinar on-demand: