The transportation industry is talking a lot about construction digital delivery lately. In fact, according to a recent article in Roads & Bridges, "about a third of state [Departments of Transportation (DoTs)] already require a for-information-only BIM model on projects. And some states have gone further, making the model the primary contractual document, in many cases eliminating selected 2D plan sheets. Even more, nine states have completed, or are in the middle of, pilot projects that use a model as the signed and sealed legal document."  
Why such a big shift to digital delivery? There are many reasons, but before we get started, let's talk about what digital delivery is... 
What is Construction Digital Delivery? 
Construction digital delivery is a model-based approach in which data is compiled digitally during each stage of the project lifecycle to improve quality and cost certainty while expediting overall project delivery and optimizing asset management.  
For DoTs, [digital delivery] means using 3D models and data contained in a digital twin for a paperless, streamlined process, enabling collaboration across the supply chain. Digital delivery also replaces 2D plans as the contractual deliverable for construction with an all-digital delivery method utilizing data-rich 3D/4D models and digital twin technology.  
Why should you make the shift to digital delivery? Read on to find out.
Reasons to Shift toward Construction Digital Delivery  
Disconnected and siloed workflows and a lack of coordination between design and construction teams are some of the biggest reasons to make the shift to digital delivery. 
For example, when we talk to clients, we hear a lot about how long their current design review process is, including multiple design iterations – sometimes even five or six iterations before bidding even begins. That equates to a lot of time and money spent on redesign. 
When these projects make it to the construction phase, DoTs and contractors oftentimes face a plethora of design errors that result in costly change orders and omissions, leading to added risk, rework, schedule delays, and cost overruns. 
Now think about when it is time to manage and operate the asset. What happens if, five years after a project is completed, there is a recall on the guardrail you used on the project? How do you identify where you need to replace it? This process is doable with traditional methods, but not without a huge manual and time-consuming effort.  
It does not have to be this way though. You can change this story with digital delivery. 
The Benefits of Adopting Construction Digital Delivery  
The benefits of adopting digital delivery workflows are plentiful. HDR incorporated digital delivery into a project to develop a high-level strategic plan for the Iowa Department of Transportation. In their experience, posted on their website, digital delivery allowed them to "seamlessly share information across the organization as well as provide value to external users of the digital deliverables, such as construction contractors and suppliers."
Let us break this down into specific benefits realized throughout the project lifecycle.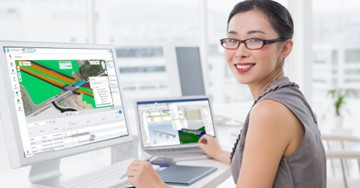 Build your projects visually first to reduce risk, and limit exposure to workspace and logistic clashes.
Streamlined Preconstruction Processes 
By utilizing digital delivery, you can leverage 3D/4D models to enhance collaboration between design and construction teams, ultimately improving the ability to share design intent and expedite your design review process.  
Beginning with pre-construction activities, contractors can utilize 3D models to produce more accurate quantity take-offs and construction estimates. While viewing the 3D model, teams across the supply chain will be able to easily see omissions or detect issues during the bidding phase. Improved visibility leads to increased dialog between owners and bidders prior to the contractor selection and may result in lowering the number of change orders, producing more competitive bids, and reducing risk on the project.
With a 3D/4D visual representation of your project, you can validate and optimize your project plan and schedule with contractors before construction even begins, enabling you to minimize mistakes during construction execution, reduce risk, and limit exposure to workspace and logistic clashes.  
In addition, digital representations help you collaborate on the model in real-time, as well as perform "what-if" scenarios by reviewing time-lapsed construction sequences to significantly reduce cost overruns, delays, and risks.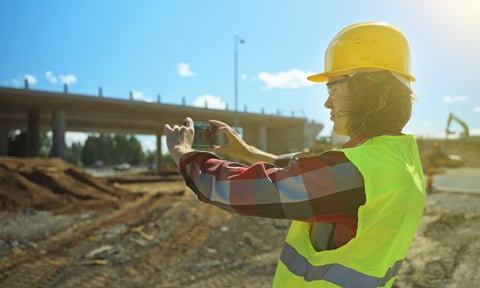 Field crew can capture issues in real-time based on their location using GPS.
More Efficient Construction Execution – from Office to Field
By implementing digital delivery, you can share your web-based 4D sequence with all your contractors and subcontractors, including crews on the field, enabling them to see areas of concern and potential problems virtually before they occur in the field.  With this improved communication and collaboration between the office and the field, teams can better mitigate risk and make more timely and informed data-driven decisions. 
During a recent Highway Engineering Exchange Program webinar, Matt Blake from Lane Construction said: "From a contractor's perspective, utilizing model-based delivery enables more accuracy, transparency, collaboration, timely data, and streamlined and repeatable processes."
And if that is not enough, data collected by HDR shows that digital delivery could reduce change orders by 15% – a significant financial benefit. 
Improved Asset Operations and Maintenance
Digital delivery makes the operation and maintenance of an infrastructure project easier to manage over the life of the asset via digital-as-builts, which are defined by the U.S. Department of Transportation as digital records of the constructed condition of assets in an electronic format. Digital as-builts include the files and data added by design teams and collected by construction teams. As more projects are delivered digitally, more data becomes available across regions or districts. With digital-as-builts, operations and management teams have the data available to locate specific assets, then they can interrogate the asset data to plan, schedule, and maintain assets more effectively.  
Think back to the example of the recalled guardrail listed above – though that project once took weeks, it will now take an hour or less with access to digital-as-built records. 
With all these benefits, who would not want to adopt digital delivery?
Implementing a Construction Digital Delivery Strategy  
As with any major organizational change, digital delivery is not an overnight process and may involve changes to long-standing practices for both design and construction teams that will ultimately improve collaboration, streamline communications, and enhance the delivery of projects.  
Some of the key steps to begin this journey to digital delivery include: 
Transitioning from 2D plan sets to 3D models for construction - W

ith 3D models, design and construction teams can capture additional project data, providing a more comprehensive overview of the project, increasing the design intent and quality and streamlining review processes.
Providing contractors with 3D models for pre-construction planning - Contractors can use 3D design models and turn them into 4D construction models to generate more accurate bids, reduce risks, increase safety, and optimize project plans and resources, as well as increase collaboration from the field to the office.
Implementing digital delivery on your projects - You can get started with digital delivery by partnering with industry groups, consultants, and technology vendors who will guide you as you develop and begin your digital journey.
Learning from other state DoT digital delivery experiences - With so many DoTs already starting to implement digital delivery workflows on their projects, there are many lessons learned and success stories for you to take advantage of.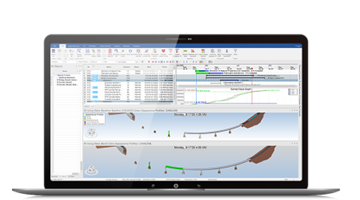 Bridge the gap between design and construction with SYNCHRO's 3D / 4D workflows.
The Digital Future Is Here 
Digital delivery is more than a buzzword. With the Infrastructure Investment and Jobs act in the United States and the influx of infrastructure projects, digital delivery will be key to combating the challenges the industry currently faces, such as inflation, rising material costs, and workforce shortages. Adopting this new way of delivering projects will provide benefits that impact the entire project lifecycle and supply chain, including more efficient project design and planning, streamlined construction processes and execution, and improved asset operation and maintenance.
But achieving digital delivery within your DoT organization does not happen overnight. Construction digital delivery includes a lot of workflow and process changes that might seem overwhelming at first.
SYNCHRO is here to help guide you through the journey, step by step. 
SYNCHRO's digital construction management solution, including mobile field applications and 3D/4D workflows designed for heavy civil infrastructure, will enable you to bridge the gap between design and construction as well as increase visibility, predictability, and productivity so you can focus on building projects you can be proud of.
Contact us today to discover how SYNCHRO can help you achieve your construction digital delivery goals with confidence.
Bentley Systems Infrastructure Cloud powered by iTwin, offers a wide variety of solutions to help you manage and visualize project, construction, or asset information to improve project performance and make better, faster, data-driven decisions. Learn more here.
Sources:
To discuss SYNCHRO in more depth or request a trial, please fill out the contact form HERE