A 3D PDF (Portable Document Format) is a PDF file with 3D geometry inside. The file contains a 3D geometric representation of the model, not just images from different viewpoints. Using any 3D PDF enabled viewer, rotation, zoom, and part selection are available within the 3D view. This is often used for documentation, sharing, and collaboration.
When engineering departments collaborate with other departments or the wider supply chain, their 3D CAD files are often​ too large for transfer. Moreover, it is rare that the consumers of this content need access to the full-fidelity 3D CAD, so a secure 'lightweight' representation, contained within a PDF file, is an ideal solution as the original CAD data is never shared.


3D PDF — the Ultimate 3D Model Viewer
For some time, PDF documents have been a ubiquitous component of our business interactions. Whether in the office or field, engineering and design professionals depend on PDF files for quick and secure delivery of project documentation. As such, it probably comes as no surprise that MicroStation can output to the PDF format.
What you may not have been aware of is with MicroStation, you can deliver your designs in 3D PDF. To be clear, we're not talking about a flat illustration of your 3D design, but an actual 3D model with rendered materials you can rotate and manipulate in a PDF viewer.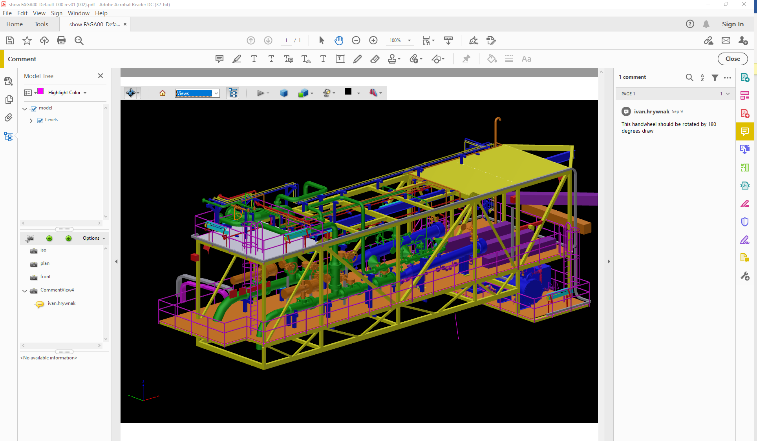 Why Export to a 3D PDF?
Because a 3D model contains details that may have been hidden or otherwise obscured in traditional 2D plans, elevations, and sections, but PDF brings more to the table than just the ability to view a file. Powerful mobile devices and readily available PDF viewers have made field markups without a roll of paper drawings a bit more practical.
Using a product such as Adobe's Acrobat Reader DC, designers and constructors can create "pages" of markups from a single MicroStation master model that has been "Printed" to a 3D PDF.
The process to create a 3D PDF for field markups is similar to standard plotting:
Prepare the model for printing.

If you have not already done so, assemble a master model containing the 3D components from the various disciplines, systems, and background/reference geometry you deem necessary.

It may be beneficial to limit the area of interest with a clip volume, so it will not include geometry from the entire model.




From MicroStation's backstage

Print

section, select

Print to PDF




Select

Print to File…
It's that easy to create a PDF model that's ready for markups. Review, analysis, and annotation functionality are, of course, dependent upon the PDF viewer you are using. If you are using Acrobat Reader DC, you can rotate and zoom about the model, create sections and new views with notes, clouds, and other annotations.
And there's more…
While creating 3D geometry for markups is quite useful, there are other features MicroStation delivers with its PDF print facility:
With a little additional set-up, the "Business Data" attached to a MicroStation model's geometry becomes viewable in the PDF as property/value pairs.

If a MicroStation model has a geographical coordinate system (GCS) defined, you'll be able to create PDF documents that leverage the viewer's geospatial facilities.

3D MicroStation Models containing animations can be ported to PDF documents and played from any vantage.

Using the

Print Organizer,

you can create multi-page PDFs with hierarchical bookmarks.


So, are 3D PDFs from MicroStation the right solution for you?
Maybe. While there are a number of solutions for creating field markups, PDFs are a viable entry-level solution. Here is why:
The functionality that creates robust 3D PDF documents is built into MicroStation.

There is no additional software to download and no additional costs.

PDFs are easily viewed on various platforms/devices with no-cost viewers that include mark-up capability.

PDFs have built-in security and are easy to distribute.
So, are 3D PDFs right for you? It's easy to find out. Just open MicroStation and give it a go.
Watch the Webinar Recording: "Visualization & Display Quality"