"Digital construction is the use and application of digital tools to improve the process of delivering and operating the built environment" - Fred Mills, The B1M.
In recent years, we have seen new technologies disrupting the construction industry: Augmented reality, 4D, drones, etc. Just a few years ago, some of these were believed as "futuristic" or even unfeasible from an adoption or legislation point of view. I was astonished when I learned that Angells Surveys (aerial, land, and marine survey service provider based in the UK), operated a drone right in Central London to generate a reality model of The Ritz. Five years ago, the idea of a drone flying in urban London would have been ridiculous.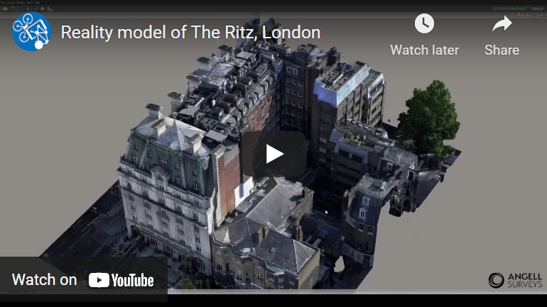 Reality Modeling plays a key role in digital construction. Reality modeling is the process of capturing the physical reality of an infrastructure asset to add real-world digital context to your projects. The value of having an accurate representation of your physical asset and its environment is tangible at all levels and stages of the asset life cycle:
Project Communication
A reality model provides the most accurate and realistic representation of the project. Which makes it accessible for everyone to understand the impact of any decisions to be taken.
Workflow and Resources Optimization
By using the reality mesh as the basis of the engineering workflow.
Project Collaboration
A single source of truth, a digital twin that can provide and link all relevant information together.
Competitive Edge
Reality Modeling allows you to deliver and operate your project fully digitally providing you a competitive edge over your competition.

The market offers many different software solutions for Reality Modeling. The learning and integration of this technology might not always be easy but for those not familiar with photogrammetry or surveying, it's becoming more and more common as the technology becomes more accessible. But even for a very experienced photogrammetrist, the constant change remains one of their biggest challenges: new sensors capturing even more data, new software workflows and functionalities, integration with other platforms, generation of greater outcomes...
Small and medium business are much better early adopters of new technologies, which normally are more affordable and provide them with a competitive edge over bigger companies. However, most times, they need to learn by trial and error how to work with these new technologies.
Virtuosity provides all licenses with dedicated support and training which is Key for our customers' success. I believe that dedicated support and training is crucial to ensure project success for both the operator and the end customer. In a rapid changing environment, we want to support our customers in every step of the way, learn and grow with them.
Learn more about Digital Construction with Reality Modeling in our upcoming webinar
Join our Reality Modeling Community to stay up-to-date with the latest news and events
References:
https://www.theb1m.com/video/what-is-digital-construction#:~:text=It%20could%20be%20the%20improvement,delivery%20and%20operation%2Ffacilities%20management.