Drawing Extraction in MicroStation is now what we call Dynamic Views. Dynamic Views is the technology that makes model analysis and documentation more interactive and intuitive to projects with multidisciplinary professionals. The old static views are now replaced by the ability to create live, intelligent views of a design that update automatically as the design evolves and makes teamwork easier while minimizing errors.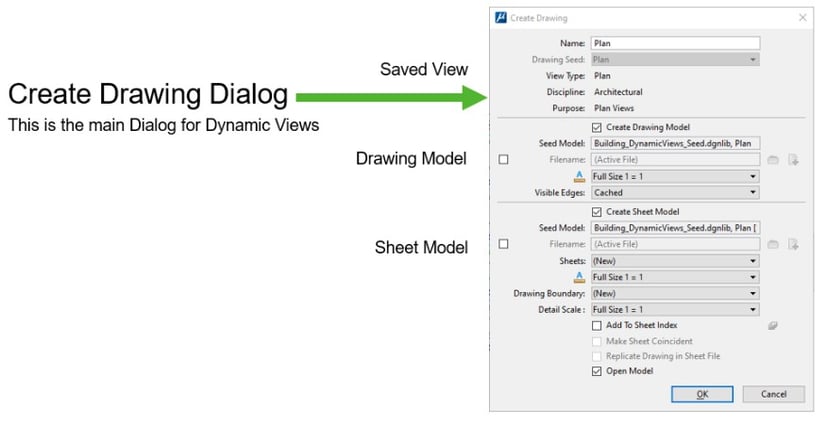 The technology used in Dynamic Views includes:
Drawing Composition
Drawing Composition offers a dynamic approach for interconnecting project drawings worked on simultaneously by a project team. For example, you can have one person working in the first-floor plan design file while the other works in the second-floor plan design file for the same project.
After the project design is completed, it is time to create a design composition to combine the individual components by referencing them into a 3D design model.
In your design file, you create a new design model. From there, you reference the desired design models either from the References dialog or Explorer dialog. The design models can be from the same DGN file or other DGN files.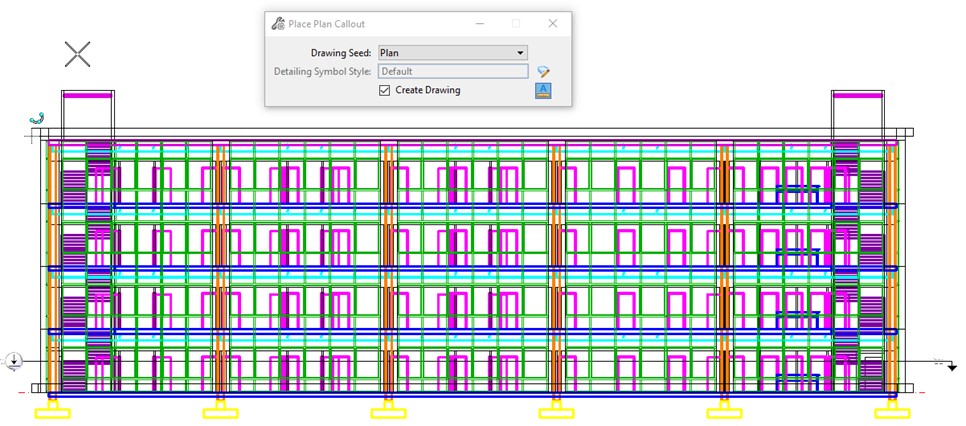 Detailing Symbol Styles
Detailing symbols are used for placement of different types of callouts, title texts, and revision clouds. They contain fields and links that update automatically and make the models more interactive and intuitive.
The detailing symbol styles allows you to define standards for detailing symbols via symbology settings and placeholder fields. Any change in the style setting will propagate to all detailing symbols automatically. It saves your team time and keeps the project consistent.
Named Boundaries
The drawing boundary and named boundary features can be very useful in automating dynamic views.
When you create multiple saved views of each part of your design with different levels turned on or off for different purposes, you may want to place each of these views in sheet models to plot them. Using drawing boundaries and named boundaries will help you in achieving this easily and efficiently.
Use the drawing boundaries to predefine an area on a sheet model which may contain a drawing. This can be thought of as a target location for a drawing on a sheet model.
You can create a named boundary from a drawing boundary. Each named boundary is referenced on a drawing and sheet model. The selected drawing boundary of the sheet model contains the named boundary.
Intelligent Sheets
Generate consistent, high-quality paper and digital deliverables such as paper plots, reports, 2D/3D PDFs, and 3D physical models. Intelligent Sheets automates and speeds annotation, display styles, and reports by generating them directly from the embedded properties of objects.
The technology used in Intelligent Sheets includes:
Sheet Indexing
A sheet index is a centralized and structured collection of sheets in your WorkSet. Sheet index can be useful in creating a construction document set (also called as sheet set or construction set) that contains all the sheets of your WorkSet. You may link any sheet model from any design file of your WorkSet into a sheet index. You can then collectively manage the properties of all the sheet models within the sheet index.

Sheet numbering rules enable you to define rules to generate sheet numbers for all sheets in the sheet index. Sheets can be organized hierarchically in folders, with the ability to override sheet numbering rules for sheets in each folder. Custom properties can be attached to sheets and placed as text fields in the sheet. Custom properties can also be attached to the folders and the sheet index. An index table for the cover sheet can also be generated from the sheet index. Sheet indexes can also be opened using the Print Organizer for printing.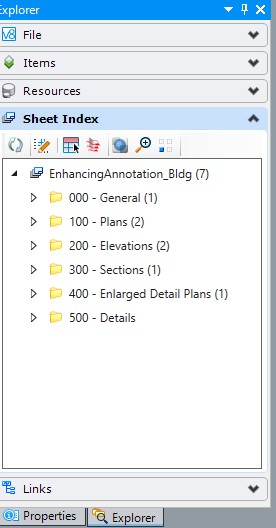 Sheet Models
It is an electronic drawing sheet that typically consists of design model references that are scaled and positioned to create a printable drawing.
Dynamic Views
As mentioned above, Dynamic Views allows automated interaction among the model analysis and documentation of several files used by different professionals.
Text Fields
It automatically numbers your sheets. It saves you time when you need to add or remove a sheet.
Print Organizer
Once you finalize the sheet index, a simple click of one button allows you to send your index to Print Organizer to print out a complete construction set of drawings.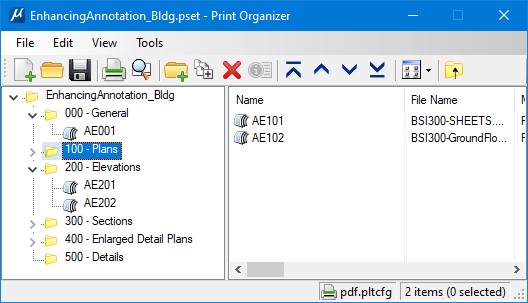 Intelligent Sheets or Sheet Indexing
Sheet indexing is stored Outside the DGN in a File called .DGNWS

Every File in the Workset has Access to the .DGNWS

There can only be one-person editing the file at a time

Automatically populate Title Blocks with the Sheet information using Text Fields. (Sheet number, Sheet Name, ETC.)

Drag and Drop sheets into the Index

Automatically put sheets in the index on creation Through Dynamic Views