Do you use separate software applications for modeling, analysis, design, drawing, detailing, and BIM interoperability? Normally, firms use three or more solutions from different software vendors, along with spreadsheets and other in-house solutions, with each product being specialized for a particular task in the workflow. If you must work with a subcontractor or a customer who uses a different software, your situation is further complicated.
But with interoperability, you can avoid all of the inefficiencies in your process, such as different formats, data re-entry, manual redlines, tracking files, engineer-drafter redline loops, BIM integration, addressing changes, and last-minute surprises. Bentley's solution is an open platform technology to facilitate and address the major challenges of structural interoperability.


The Solution - ISM
Bentley's Integrated Structural Modeling (ISM) functionality offers interoperability across your engineering and design teams, enabling you to exchange data, synchronize revisions, track progress, compare alternatives, and publish deliverables.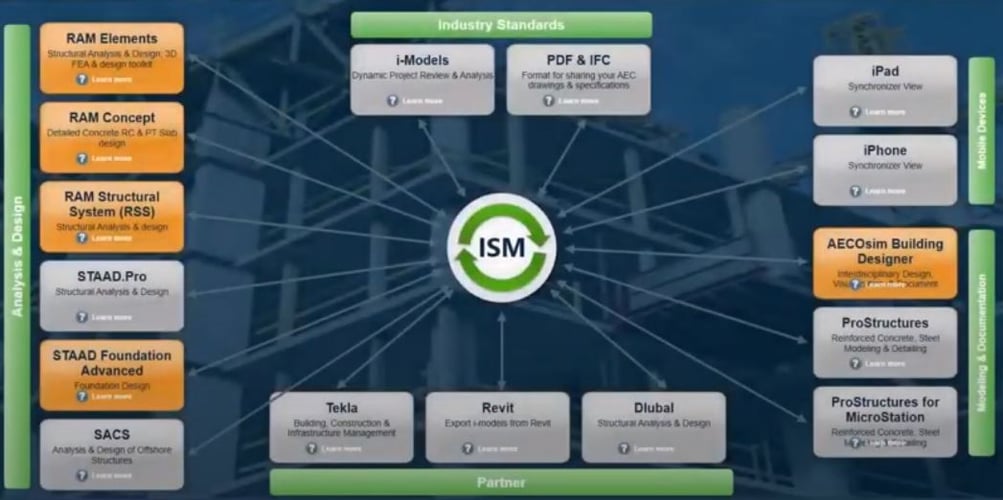 You can share your structural engineering project information across all of your structural modeling, analysis, design, drafting, and detailing applications.
By sharing information, you can save time by avoiding the duplication of steps in each product. You can also create an accurate finished product by detecting any clashes during the design phase instead of during construction.
Take advantage of the key capabilities that ISM provides:
API for applications to access
Change management
Visualization
Data interrogation
Storage and retrieval of consensus data in/from a file
Each application that links to ISM must develop and deploy a Product-ISM Link. This key component may be embedded in the application executable or provided as an independent component. This link enables you to:
Create ISM repository - Create a New ISM file from the application model
New from ISM repository - Create a New Application model from an ISM file
Update ISM repository - Update an existing ISM file with changes from the application model
Update from ISM repository - Update an existing application model from an ISM file
ISM Features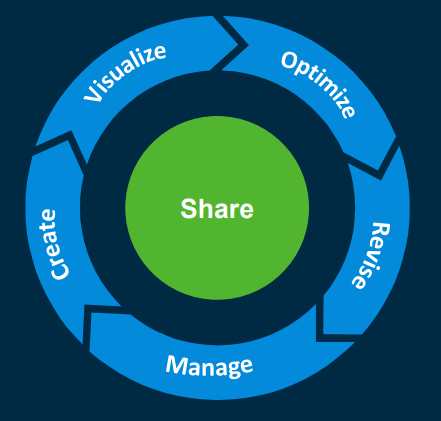 Visualization – The state-of-the-art structural viewer shares and distributes to all project participants. Some capabilities include:



Walk and fly-through
Intelligent data interrogation of objects
iModel creation
Query interface to isolate and find objects
Multiple layer control to turn on and off large groups of data
3D Viewing controls/PDF print capabilities



Change Management – ISM was specifically built to handle the dynamic nature of data. This helps you easily identify those elements that have been added, deleted, or changed since the previous update. You have full control to easily accept or reject those elements.


Revision History - ISM gives you the opportunity to tag each update to the ISM file with Major/Minor Setting, Date Stamp, and User Credentials and Description. At any time within the project lifespan, each specific change can be identified and interrogated to show exactly what was added, deleted, or changed in that session, including a rollback capability that enables you to return the ISM model to any of its previous states.
Apps and technologies in ISM
Structural Synchronizer - This viewing and revision management application offers an intuitive graphical interface for managing changes to ISM repositories or just to be used for basic review and navigation.
ISM-Revit Plugin and ISM-Tekla Plugin - Bentley extends ISM interoperability to Revit and Tekla through plugins available for each application.
EXAMPLE
In this video you will learn how to:
Design footings in RAM Structural System
Exchange designs with Revit
Produce foundation schedules from RAM designs
Automate design changes and manage change to save time
Conclusion
ISM offers significant improvements to your project profitability. For example, Gustavo Vasconcellos, Director and Partner, FG Consultoria Empresarial, noticed improvements to project execution time by about 60%, structural modeling by 80%, and executive design by 50%, in addition to avoiding construction phase errors. For more information, check out the Project Summary.
In addition to being an open platform technology, ISM is free to our customers.
---

Want to talk to a Bentley Structural Expert?
For the price and benefits of the Virtuoso Subscription? Learn more here
---
Webinar Series
Watch the Virtuosity team design a brand-new building from Concept to Construction!
Join us on our Digital Construction journey in a webinar series where we take you step-by-step through the conceptual and preliminary building design processes. We will be using a variety of different software products from our collection!
To learn more about what you can accomplish with Virtuosity, you can register for the entire webinar series below or choose to just join in session 5 which is dedicated specifically to Structural Analysis!
The tools that you will see showcased in this nine-part webinar series are: