Heavy Civil Construction: Evolving Digitally in an Ever-Changing Industry
The adoption of a model-based workflow has not been as established in civil construction as it has been in vertical building construction. 3D design models are still not 100% the norm in the civil industry. Some companies still rely on 2D PDF plan sets and here we are talking about the fourth dimension for the 4D construction modeling: time. The industry has been changing very fast in the recent years, partly due to 3D BIM models becoming a standard deliverable on projects. Contractors are also realizing the benefits of adopting a model-based digital workflow to potentially cut costs and keep up in a highly competitive industry, as the competition is predicted to intensify even more in the coming years according to IBIS World.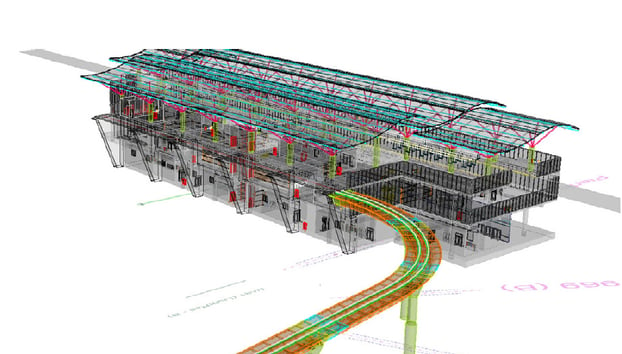 3D BIM models increasingly becoming a project deliverable
Assuming we have a 3D BIM model available, there are still several obstacles to adding the extra dimensions of time or cost to progress a 3D civil model to 4D—or even 5D. One of the main reasons is that building models are usually componentized, meaning that you would have discrete elements—such as walls, stairs, doors, windows—that you can then link to a schedule to create a 4D model.
However, civil models have traditionally been string-based with no discrete components to link to a schedule. The recent adoption of component-based approach by civil design applications has addressed this issue. However, if you want to assign a schedule to a pavement component, for instance, it would be a few-kilometers-long continuous component, which would not necessarily be constructed in that way.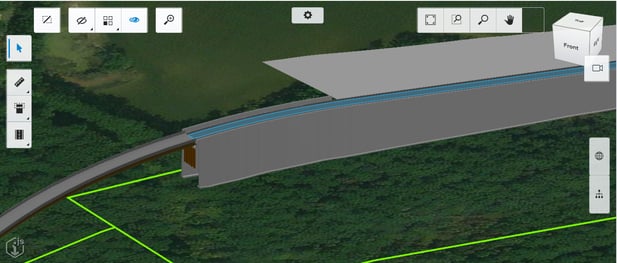 Civil components are usually continuous elements extending for several kilometers
Developing Capabilities Specifically for Horizontal Civil Construction
The tools used in vertical building construction are not going to meet the requirements in horizontal civil construction. There is a great need for specialized tools suitable for linear infrastructure. These specialized capabilities must also be integrated platforms, rather than point solutions, to address the frustrations of end users when integrating the "sea of point solutions," according to McKinsey & Company. There is an enormous potential for productivity improvement. A smooth digital twin workflow—integrated from design all the way to construction and operations—will save hundreds, if not thousands, of hours during the project lifecycle by preventing rework and preserving the value of the data from one phase of the project to the other. Inaccurate estimating can directly impact contractors' profitability and the quantity take-off alone can take up to 40% of the pre-bid resource hours, which could be automated using 3D models. Model-based quantity take-off was cited as the number one activity by 67% of the civil contractors using a model-based workflow, according to the recent Dodge Report. It was also determined that reduced rework was one of the top project outcome benefits of using model-based technologies.
SYNCHRO is Bentley's integrated construction management solution and addresses the problems faced by civil contactors when adopting a model-based workflow. The magic starts with SYNCHRO Control. This application is the cloud service that will take your model—be it in an Autodesk, Bentley, or even an IFC format—and make it available to the assigned team members who are not necessarily civil designers. All you need is a web browser, and not the native authoring application. From this point on, the model is synchronized throughout the different integrated applications of SYNCHRO 4D.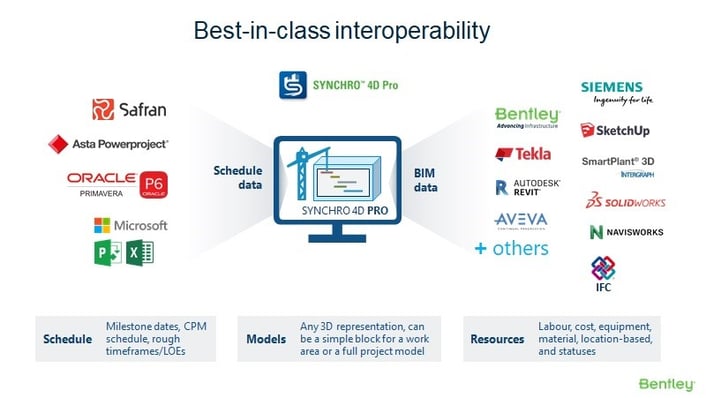 Interoperability of SYNCHRO 4D with other solutions
The same way that your bread slicer breaks your loaf into consumable parts, the role of SYNCHRO Modeler is to slice up the big civil design model into manageable chunks and constructible components. SYNCHRO Modeler is a desktop application that will access the design model made available in the cloud by SYNCHRO Control. Before anything, the first step is to use the Area Break Down tool to break the project into manageable chunks by creating construction work areas. Think of it as breaking your baguette in half to make it easier to handle before slicing. It is important to note that this process does not alter the original design, as in the case of the bread example, but only creates child-parent relationships between the elements. We can then use the quantity take-off tool to slice and dice each work area into constructible components and link them to the cost code.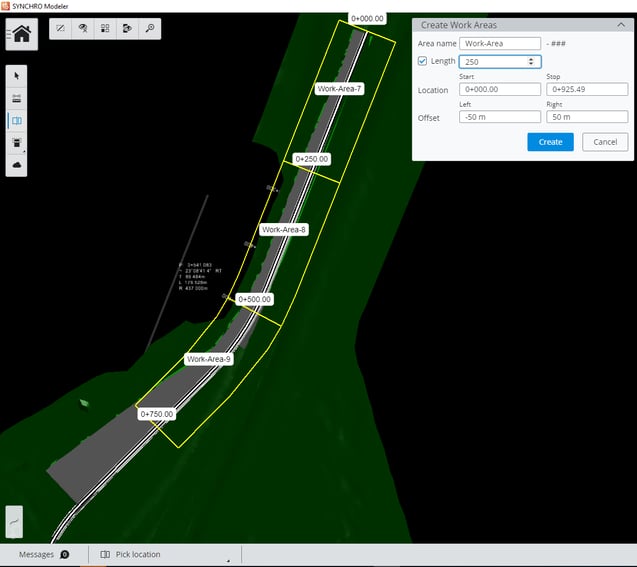 Area Break Down tool breaking the project into multiple work areas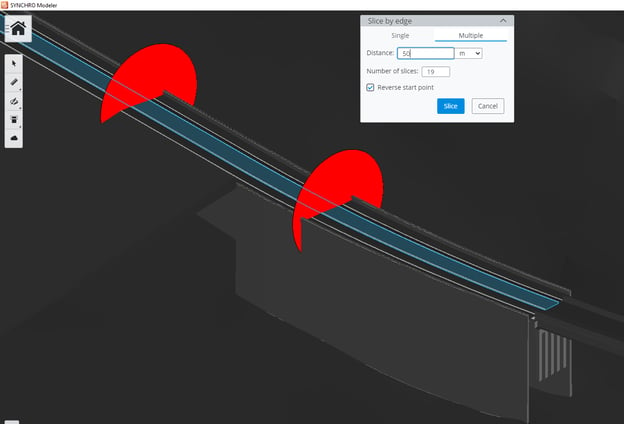 Slicing civil elements into constructible components
The next step in our 4D journey is to access the same project in SYNCHRO 4D Pro. Most planners use P6 or MS Project, which SYNCHRO 4D Pro can easily import. However, SYNCHRO 4D Pro features a powerful CPM scheduling engine, which does not require any additional planning or scheduling tools. Schedules can be created simply by clicking 3D model elements in a sequence and automatically creating tasks with durations and logical relationships between the tasks. SYNCHRO 4D Pro also allows you to save multiple baselines of your current schedule and synchronize back and forth with popular scheduling software, such as P6. If the schedule needs to be exported, SYNCHRO supports exporting to multiple formats, such as Asta Powerproject, Microsoft Project XML, Primavera P6, IFC, Microsoft Excel, and SDEF. It's a big difference when compared to Navisworks Timeliner, which can only export to CSV or Microsoft Project XML format.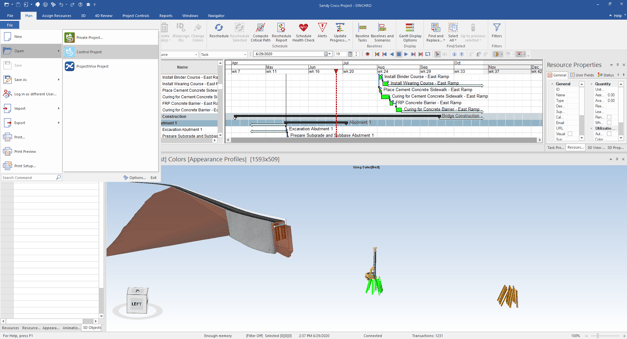 Creating the schedule in SYNCHRO 4D Pro using the 3D model
So far so good, but what happens on a design and construct project, where changes to design models happen every week or even every day? Do you need to start from scratch after all that work? The answer is simple: no. Every time changes happen to your design model, there is a version compare capability within SYNCHRO Modeler that color codes the changes to the original version. You can then decide either to keep the way you had sliced those elements before or still keep the link to the cost code.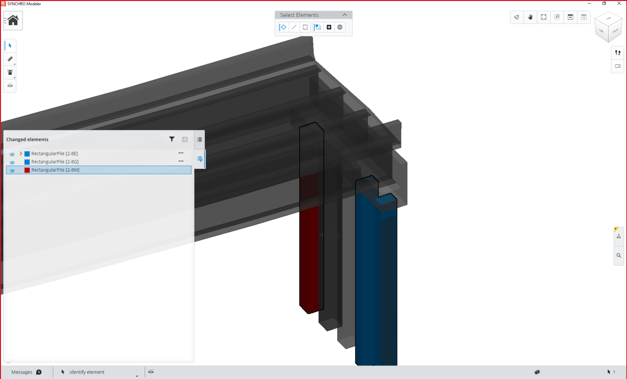 Version compare tool within SYNCHRO Modeler to compare design changes
SYNCHRO Field can be installed on a phone or a tablet and is used to capture and access real-time data from the field. Using SYNCHRO Field, resource statuses and progress can be tracked directly on model elements and be synchronized back with SYNCHRO 4D Pro. SYNCHRO Field also provides simple civil and measurement tools for the field staff.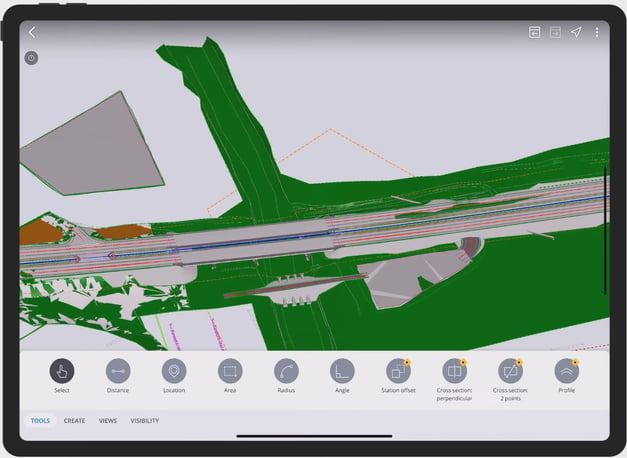 SYNCHRO Field civil and measurement tools
The final output from SYNCHRO can also include an animation, which communicates the construction process to the stakeholders and helps win projects.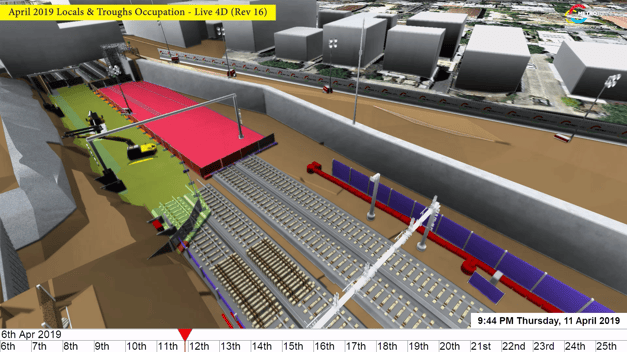 Construction sequence created using SYNCHRO (credit: Rail Infrastructure Alliance)
Civil Contractors Adopting To Digital Workflows
Civil contractors are quickly adopting digital workflows to keep up with the competition. Integration of design, construction scheduling, and project management tools—with real-time data collection from the field—will unlock the value of data available to construction companies. Specialized digital tools for civil construction industry have now made it possible to utilize the data throughout the project lifecycle to avoid rework and save costs. Data visibility and insights from historic data will improve efficiency through predictive analytics. Contractors who are nimble and quickly adapt to change will have a competitive edge in the market in the coming years.
Want to learn more? Sign up for our webinar: 4D/5D Construction Modeling for Horizontal Civil Projects Using SYNCHRO 4D