Piping engineers are facing increasing pressure to deliver optimized pipe designs at breakneck pace. Whether you are working on a plant piping system, below ground or above ground pipeline, or a complex subsea pipeline, you need an efficient way to deliver reliable piping designs to safely transport fluids or gases across changing terrain and soil conditions or congested plant layouts. A robust and optimized design is the backbone of a reliable and safe operating system.
To achieve that, you need an intelligent 3D pipe modeling and stress analysis application with built-in machine learning and artificial intelligence that helps you save time and money and equips you to design piping systems with confidence.
In this blog, we discuss how piping professionals like you can save time and money while achieving the most optimized cost-effective pipe design.
Optimize Pipe Supports
When piping systems are designed to withstand operating and environmental conditions, it's critical to assess loading points
on equipment and adequately support them. As you know, the cost of pipe support assemblies and structures and support installation costs can really add up, especially on a large plant. That's why it's crucial that you optimize the support designs to keep costs at a minimum. If we can have not only less pipe supports but simpler ones in a project, this saves both capital cost and operation and maintenance costs, which is a big benefit for owners. Evaluating various design alternatives with various support configurations is a time-consuming process when you rely on traditional methods that can take days or weeks to iterate to a solution. AutoPIPE can save you several months in design time and hundreds of thousands of dollars while achieving the most optimized cost-effective supports without sacrificing safety and quality.
AutoPIPE is a purpose-built application for the design and analysis of pipe stress. Unlike other applications, it offers a revolutionary cost-saving support optimization feature that quickly evaluates multiple design alternatives and provides you with the least number of supports. It evaluates thousands of design alternatives and compares them as they become available. Then, the software makes as many iterations as needed to achieve the best outcome.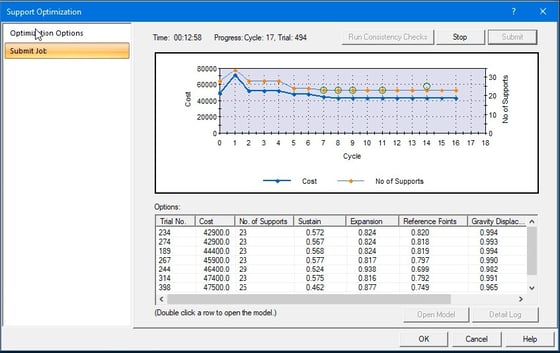 Close the Collaboration Gap
Engineering firms need to deliver accurate and precise plant designs to their clients that consider piping and structural elements to avoid costly installation and operational failures on these multibillion dollar plants. However, many project teams rely on paper documents and manual data transfer to collaborate. The disconnect between pipe stress and structural engineers often leads to project inefficiencies, design mistakes, and operational failures. Bentley's interoperable plant design and analysis applications
support true collaboration. For example, a structural engineer can locate the forces from the pipes without having to rely on the pipe stiffness for stability. Similarly, a piping engineer can include the actual flexibility of the supporting structure to accurately analyze the stresses being developed around nozzles that can have critical effects.

AutoPIPE's interoperability with other Bentley applications such as STAAD®, SACS, and OpenPlant™ and third-party applications like SmartPlant, AVEVA e3D, AUTODESK Plant3D, REVIT, CAESAR, Rohr2, and Triflex provides unparalleled workflow efficiencies and quality assurance. You can save countless resource hours and lower project costs by using modern workflows and interoperable applications. Moreover, project teams across all disciplines can be confident that stakeholders have access to the most up-to-date information, shared across piping, structural, and CAD departments. They can ensure that their piping and structural designs automatically adhere to current standards and codes. Using optimized workflows, engineers can confidently produce precise and accurate designs to greatly reduce the risk of clashes and operational failures for their clients.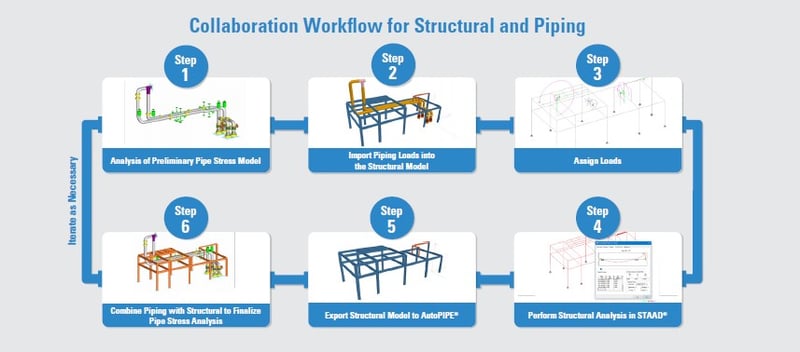 The figure above demonstrates structural pipe-stress interoperability. This graphic shows you one of the many workflows that you can
leverage. It illustrates how Bentley's AutoPIPE allows piping engineers to seamlessly collaborate with structural engineers and export
structural models into a piping application to develop a holistic plant design in less time.
Manage Change
Revisions are inevitable during project design. Therefore, it is important to track the changes and ensure that there is timely coordination among engineering groups. Piping and electrical might need to be rerouted, structural pipe racks might need to be reconfigured with bracing and beam members, and equipment might need to be moved. More piping flexibility is required by adding new pipe loops or expansion joints. But, how can you easily track these changes?
Using Bentley's Integrated Structural Management (ISM) technology, a detailed revision history is maintained and can be visualized at
any time to allow any engineering team member to use and collaborate.
Ease of Use
The single graphical interface improves your workflow because you no longer have to close one module and open another two or
three modules for modeling, analysis, or post-processing, and repeat the process multiple times a day. AutoPIPE makes modeling and
troubleshooting analysis easy for users, without compromising the design quality. It allows you to add hundreds of supports in a single operation in very few steps. AutoPIPE's point-and-click copy-paste feature generates multiple detailed pump suction or discharge piping layouts in seconds. You can build complex circular piping manifolds and multibranches in less than a couple of minutes, which might take days using other applications. In a case where the process engineering group changes the operating conditions, the user can simply use AutoPIPE's global search-and-replace command to update the new temperatures and pressure in seconds. You also have the option to work in an Excel spreadsheet using a robust input grid that is fully synchronized with the graphical plot.
---
Here are some of the top features in AutoPIPE that can save you valuable time:
Support Optimizer – Machine learning algorithms deliver several optimized piping support layouts to satisfy all design conditions in no time.
Interoperability – Collaborate seamlessly across multidiscipline teams.
Change Management – Make design changes quickly with automated intelligence, while still maintaining complete control of your model.
Ease of Use – User-friendly interface that works the way you do for faster, productive modeling.
Video: AutoPIPE Support Optimizer
Interested in AutoPIPE - Learn more here: