OK, even I'll admit it. The old control statement editor in OpenFlows WaterGEMS was not one of our most user-friendly features. From a software development standpoint, it was elegant and powerful, but it was easy to make mistakes and even I could get frustrated with it.
But that was then, and this is now, and our users are singing the praises of our new control editor. Remember the old one: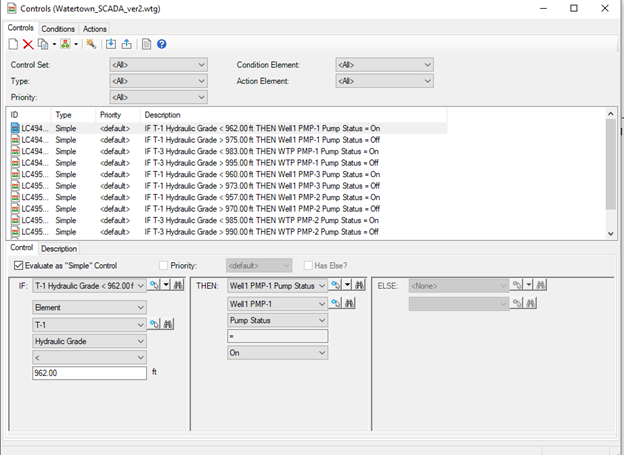 It worked and you can still get to it using Components > Classic Controls. But I doubt many users will be going to it once the see the new version. It looks like this:

Maybe it doesn't look that simple, but it looks and acts like a spreadsheet and has many of the features that make FlexTables so popular.
One thing I like is that you can enter an entire control directly from the keyboard without needing to go back and forth from the keyboard to your mouse. But what if you want to select a condition or action element from your drawing. Just right click on the cell and select the ellipse (…) which lets you pick the element graphically with Select from Drawing.
Let me answer some common OpenFlows WaterGEMS control editor questions.
Q: Is there a wizard that helps you create on/off pump and tank control in one step?
A: Yes.
Q: Can you hide and unhide columns that you don't need from the editor?
A: Yes
Q: Can you only show the controls that are in the active scenario?
A: Yes. That can make a huge difference when you are working in models that have many scenarios each with their own controls. New controls are automatically included in the active controls set.
Q: Can you copy and paste controls to and from an Excel file?
A: Yes
Q: Can you have composite conditions or actions?
A: Yes. We found that most users don't use composite conditions or actions, so OpenFlows WaterGEMS doesn't automatically expect them. But once you pick "Edit Composite," you can construct all sorts of conditions and actions with ANDs and ORs.
Q: Can you filer and sort controls?
A: Yes
Q: Can you see all the controls that are associated with an element?
A: Yes. Just go the property grid for that element and pick the Controls property to see only controls with that element.
Q: When you rebuild a model, can you simply import all the controls from the previous file?
A: Yes, you export the controls into what is called a CRL file (just a text file). You can import the controls from that file into your updated model. You can view the content of the CTL file with any text editor such as Notepad or Word.
If this excites you at all, just download the latest release of OpenFlows WaterGEMS or OpenFlows WaterCAD. You'll love the updated control editor.
If you like blogs like this, you can go back to our library of blogs at https://blog.virtuosity.com/tag/water-and-wastewater.
Want to learn more from our resident water and wastewater expert? Join the Dr. Tom Walski Newsletter today!