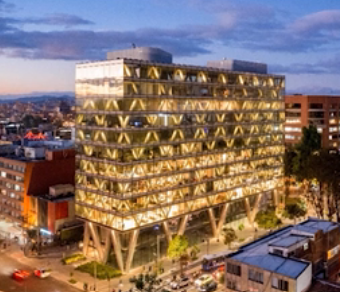 CNI Ingenieros Consultores were tasked with inspiring the new generation of engineers with a 15-story engineering laboratory and research building within the Pontifical Xavierian University Campus in Bogota, Colombia. This project was a finalist at Bentley's Year in Infrastructure Awards in 2020. Nicolás Parra, the Managing Partner at CNI Ingenerios Consultores, said that by implementing Bentley's structural analysis workflow, his team saw the following benefits:
• Successful integration between structural and architectural design (analysis and BIM models) saved 20% time and cost
• Efficient connection design for architecturally exposed steel (RAM Connection) saved 50% in design and detailing

---
The team faced a number of technical challenges in the project, such as how to:

• Keep the interior space free of columns
• Design the deep excavation for the laboratory
• Construct a 15-story tower in a narrow space with adjacent buildings that had to remain open

They needed to also ensure that the structure maintained a unique architectural character, shining as an example of how a structure can dictate purpose to the future engineers walking through its doors every day.

The excavation reached 16 meters and required a solution of walls anchored to the lot to constitute the great box in which the laboratory walls would be installed.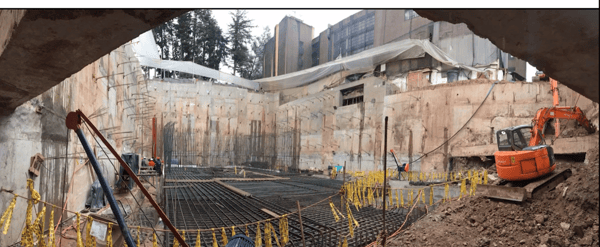 Deep excavation
To keep the interior space free of columns, CNI Ingenerios Consultores proposed a perimeter structure. The final design was a distribution of columns on the façade, situated a meter and a half apart in a tower that is 40 meters long and 16 meters wide. The tower included elements of concrete walls, concrete wall curtains, and metallic struts to resist seismic forces. While the team used STAAD.Pro to perform the material and structural analysis, the direct integration with RAM Connection from STAAD.Pro enabled the team to optimize the geometric designs of the visible structural connections.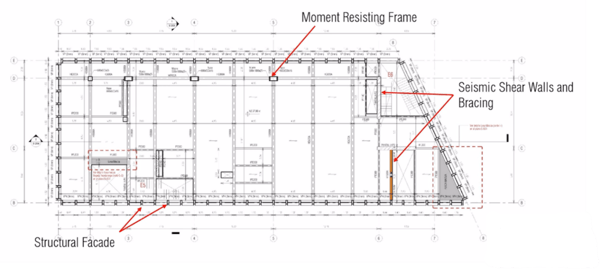 Plan view of proposed column distribution including shear walls
Performing the analysis in STAAD.Pro gave the team the flexibility they needed to produce diverse solutions and models before finding the best solution to meet all the design criteria. The team could easily export the geometry directly to BIM to begin the integration and coordination work. With this fast and accurate analytical support, the project was delivered on time for opening in January 2020.
▶️ Watch full presentation on this project.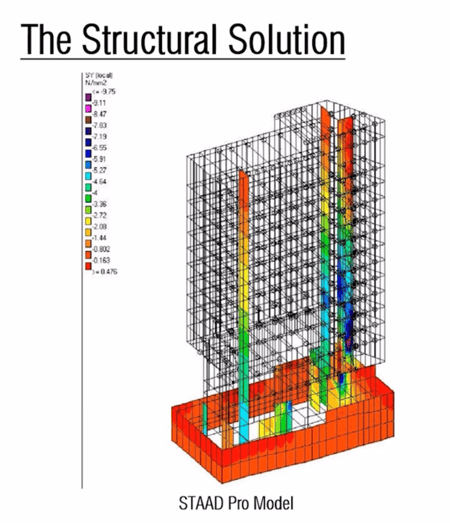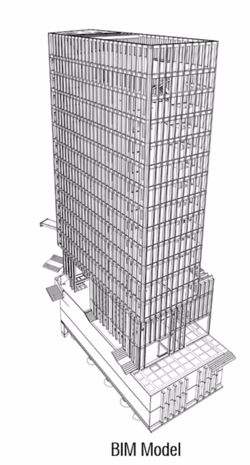 Analysis model produced in STAAD.Pro and BIM Model
With Bentley's Structural WorkSuite, engineers get access to Bentley's most popular structural applications (STAAD.Pro and RAM) in a single, cost-effective license.

With Structural WorkSuite, you can:

• Streamline multidisciplinary team collaboration through interoperability with applications like Revit, Tekla, OpenBuildings, and AutoPIPE
• Directly integrate your steel connection design from your analysis model
• And so much more!
Take a look at this video to see the STAAD.Pro and RAM Connection workflow in action.
Learn more about Structural WorkSuite.
Watch full presentation on this project.
---

Want to talk to a Bentley Structural Expert?
For the price and benefits of the Virtuoso Subscription? Learn more here
---
Webinar Series
Watch the Virtuosity team design a brand-new building from Concept to Construction!
Join us on our Digital Construction journey in a webinar series where we take you step-by-step through the conceptual and preliminary building design processes. We will be using a variety of different software products from our collection!
To learn more about what you can accomplish with Virtuosity, you can register for the entire webinar series below or choose to just join in session 5 which is dedicated specifically to Structural Analysis!

The tools that you will see showcased in this nine-part webinar series are: