The ability to integrate your sanitary and combined sewer models with some of the leading engineering software is essential to delivering accurate and optimal designs. By working in multiple platforms, you can maximize the potential of your results.
Integration with CAD and GIS platforms allows engineering teams to create, manage, publish, and share 2D and 3D drawings, geographic maps, BIM data, and models. So, your results can become more comprehensive since they can be visualized and displayed on multiple platforms in a more collaborative workflow.
Does Your Current Sewer Modeling Solution Give You the Flexibility to Work the Way You Want?
You have the choice to use the platform you want! The level and range of integration options offered by OpenFlows SewerGEMS are unparalleled. Only OpenFlows SewerGEMS offers multiple platform interoperability to analyze and design Sewer and Drainage networks.
OpenFlows SewerGEMS seamlessly integrates with MicroStation, ArcGIS Pro, ArcMap, and AutoCAD. It also can be used as standalone software. OpenFlows SewerGEMS also offers this level of interoperability at no additional cost!
Save Time and Eliminate Errors Using Your Sewer System Modeling Platform of Choice!
Modeling in multiple platforms allows you to leverage the skills of engineers from different departments. Each engineer can utilize the workspace that is most comfortable to them – whether it be GIS, MicroStation, or CAD. Working in a familiar environment allows engineers to work more efficiently, effectively, and save time. This also helps to flatten the learning curve of new software.
Regardless of which platform is used, there is a single, shared project data source. That means that a single model can be used in each operating platform. This eliminates inconsistencies between model versions, communication errors, and the need to convert file types.
OpenFlows SewerGEMS Standalone
Operating OpenFlows SewerGEMS as a standalone platform allows for optimal model performance. This option also increases the ease of use as all the tools are readily accessible, without additional subscriptions or third-party software for analysis or design. An example of the standalone interface is pictured below.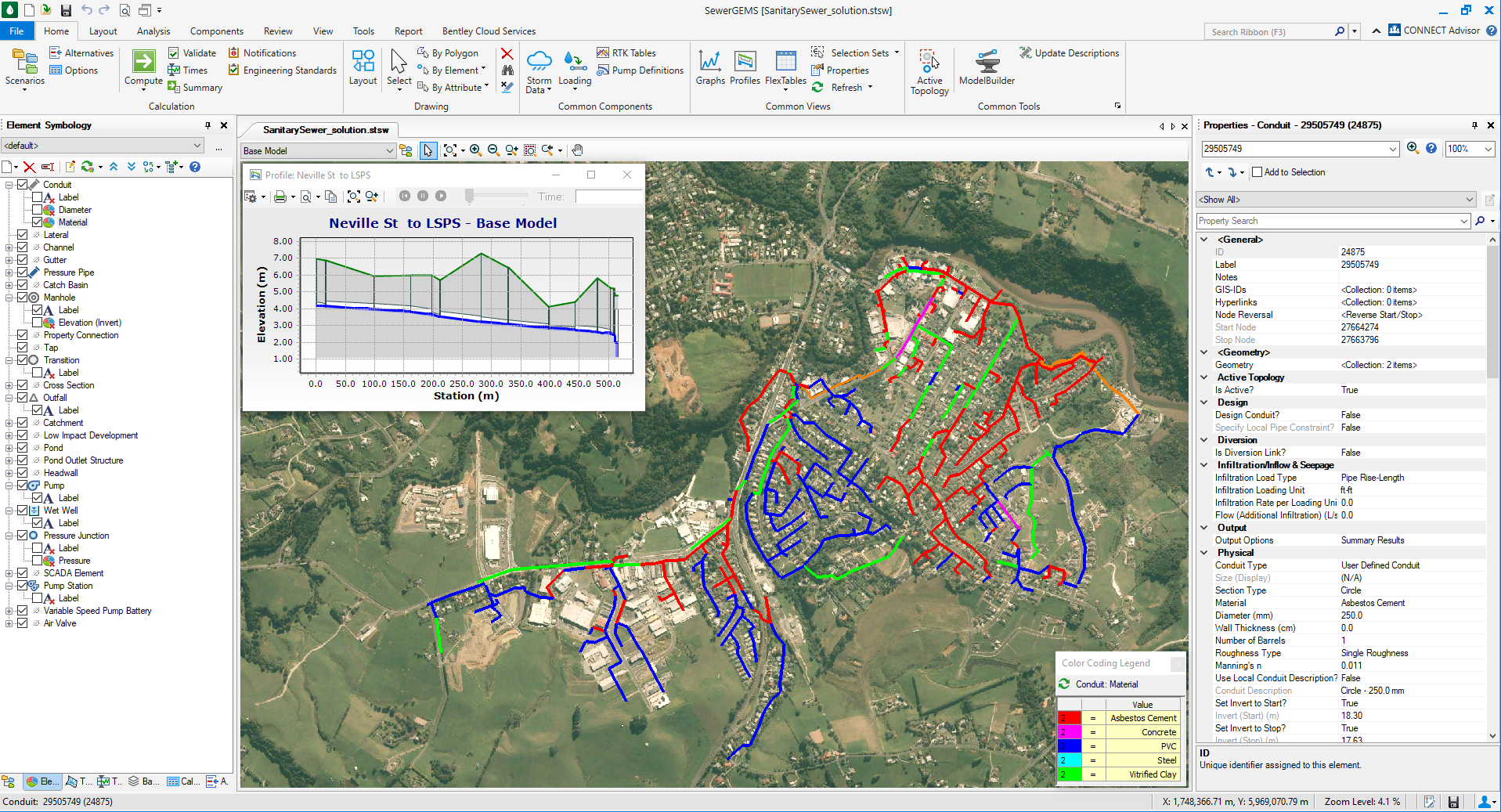 OpenFlows SewerGEMS Integration with MicroStation
OpenFlows SewerGEMS also integrates into MicroStation. This allows engineers to bridge the gap between geospatial planning and engineering design environments. This integration allows engineers to work in a familiar environment and maximize their efficiency. A screenshot of OpenFlows SewerGEMS incorporated into MicroStation is shown below.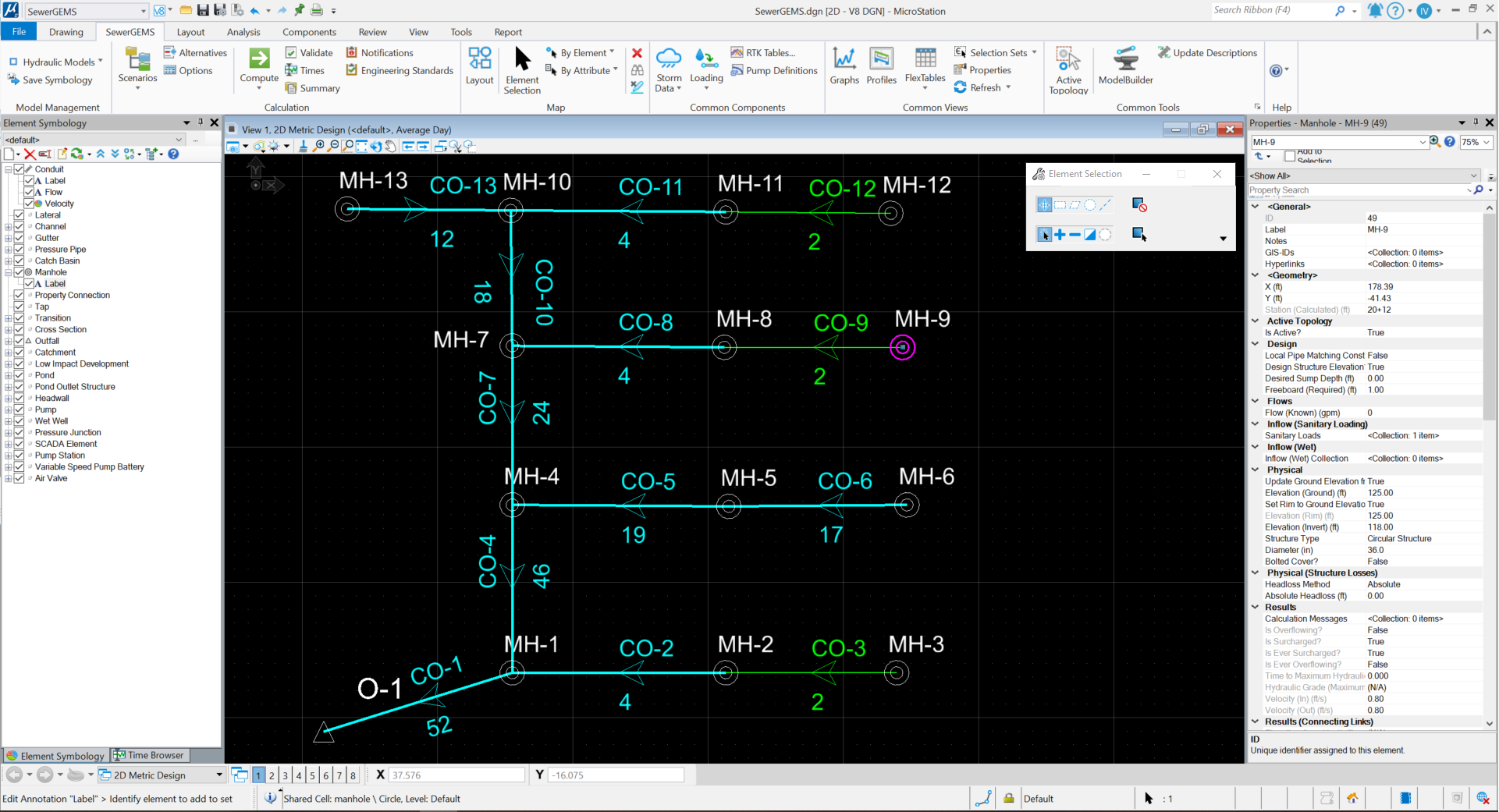 OpenFlows SewerGEMS Integration with ArcGIS Pro and ArcMap
OpenFlows SewerGEMS can integrate with both ArcGIS Pro and ArcMap – for no additional cost! This integration allows you to design and analyze your sewer system seamlessly while leveraging GIS capabilities, such as the advanced geographic maps in the native ArcGIS Pro functionality. You can use this interoperability for thematic mapping and publishing. The integration of OpenFlows SewerGEMS with GIS is shown below.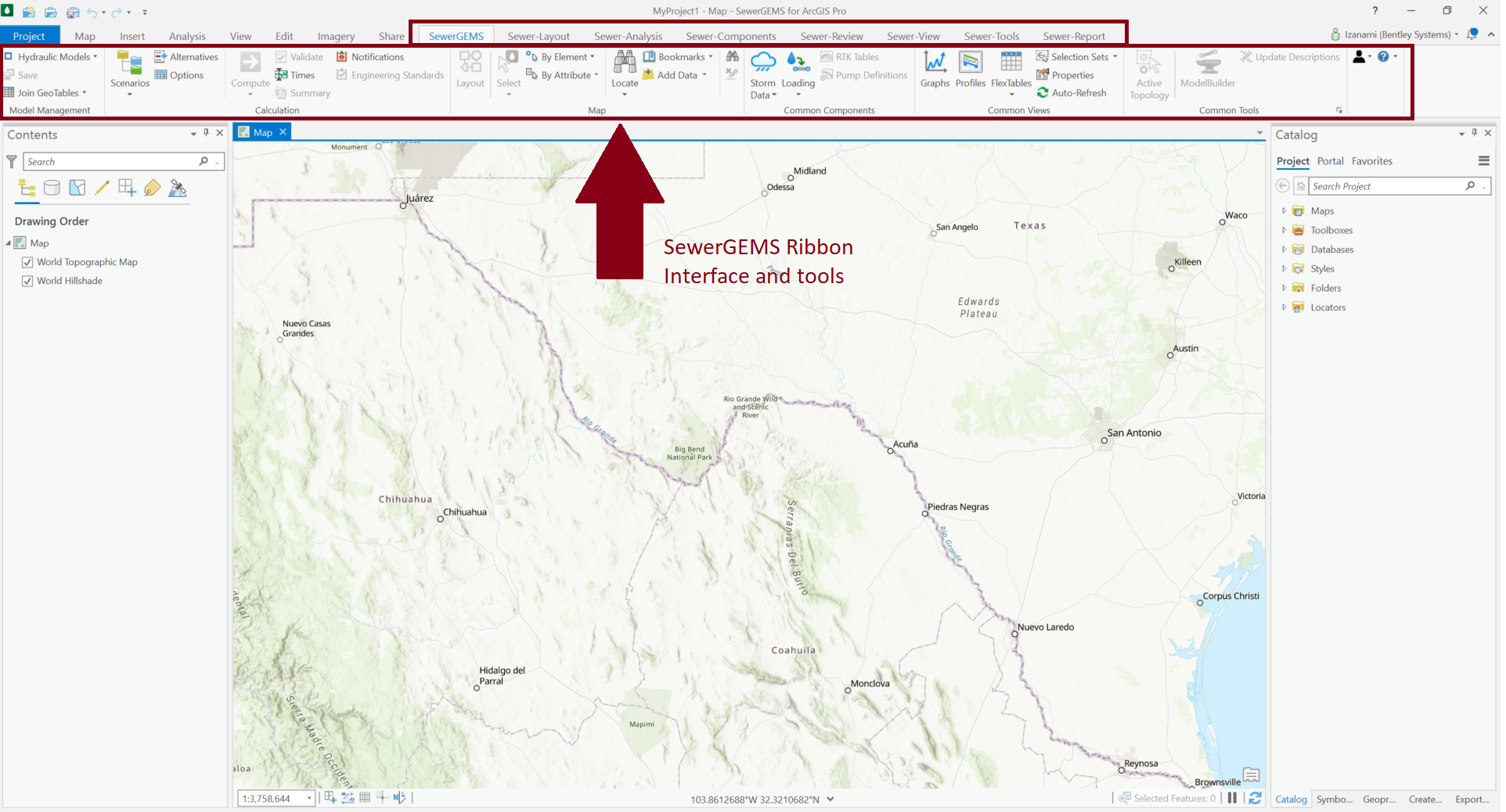 OpenFlows SewerGEMS Integration with AutoCAD
Integrating OpenFlows SewerGEMS with AutoCAD allows for convenient CAD layout and drafting of your model. This interoperability allows engineers to continue working in their typical CAD environment, lessening the learning curve and enhancing the modeling process. See the integration of OpenFlows SewerGEMS in CAD below.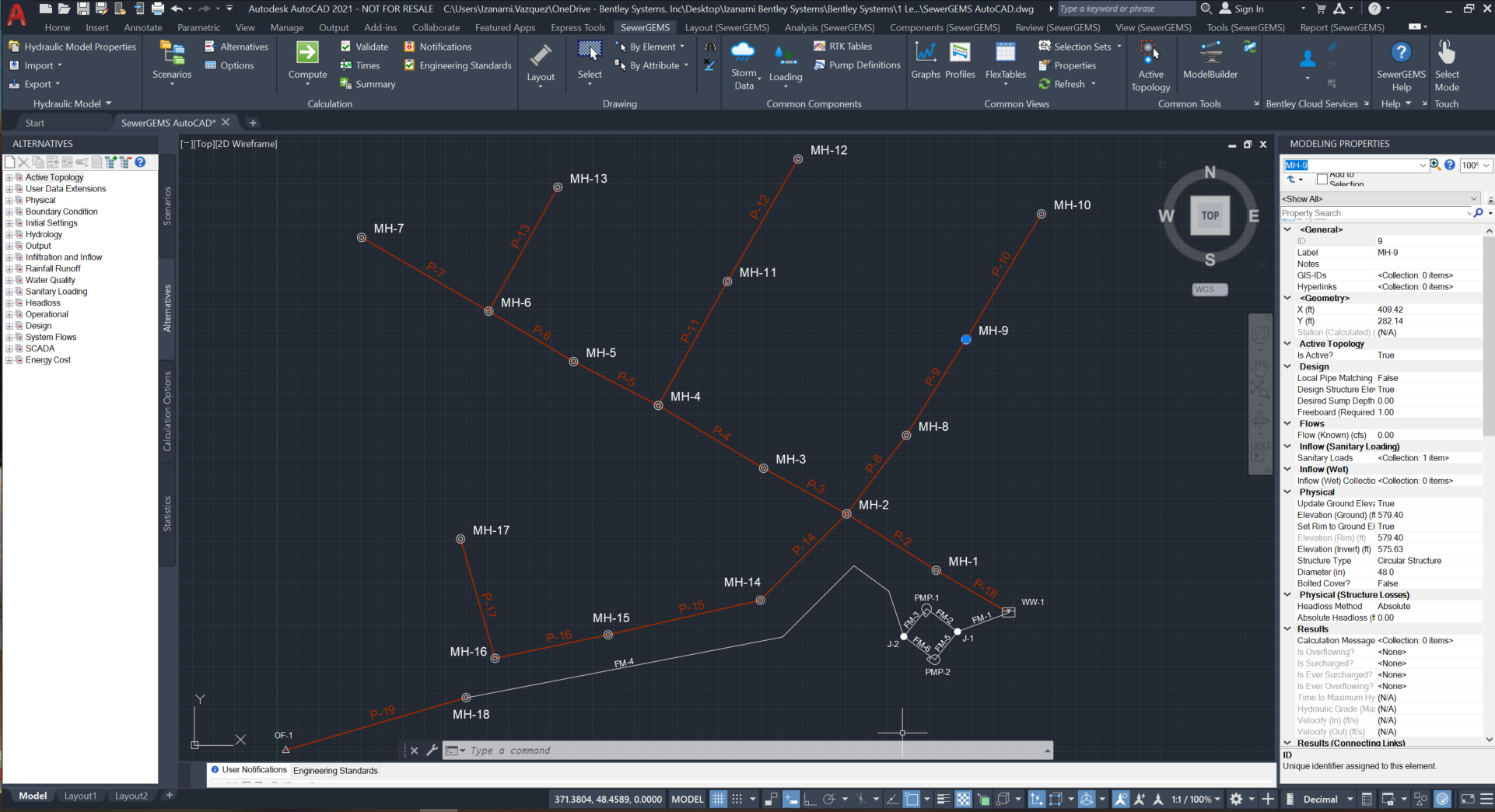 SewerGEMS Integration Compatibility
Understanding platform capability is key to recognizing your potential for integration. When you install the latest version of OpenFlows SewerGEMS, any existing platform you have that can be integrated will automatically be integrated. To check compatibility with your current platforms, click here.
Learn More
Are you interested in learning more about OpenFlows SewerGEMS? Contact one of our experts!
North America Contact – Linsey Bowersox, Product Sales Engineer, Linsey.Bowersox@Bentley.com , 610-458-2705
Latin America and Caribbean Contact – Julio Issao Kuwajima, Product Sales Engineer, julio.issao@bentley.com , +551128232656