The Virtuosity team has launched a new series called "Meet the SYNCHROnians". The goal of the series is to open the stage for customers and colleagues to share their experiences and insights about SYNCHRO.
Episode 1: Commodore Builders
The first episode featured Vladyslav Plakhotnyi from Commodore Builders. Vladyslav is originally from Ukraine and started his career off as a professional hockey player, making it to the highest level and competing for championships. When he moved over to the United States, he continued playing at the semi-pro level for a few years before transitioning his career.
In addition to his main love of hockey, Vladyslav had also developed a background in graphic design that was being noticed. He joined a local architecture firm to showcase his talents and began his "2nd" career into the world of virtual design and construction. Vladyslav continues to play hockey in his free time and mentors some of the junior hockey players in his community.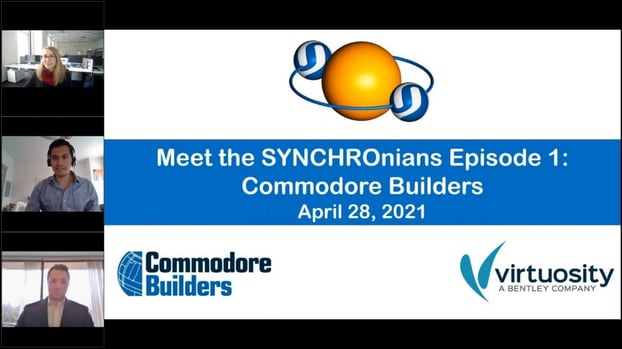 Meet the SYNCHROnians Episode 1 with Commodore Builders
Vladyslav is currently a VDC Specialist for Commodore Builders, a veteran-owned construction management firm based out of Massachusetts. The firm was founded in 2002 and offers a variety of construction services for the institutional, commercial, life sciences, corporate interiors, and public sectors. Collaboration and communication are a huge part of Commodore Builders and something that they are constantly perfecting. Vladyslav described the company's 6 qualities of excellence and 3 core values that are centered around providing a client-service focused approach to the construction process.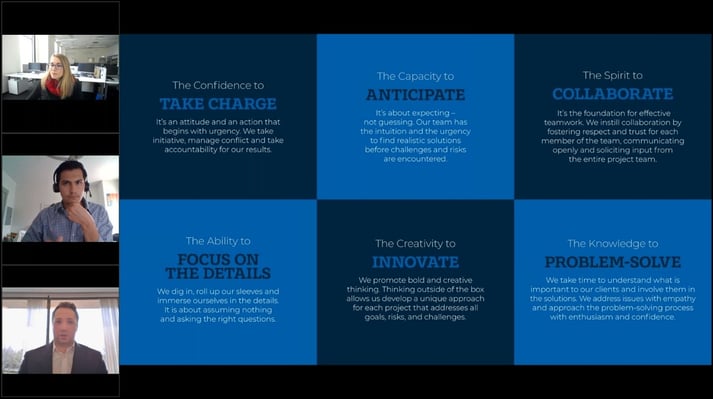 Commodore Builder's 6 Qualities of Excellence
Experience With SYNCHRO
When COVID-19 hit the United States, Commodore Builders decided to make the most of the extra time by exploring 4D planning solutions. They created an internal 4D task force to investigate all the options available on the market and considered multiple factors that would bring them project success. Ultimately, the team concluded that "SYNCHRO was the best solution we could find," and began to implement the software into their portfolio.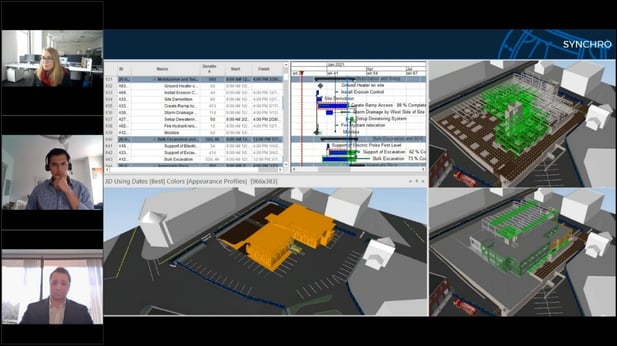 Vladyslav showing an institutional project he worked on using SYNCHRO Pro
Initially, SYNCHRO Pro started off as a simple marketing solution for Commodore Builders. They wanted to use the visualization tools to show new and ongoing projects to their clients. Over time, they started seeing SYNCHRO Pro as more of a robust project controls tool and began exploring features that could be used throughout the duration of a project's lifecycle.
To highlight this, Vladyslav shared an institutional public project he was working on that included demoing city hall and putting in a new fire and police department. He mentioned that SYNCHRO Pro helped to sequence the project, especially with tight site restrictions because of the job's proximity to surrounding public neighborhoods. He also discovered that communicating the development of the steel sequences and exterior finishes was greatly beneficial. The team was able to identify and resolve minor conflicts before construction began.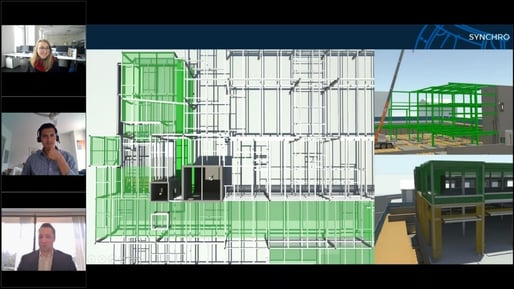 Vladyslav explaining how SYNCHRO Pro was used to develop/visualize the steel sequences
Virtuosity
Vladyslav started off with very little experience in SYNCHRO Pro. He gained familiarity by going through the modules in SYNCHRO Academy and reading the help documentation included with the software. However, a huge part of his proficiency came from utilizing the Virtuosity keys that were included with his license. He used the keys to unlock expert 1-on-1 training sessions with Daria from the User Success team. They setup multiple training sessions covering a variety of topics such as importing 3D models, assigning resources to tasks, and utilizing appearance profiles.
Vladyslav mentioned that it was a lot of information in the beginning but "after the second training session, it was starting to become clear…I'm glad Virtuosity does this 1-on-1 training. It pushed me a lot to improve my work really quickly." Over time, Vladyslav became a true SYNCHROnian by embracing and advancing full 4D construction workflows using the SYNCHRO lineup.
The Future
Vladyslav finished off the interview by providing a couple helpful tips in SYNCHRO Pro and shared what his three favorite features are.
The next phase for Commodore Builders is to expand upon SYNCHRO Pro by integrating all of the tools within the SYNCHRO 4D lineup such as SYNCHRO Control and SYNCHRO Field. This will allow them to setup projects for cloud-based collaboration, incorporate project management procedure, and communicate actual site conditions back over to office personnel.
You can catch the full interview with Vladyslav below...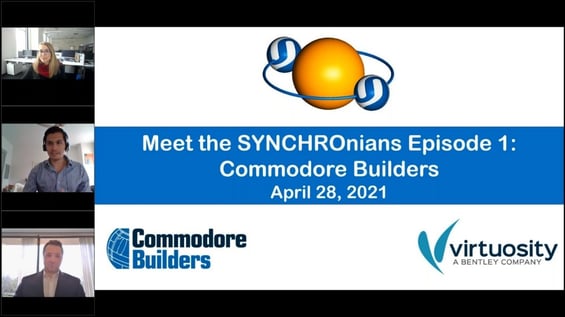 To discuss SYNCHRO in more depth or request a trial, please fill out the section below.