Starting with MicroStation J, the file format size was limited to 32 megs. However, with the release of the MicroStation V8 products and the only file format change in the history of Bentley, that limitation is no longer and is based on the Windows Operating System.
MicroStation Can Handle Big Data Projects -- No Matter the File Size
Over time, projects get bigger and more complex. Working with large file sets may be cumbersome, but MicroStation handles large file sets relatively easily with the 64-bit architecture that MicroStation CONNECT Edition is built upon.

We can see that DGN's are a timeless file format.

As proof, we used this design of a bridge that was created in the '80s and saved on floppy disks – these are still usable data today and can be added into this project that has been revitalized for today.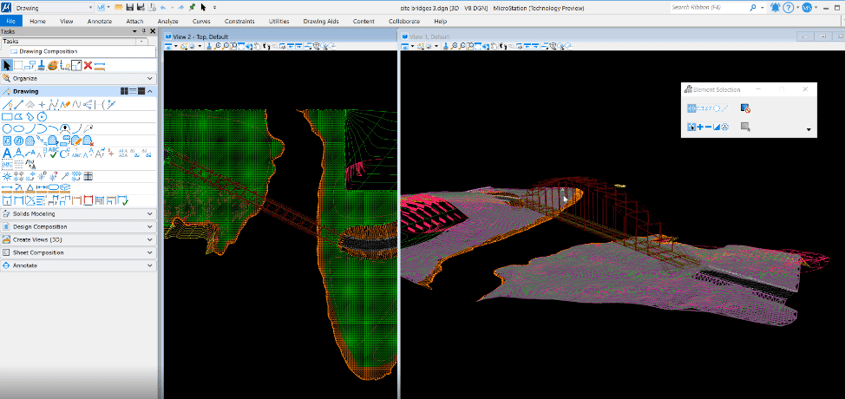 Original Design from the 80's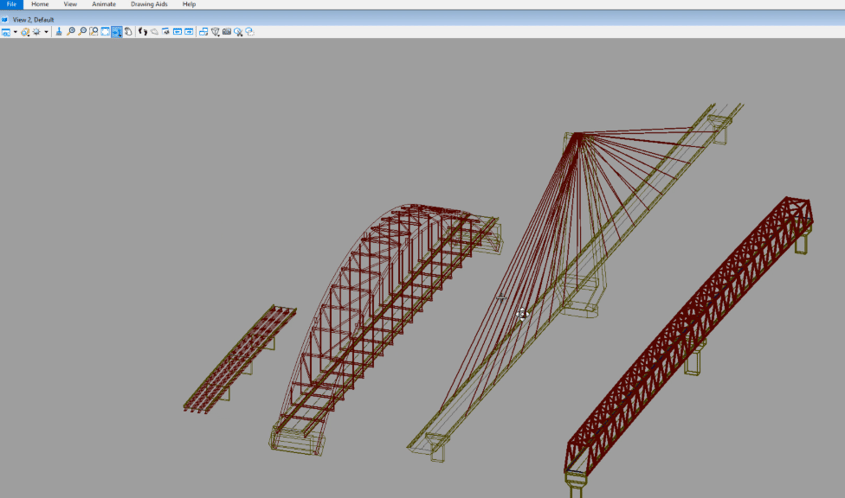 Bridge Designs from the 80's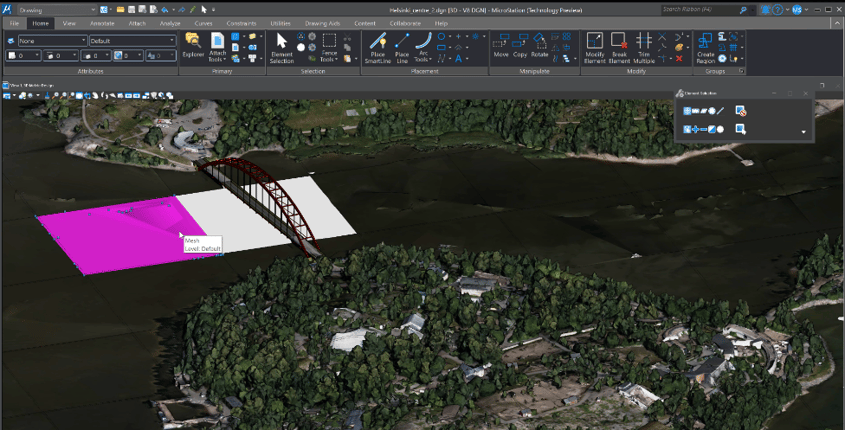 Incorporating Designs from an Old Project File
Design File of Bridge brought into MicroStation CONNECT Edition with Reality Mesh and background maps to set the context and reuse of existing design work.

We can start a project with a simple DGN-file and then add on to it. However, today, many projects already start from a contextual place. Therefore, there is no need to start with a blank canvas.
Starting with a Point Cloud or a reality mesh usually brings the project into a geolocated, contextually aware starting point. Also, these files are usually pretty large.

Let's take for example this data set, Pescara del Tronto. In this Data Set, we have a mixture of Reality Mesh combined with multiple DGN's from different disciplines such as OpenRoads Designer and OpenBuildings Designer combined in a DGN within MicroStation.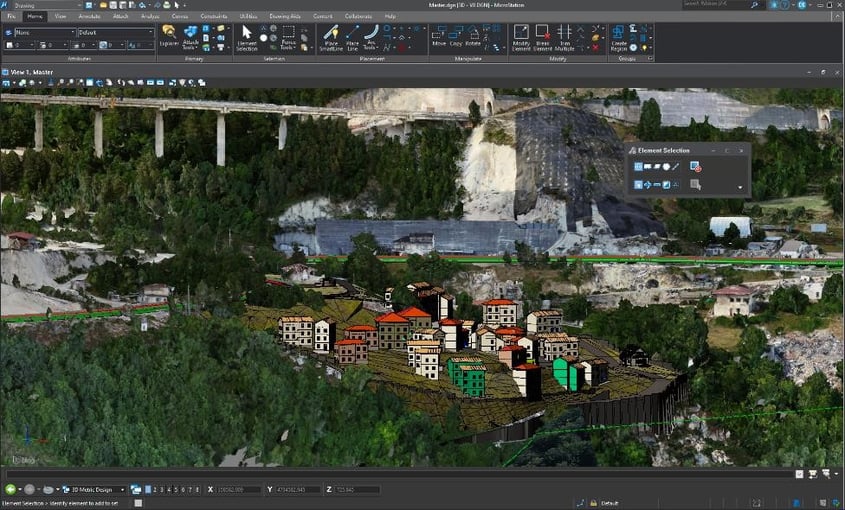 The file set for just this model is ~ 7 Gigs in size including the reality mesh and combination of DGN files.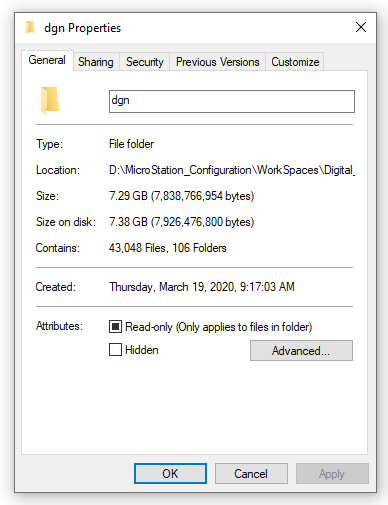 The File Size Grows
From here, know that files can become even larger as we include more detail into the files including construction drawings for each building, roads, etc.

With that in mind, let's look at some data that we've collected from our tests if we compare the file opening times in MicroStation CONNECT Edition. Over the updates, we continuously looked at ways we can improve performance in MicroStation CONNECT Edition, and we strive to continue to do this.

We understand that many variables can affect working with large data sets, however, from our internal baseline, we've compared our various updates based on the number of elements in our files.
Read more about file opening time for MicroStation CONNECT Edition update.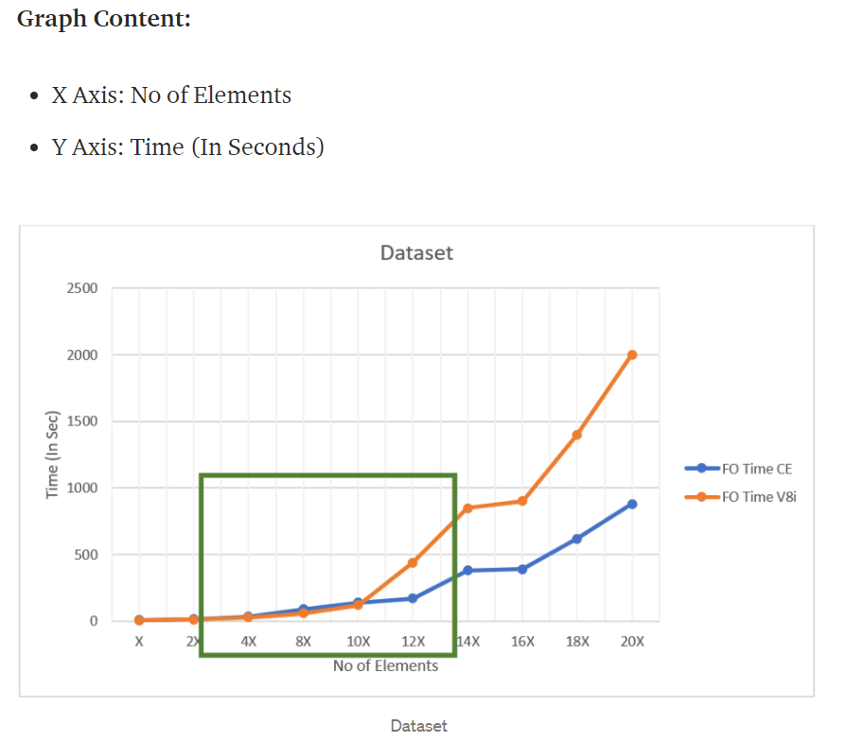 MicroStation is the Solution to Big Data Projects
As the number of elements increases in a DGN file, the time increases, but the time to open increases exponentially with the older MicroStation V8i program vs. MicroStation CONNECT edition.
Read more about the performance enhancement in MicroStation CONNECT Edition.
To summarize, as your projects become larger and more complex over time, MicroStation CONNECT Edition is more than capable to handle your ever-growing design files.
Interest in MicroStation CONNECT Edition?
Watch the demonstration related to this blog: