A city's engineering department engaged Bentley's geotechnical analysis team to train their staff to design a 3D geotechnical conceptual model, and turn over the project for ongoing engineering analysis to support current and future slope stability assessment projects. The project area, a 7-kilometer section of riverbank, ran through the city and required residential, commercial, and civic infrastructure considerations.
Slope instability impacts riverbank
The eastern side of the riverbank experienced slope instability through various slope failure mechanisms. Specific slide locations had been analyzed with numerical modeling as part of previous reports prepared by a geotechnical firm. The city's engineering department enlisted Bentley to provide a conceptual model and slope stability numerical models calibrated to the previous reports. The models will be used by the city to begin assessing a larger area of the riverbank in a more comprehensive manner. Bentley colleagues provided insights on data availability, how to account for input data variability, and recommendations on how to use the 3D conceptual and slope stability predictive models.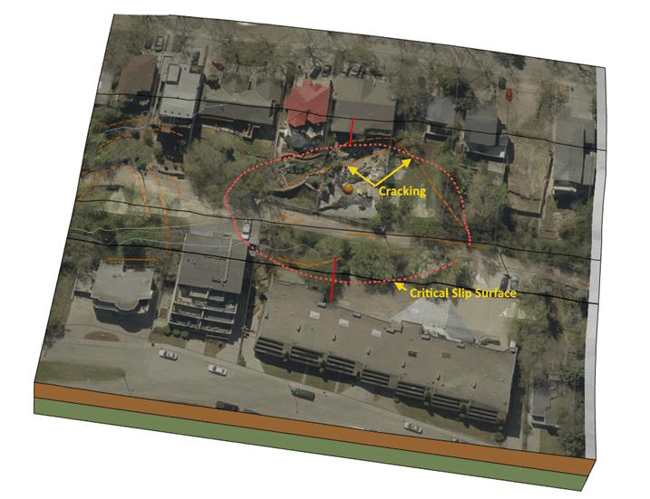 Critical slip surface calibrated to site investigation observations from previous engineering report.
PLAXIS team provides valuable support
The specific objectives of the investigation were to:
Provide 3D calibration of existing slide sites.
Construct a conceptual model of the entire study area.
Generate a predictive model of the study area.
Help the city's engineering department become familiar with PLAXIS applications.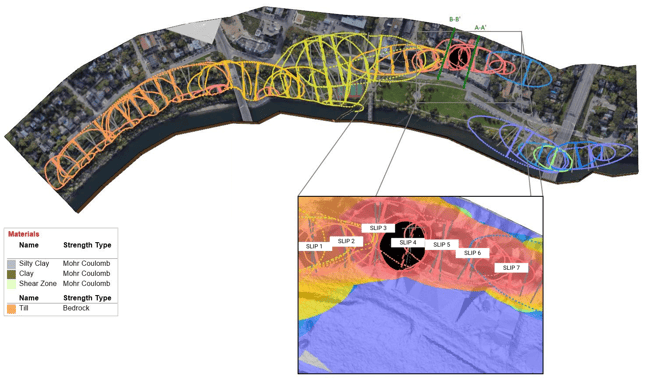 Predicted relative safety map over 1.5 km riverbank slope area.
2D and 3D modeling necessary for analysis
Bentley personnel compiled site data from various sources, including LiDAR surveys, aerial photographs, boreholes, piezometer readings, and historical reports, into PLAXIS Designer to create 3D models. Next, they used PLAXIS LE to calibrate the 3D design to the findings from 2D analysis models from the previous engineering reports for five failed slope locations within the study area. The team established modeling continuity from 2D sections at each location to 3D models at those sections, then to the entire study area involving numerous potential instability locations, ensuring that they verified and calibrated the entire riverbank model.
Bentley colleagues provided a slope stability design and modeling framework that allowed the city to enhance their monitoring and risk assessment program. Bentley team members also provided the tools and training used for testing various remediation or prevention scenarios for ongoing engineering operations.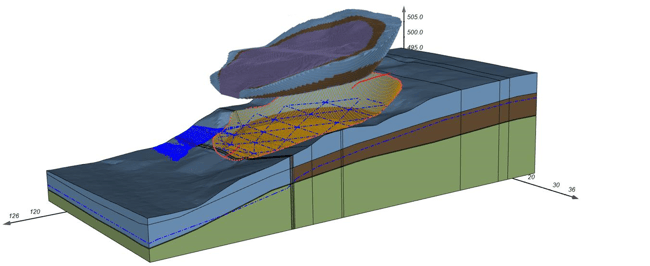 Calibrated critical sliding mass for a slide location with a retaining wall.
---
Discover the top efficiency tips to solve with the PLAXIS Productivity Strategies series featuring blogs, LinkedIn Live Sessions, and webinars.

Learn the top efficiency tips to solve your common problems.