The All-in-one Architectural Design Software
OpenBuildings Designer — formerly AECOsim Buildings Designer — is an interdisciplinary BIM software that includes tools for architectural, structural, ventilation, plumbing, and electrical design. It is the evolution of the Bentley BIM offering and replaces older applications: Bentley Architecture, Bentley Structural Modeler, Bentley Building Mechanical Systems, and Bentley Building Electrical Systems.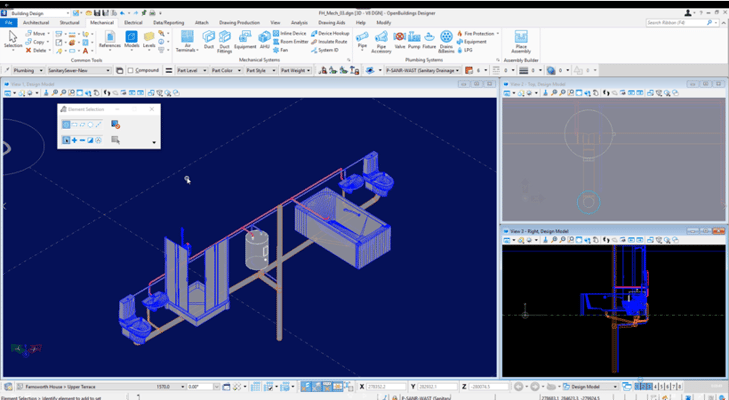 A Single BIM Software Benefits all AEC Professionals
AEC professionals such as architectural engineers and civil engineers can use this multi-discipline building design software to process rich information across all stages of the project lifecycle including design, simulation, and documentation. OpenBuildings Designer empowers users with advanced tools, a shared library of building components, and seamless workflows in a single, unified environment to effectively design, construct, document, and visualize buildings of any size, shape, and complexity.
So, the question is: Why use OpenBuildings Designer? Why not leverage any other BIM software?
Better Capabilities Leading to Optimized Building Designs
OpenBuildings Designer is more robust and has more comprehensive capabilities compared to competitor products. Most of the BIM products available in the market have a problem syncing with the central process. OpenBuildings Designer, on the other hand, provides building information modeling (BIM) advancements so you can deliver buildings faster and with greater confidence—confidence in your design, workflow, capabilities, and deliverables.


This all-in-one application increases collaboration among architects, mechanical, electrical, and structural engineers with a shared set of tools and workflows. Distributed teams of any size can work on models simultaneously—regardless of their geographic location— thus ensuring integrated project execution.


Users can integrate information from multiple formats and work efficiently on projects of any size and complexity.


OpenBuildings Designer has data modeling tools designed specifically for buildings, enabling users to make more informed design decisions, effectively communicate design intent during the design and construction phases, and provide reliable deliverables.


OpenBuildings Designer has great 3D modeling tools so users can quickly model generic objects in 3D. The software provides all kinds of geometry— from meshes over B-spline-surfaces to parametric solids— to promptly generate extraordinary models. In addition, the 3D Snapping capability in OpenBuildings Designer's CONNECT Edition can help users achieve further precision in their 3D work.


There are better 2D drafting tools in OpenBuildings Designer than those provided with most competitor software. Using this software, users can easily generate 2D drawings out of 3D models. These drawings can be further modified and enriched by leveraging fully integrated MicroStation functionalities. All these features make OpenBuildings Designer the perfect choice if projects require a large amount of 2D work.


The advanced computation design capability in OpenBuildings Designer provides users the ability to model with full design freedom—regardless of geometry or project size—to model virtually any shape, size, and complexity.


OpenBuildings Energy Simulator can be used to build regulation compliance, calculate thermal loads for equipment sizing, analyze thermal comfort, and simulate light levels for visual comfort. This capability helps users contribute towards designing sustainable buildings that consume less energy while providing greater occupant productivity, comfort, and safety.


It's easier to coordinate with the browser in OpenBuildings Designer. The coordination file format can be referenced into the authoring app. This means there is no need to convert to another software.


Best Pricing Leading to Substantial Cost Savings
Related software and training costs are budget-friendly in OpenBuildings Designer, compared to most competitive products.


OpenBuildings Designer handles a wide range of complex design tasks with in-built architectural, structural, mechanical, and electrical tools—all in one application. The available companion functions (Descartes and GenerativeComponents) and companion applications (LumenRT and OpenSite Designer) offer a wide range of functionalities for working on projects of any kind or complexity. These features help users reduce the cost of deploying and managing these applications and the associated training expenses.





All-in-one BIM Software
If you're a small business looking for a single BIM software that can help you or your team execute an entire building design project—irrespective of its size or complexity— your search ends with OpenBuildings Designer. This all-in-one building design software with comprehensive features is the perfect tool for infrastructure projects of any size and design, due to its ability to break down the model with the help of reference files.
Investing in the Right BIM Software is a Game Changer
OpenBuildings Designer allows even smaller teams that use BIM workflows to carry a workload of a much larger design team AEC professionals can collaborate effectively with contractors and consultants thanks to the interoperability and uncomplicated data exchange provided by OpenBuildings Designer. Users will be able to reduce construction errors with more accurate models, coordinated drawing sheets, and detailed planning of every phase of the project workflow.

OpenBuildings Designer is considered a more robust software with a lot more capabilities than any competitor software. It's far more suitable for smaller size projects, as there is no additional software required to create a project from scratch.
You can cover multiple disciplines in the same software and use it through your complete planning process from initial estimating and budgeting to post-project analysis. OpenBuildings Designer provides a more comprehensive understanding of the task ahead, a clear picture of the budget, and an in-depth view of the necessary logistics.
In summary, even though other BIM products may be considered as the industry standard due to their seamless interaction with other standard software, OpenBuildings Designer is setting a new industry standard due to its better interoperability with other software thanks to MicroStation, its base platform.