In an era where sustainability is paramount, the efficient use of energy resources is pivotal. Bentley Systems, the infrastructure engineering software company, has been at the forefront of developing cutting-edge technology to address this need. Bentley's OpenBuildings Designer, for example, is an all-in-one building design and energy analysis software application that enables engineers and architects to design and operate energy-efficient buildings and infrastructure. In this blog post, we will explore OpenBuildings Designer's energy analysis feature and its role in shaping a more sustainable future.
Optimizing Building Energy Performance with OpenBuildings Energy Simulator
OpenBuildings Energy Simulator is a companion software that is bundled with OpenBuildings Designer. It helps professionals in the architecture, engineering, and construction (AEC) industry optimize energy performance in their projects. The application provides users with the necessary toolsets to assess energy consumption, identify inefficiencies, and make informed decisions to reduce energy usage and environmental impact.


Key Capabilities of OpenBuildings Energy Simulator



Simulation and Modeling
Create detailed energy models of buildings and infrastructure. Use OpenBuildings Energy Simulator's intuitive interface to easily model the building's geometry, materials, and systems. In a matter of minutes, users can simulate different design scenarios to evaluate energy performance.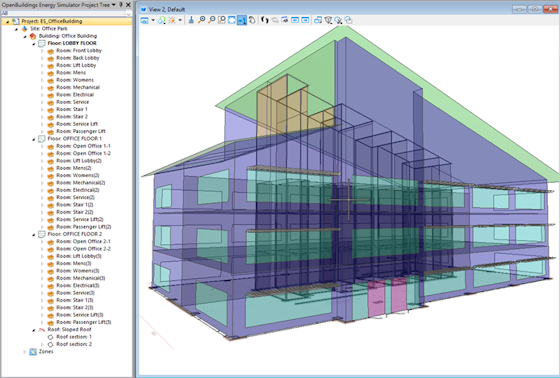 Energy Consumption Analysis
Leverage powerful simulation capabilities to predict energy consumption and demand. It considers factors such as climate, occupancy, and equipment usage to provide accurate energy profiles. Users can evaluate various fuel sources, allowing for comparisons of parameters like expenses and CO2 contributions.
Load Calculations
Design building services by easily assessing heating and cooling load requirements according to industry standard CIBSE and ASHRAE methods.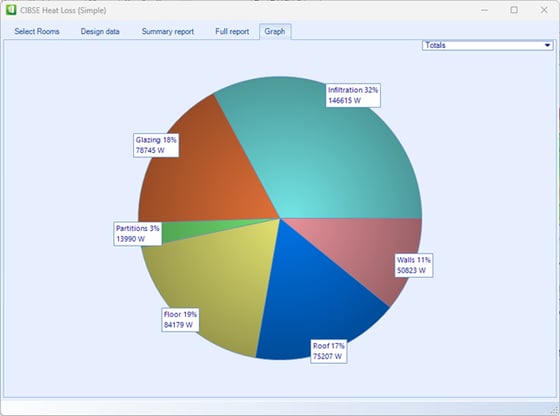 Sustainability Metrics
Assess the environmental impact of your designs using LEED reports, including the ASHRAE 90.1 baseline buildings, Appendix G, Budget Building, and Energy Cost Budget (ECB) reports. Achieve your sustainability targets by obtaining credits that lead to BREEAM certification.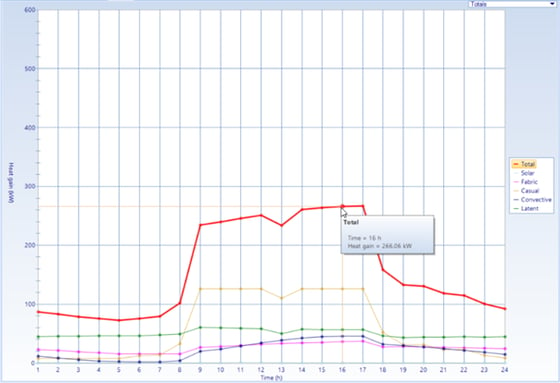 HVAC and Lighting Optimization
Create customized heating, ventilation, air conditioning (HVAC), and lighting systems to minimize energy usage while maintaining comfort and functionality.
Renewable Energy Integration
Integrate renewable energy sources, such as solar panels and wind turbines, into designs, allowing for net-zero or even positive energy buildings.
Thermal Comfort Analysis
Develop energy-efficient designs that minimize overheating while placing a high priority on the well-being and comfort of the building's occupants.
Daylight Simulation
Use the Radiance engine to simulate internal daylighting conditions to ensure occupant comfort and to assess shading from surrounding buildings.
Data Visualization
Visualize simulation results through graphical representations, making it easier to identify energy hotspots and areas for improvement.
Building Compliance
Utilize industry-leading standards such as American Society of Heating Refrigeration and Air Conditioning Engineers (ASHRAE), Chartered Institute of Building Service Engineers (CIBSE), EnergyPlus, and Part L to evaluate the impact of design choices on project energy performance while ensuring compliance with building regulations.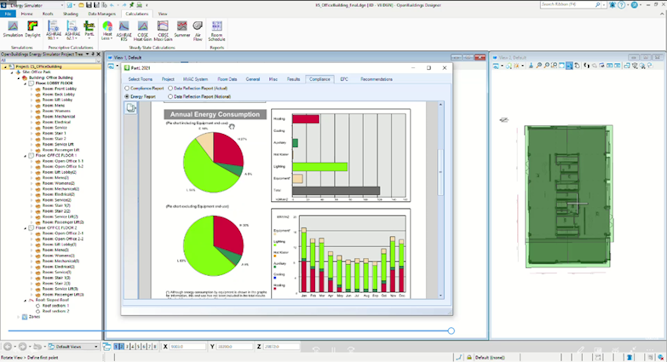 Benefits of OpenBuildings Energy Simulator

Cost Savings: By optimizing energy performance, users can reduce operational costs and the lifetime cost of a building or infrastructure project.
Environmental Impact: Creating energy-efficient designs helps to reduce greenhouse gas emissions and minimize the environmental footprint of projects.
Compliance and Certification: Energy assessors can avail of Energy Simulator's Part L interface to achieve building energy compliance and Energy Performance Certificate (EPC) production. All Part L training materials are freely available to users to obtain certification through our hassle-free Energy Assessor examinations.
Improved Decision-making: Engineers and architects can make data-driven decisions early in the design phase, avoiding costly retrofits later in the project.


Empowering the AEC Industry for Greener Infrastructure



In the current global landscape, the imperative to empower professionals in the AEC industry to craft infrastructure that is not only functional but also sustainable and energy-efficient has never been more pressing. With its simulation and modeling capabilities, energy consumption analysis, and environmental impact assessments, OpenBuildings Designer is helping to shape a more sustainable future. As the world continues to prioritize sustainability, this all-in-one building design and energy analysis software is poised to play a pivotal role in the development of energy-efficient and environmentally friendly infrastructure.


Join us for our upcoming webinar to learn more about OpenBuildings Energy Simulator.