How an engineering firm provides insight into the value of integrated design solutions

In today's fast-expanding digital ecosystem, the tools that had long comprised a trusted arsenal for transportation engineering are now constrained. Digital workflows and adopting 3D and Building Information Management (BIM) for design, engineering, and production are progressively required to streamline review processes, reduce costs, increase efficiency, and meet customer specifications.

Digital design models can improve design accuracy and coordination among team members and stakeholders, as well as help to find constructability issues early in the design process, which can avoid costly delays.

While investing in more advanced design solutions, such as OpenRoads Designer, sounds great in theory, upgrading can be a daunting experience for any small-to-medium-sized business, disadvantaged business enterprises (DBE), or minority business enterprise firms, and investing may not seem to offer clear payback.

Godfrey Lamptey, P.E., PTOE, President at GOAL Associates, Inc., a full-service DBE transportation engineering company based in Miami Lakes, Florida, shares his insights into the value digital transition offers to any design firm as well as current and future clients.


Next Generation Opportunities
Since its formation, GOAL Associates has embodied best-in-class design and engineering for a wide variety of civil and transportation projects. Godfrey has long adopted advanced technology, as he began his career using legacy workflows such as GEOPAK and transitioned to using Bentley software for transportation projects more than 20 years ago.

"I wrote a lot of custom software in GEOPAK and MicroStation to make my design process more efficient," he said. "Programming was something that I loved doing, so I wrote my own code."

But the world has changed. Godfrey said that while GEOPAK and similar design applications have some great features and functionality, they require considerable experience before users become true experts. Today's advanced design and analysis applications act more as facilitators for design with many automated and easy-to-use capabilities that streamline workflows, quickly enabling practitioners of all skill levels to produce effective results.

As a result, infrastructure planning, design, and construction is undergoing a significant transformation, much like when CAD replaced hand drafting plans decades ago.

Godfrey said solutions such as OpenRoads Designer are evolutionary for the industry. As a comprehensive and fully functioned detailed design application for surveying, drainage, subsurface utilities, and roadway design, it supersedes capabilities delivered through applications such as InRoads, GEOPAK, MX, and PowerCivil.

But it is GOAL Associates' work with the Florida Department of Transportation (FDOT) that initially dictated the transition to OpenRoads Designer – a requirement that Godfrey said will continue to grow across the public and private sector. "FDOT is looking at 3D modeling and BIM to support the lifecycle of a project, not just the planning and design," Godfrey said. "They want to be able to transition these models directly to contractors. For us, a solution such as OpenRoads Designer is fast becoming a requirement on infrastructure jobs."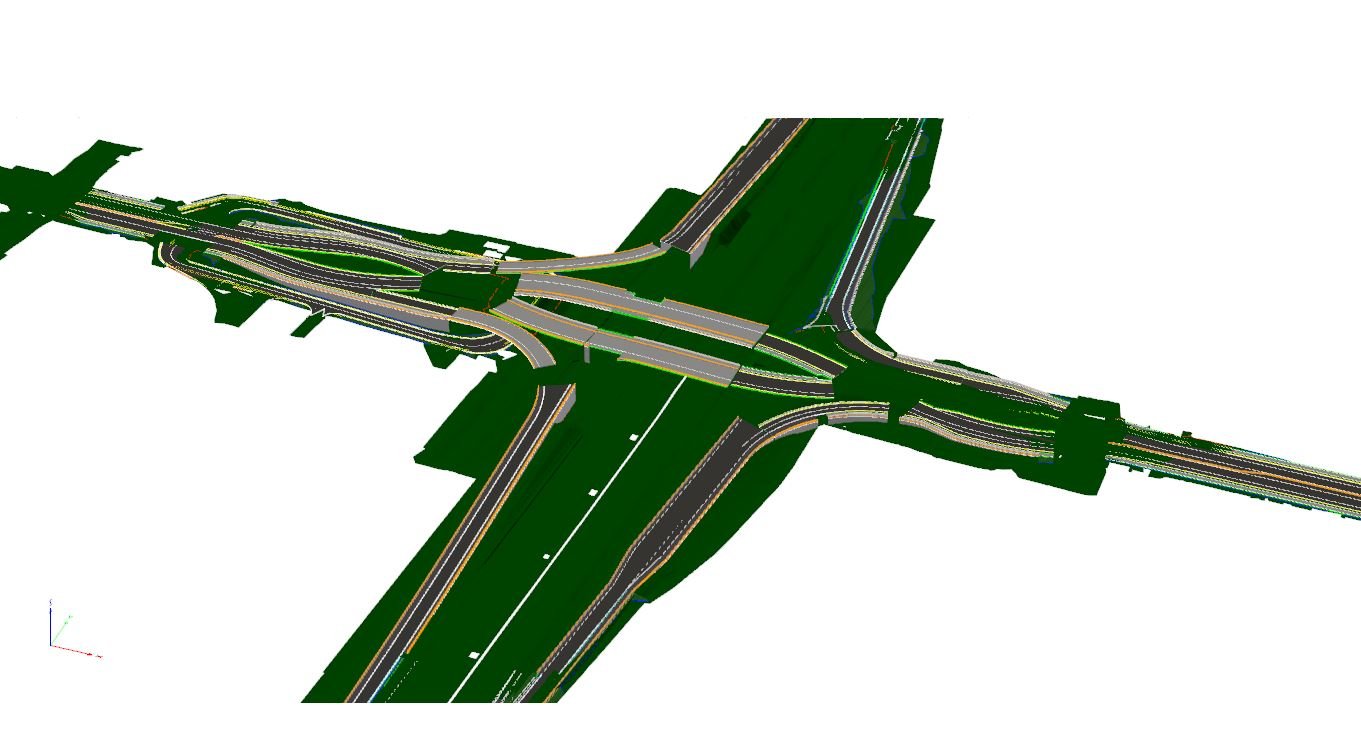 An Interchange of Opportunity
GOAL Associates is currently using OpenRoads Designer to prepare the preliminary design of the upgraded I-95 interchange at Lantana Road in Palm Beach County. The project will relieve congestion at the interchange and facilitate the safe movement of all modes of transportation, including pedestrians and bicyclists.

The project team just concluded the initial engineering phase of the project, setting the roadway alignment, cross section geometries, and other elements. The GOAL Associates team used OpenRoads Designer for the initial design and constructability evaluation. Any request for information or any revisions that are needed will be developed in the OpenRoads Designer model.

"Using OpenRoads Designer is beneficial to us, our customers and the community," Godfrey said. "We gain a lot of efficiency in the design development and making revisions. One of the key concerns in a big project of this nature is consistency. That means whatever we adjust on the horizontals matches the profile and the cross-sections. With OpenRoads Designer, all three are tightly integrated, which provides efficiency and eliminates the chance of inconsistencies."

OpenRoads Designer has also helped the project team catch potential issues and quickly evaluate what-if scenarios to determine their impact to travelers and the community.

"By blending traditional engineering workflows for plans, profiles, and cross-sections with 3D modeling and BIM workflows, we see the full picture, a fully accurate interpretation of reality," Godfrey said. "We can even start a design in a 2D environment and watch the 3D model auto-generate, eliminating the need for paper-based plan reviews. In summary, we have a better design that transitions to construction and streamlines communication across departments and stakeholders. The overall value is immeasurable."
Want to Learn More?
For more information about OpenRoads Designer's user-friendly interface and innovative technology capabilities, contact Jossua Mejia, product sales engineer at Bentley Systems.
Do you have a roadway project and don't know where to start? Or do you want to learn the basics of roadway design? Check out our OpenRoads Designer learning content below.
About Godfrey Lamptey
Godfrey Lamptey P.E., PTOE has over 21 years of technical and multidisciplinary experience in the areas of transportation planning, project development, NEPA studies, traffic operations, safety analysis, and highway design. He also has extensive expertise in congestion and safety management, multicriteria optimization, and work programming under various budgetary scenarios. Godfrey served as project manager and lead engineer on major transportation projects including transportation planning, PD&E studies, traffic operations, and signalization, as well as highway design projects.

Tales from the Road: GOAL Associates A DBE Firm's Journey with OpenRoads
Join Godfrey Lamptey, President at GOAL Associates Inc, as he presents his journey with OpenRoads Designer and how it has helped his firm to become a Small/Minority/ Disadvantaged Business Enterprise (DBE / SBE / MBE) firm known for the creativity of its solutions to every project.
Save your seat today!