A new piece of land hits the market. Developers dive into the unknown, racing to find answers to their many questions in order to make an informed decision before the competition. Is the investment worth it? Knowledge is power and with the right tools, land developers can confidently negotiate price, terms, and risk in 48 hours without an engineer or CAD expert.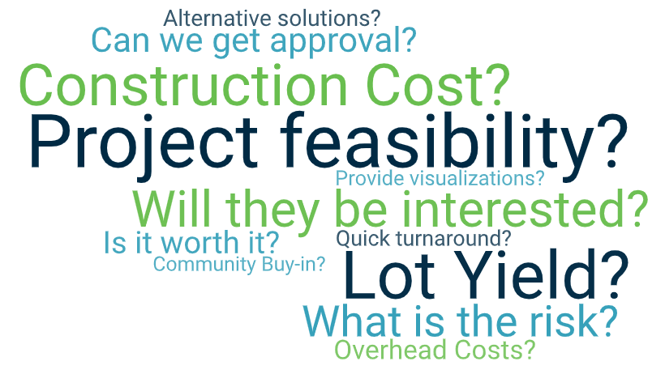 Land Developers DIY in 48 Hours
Stop wasting time on engineering tools you'll never use. Fast and affordable, OpenSite doesn't require engineering or CAD expertise. In 4 easy steps land developers can generate:
Conceptual site plans
Conceptual grading plans with earthworks estimates
Quantity reports for cost analysis
PDF Documentation with a 3D model
How is this possible! OpenSite uses artificial intelligence to automatically handle tedious drafting and engineering calculations, so you don't have to. Its patented generative design capabilities solve incredibly complex engineering feats, comparing millions of layout, grading, and piping combinations for a detailed conceptual site in hours.
That's right it does the work for you. OpenSite trades hundreds of tedious manual steps for just a few clicks of your mouse.
Generate Conceptual Designs in 4 Steps (Steps 2-4 Automated!)
Step 1: Create your site
OpenSite's automation and various layout tools allow land developers to start from a blank slate and generate a site with a few clicks of a mouse. Yes, it is that easy! The "clicks" are selections of elements to create your layout, which depending on your plan will be more or less. Once you are happy with your layout, export it to DWG, and continue working in your CAD software of choice for more detail. This is where OpenSite Designer shines, doing the detailed work for you in the conceptual phase!
52 Clicks = Site Layout
| | |
| --- | --- |
| With automation creating a site is as easy as 4 clicks | Example site created in 52 clicks |
| | |
Step 2: The beginning and the end of your site design!
The magic of OpenSite happens behind the scenes. While you were creating your 2D design in step 1, OpenSite was automatically creating a 3D model. With this model-centric design, you are now only a few clicks away from all the details you need to make an informed decision on your new site. Using the 52 click layout from step 1, you have 15 more clicks to a fully graded site with earthworks estimates.
View the DWG file.
52 + 15 = 67 Clicks
Site Design + Grading & Earthworks Estimates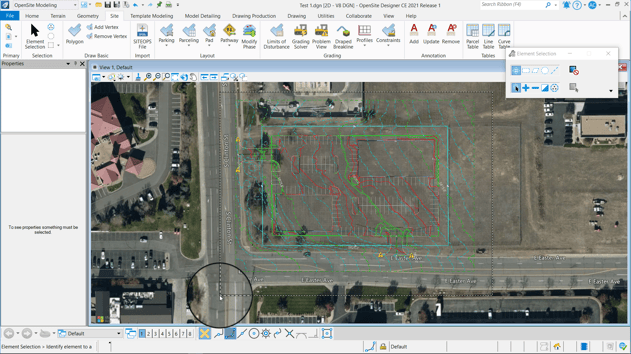 Want to see that plan in real-world conditions? No reason to wait on survey data, you can import ESRI topography to visualize it faster. Once field survey data is available, import it for increased accuracy).
Step 3: Site cost analysis
Imagine having a quantity report with a Cut/Fill + Import/Export analysis in the early stages of conceptual design. What if that report could also know that your road is going to be constructed with varying amounts of subbase, wearing course, intermediate course, the amount of grass needed for the island, or amount of concrete for the 6'' gutter? Well, it does! Already, OpenSite was looking at your site as a 3D model. It views all the roads and parking lots as constructible, so with 16 more clicks, you have a detailed quantities report to analyze for financial feasibility.
67 + 16 = 83 Clicks
Site Design, Grading, Earthworks Estimates + Quantity Report

Step 4: Print site design to PDF
In the final stages, you can fine-tune your design and even add detailed labeling. With the final 17 clicks, you can now print your design to PDF and share it with stakeholders.
83 + 17= 100 Clicks
Site Design, Grading, Earthworks Estimates, Quantity Report + PDF Documentation
Want to learn more about OpenSite for Land Developers? Click below. Interested in trying it out for yourself? Contact us to get started.