OpenSite is a conceptual, preliminary, and detailed design application created specifically for site design and land development. Known for its ability to identify constraints early, its automation to reduce manual work and risk, and its ability to generate multiple design alternatives with financial and project feasibility, OpenSite ensures you can make informed decisions in hours.
Because all infrastructure projects begin with a site, land development spans many industries. With this in mind, OpenSite was built with features and functions to benefit all land development stakeholders, including engineering consulting firms, architects, landscape architects, government agencies, and land developers.
What is the difference between OpenSite SITEOPS and OpenSite Designer?
OpenSite SITEOPS
OpenSite SITEOPS (included with OpenSite Designer) is a conceptual site design software that evaluates more information in the early stages of a project, designs more efficiently, and minimizes site development costs. Since SITEOPS is built using strong engineering principles to simplify work for users, you don't have to be an engineer or CAD expert to use it. Its patented generative design capabilities solve incredibly complex engineering feats, comparing millions of layout, grading, and piping combinations for a site within just a few hours. Revisions are easy and can be done on the fly. For example, simply adjust a building's location and watch as the software automatically redraws parking, driveways, islands, grading, stormwater piping, and dynamically generates cost estimates.
SITEOPS can be used to identify improved layout solutions and grading savings on sites from a single-acre retail parcel to distribution centers, shopping centers, schools, industrial projects, and mixed-use projects.
OpenSite Designer
A true site engineering software, OpenSite Designer includes a complete detailed design set of capabilities for rapid site modeling and analysis, earthwork optimization and quantification, drainage and underground utility design, and automated project deliverables. It allows users to take concepts to plan production, whether you need to produce traditional 2D deliverables, advance to 3D modeling, or support digital transformation. Plus OpenSite supports BIM, so it's easy to integrate existing real-world conditions, work with a variety of disciplines and data types, and work with distributed teams.
Read OpenSite product data sheet for more details on capabilities
Why is OpenSite better than other civil site solutions?
OpenSite is proven to create projects faster while also delivering better solutions. At the same time, it is proven to be a great business tool because clients are satisfied and return for future projects. Can't say that about other design software!
OpenSite was designed and built by civil engineers and land developers to create a workflow that allows designers to deliver designs to their clients faster. Producing faster solutions allows for quicker stakeholder feedback. This feedback may generate a need for revisions and with OpenSite edits can be done in minutes to create a more productive and profitable project.
As engineers it is not about creating plans, it's all about producing good designs. This is the principle of OpenSite.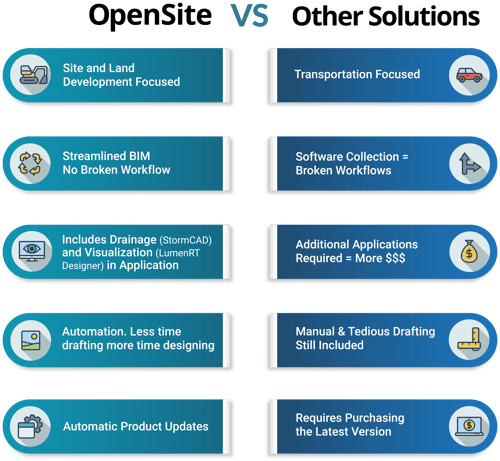 How do engineering firm owners use OpenSite?
What types of projects can I use OpenSite for?
OpenSite has capabilities for all types of land development projects from residential to commercial and industrial. Common features that engineering firm owners will leverage are:
Automated Layout Tools
Use these early collaboration tools to determine the best design that also meets client and regulatory requirements.
Parametric and Optimization Tools
Reduce tedious manual work so engineers and designers can spend more time designing and less time drafting.
Engineering Acumen
Save time and reduce the risk of bad designs with engineering principles built in the software.

Patented generative design capabilities solve incredibly complex engineering feats, comparing millions of layout, grading, and piping combinations for a site within just a few hours.

3D Visualization
Deliver clients stunning visual images and video quickly, without buying any additional software or needing a graphic artist level employee.

Download the product datasheet for a full list of capabilities
What are some examples of how engineering firm owners can use OpenSite?
| | |
| --- | --- |
| Benefits of OpenSite for EC Firm Owners | Visualization with OpenSite |
| | |
User Success Story Joseph Viscuso, PE, PLS
Former Senior VP and Director of Strategic Growth Pennoni Associates Inc.
How do engineering firm owners benefit from OpenSite?
Whether you are looking to grow your business, sustain your current workload, or improve daily workflows - OpenSite is here for you.
Do more with your existing staff.
OpenSite's automation, parametric, and optimization tools allow engineers to reduce tedious manual drafting work for more time on design. Reducing design time by 20% allows your team to spend more time on:
Reduce overhead costs with one application.
Most civil site and land development technology require purchasing multiple applications and collections of software. The worst part, they aren't even tailored to site design and land development. Stop paying for software packages you won't use. Stop forcing transportation software to work for land development. Stop using broken workflows across applications, too much potential for error! OpenSite provides you with ONE download for two purpose-built land development solutions.
The bonus, OpenSite provides you with geotechnical, drainage, underground utility, and visualization solutions in application. There is no need for a collection of software that your engineers won't use or like.
It's also a business tool for financial forecasting.
Land development projects aren't just about design and engineering. In order to get to that step, you have to win the bid first. Have you ever thought about the time and money you are losing on engineers designing and editing projects before winning the bid?
With OpenSite, engineers can identify site constraints, create multiple solutions, produce visualizations to communicate design intent, with detailed cost estimates in 48 hours. CEOs, owners, and principals; talking project feasibility during the conceptual phase has never been easier or more impressive!
Reduce risk, for your clients and you!
At the end of the day, the best part of OpenSite is risk reduction. Its artificial intelligence removes the potential for manual error that is common in CAD applications. The ROI? Less error prevents risk in the field and to your deadlines, reputation, and longevity of your business.
Remove manual & repeatable error-prone work = happy engineers = happy clients = BUSINESS SECURITY
How can engineering firm owners learn more about OpenSite SITEOPS and OpenSite Designer?