Discover how SYNCHRO 4D is leveraged for work packaging, dynamic clash detection and resource allocation in order to avoid timeline delays and improve performance for large plant projects across the oil & gas and chemical sectors.
Saving Significant Time With SYNCHRO 4D
Today's complex oil and gas facilities bring together key engineering and related disciplines needed to design, engineer, and operate the facility along with the construction schedule across its construction lifecycle. The 4D environment offers significant benefits for both plant owners and engineering contractors by:
Capturing evolving and maturing engineering data as it is created and modified
Maintaining the engineering data in a managed environment in the project implementation and construction phase.
Interfacing the right data with other enterprise-based systems
Teams can use 4D construction models in weekly collaborative planning meetings to facilitates development and scheduling of complex plant construction activities in advance, saving significant project time. The 4D models help improve site progress monitoring, resource planning for pipe rack and other equipment, and eliminate rework. All these benefits save time in site implementation, providing a direct and indirect cost savings. A common screen showing the equipment/construction packets movement at a project location helps streamline resource movement at actual project site. By using Bentley's collaborative digital applications, the project team can provide accurate visualization of the construction process, improving communication and understanding among site operatives and stakeholders to streamline workflow, decision-making, and approval processes.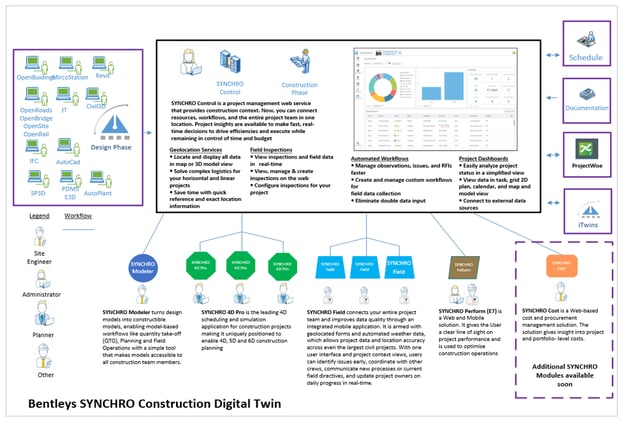 Visualizations stimulated conversations among the various teams regarding constructability, with safety as the utmost priority, and often led to changes in scheduling to optimize work efficiency and cost. For example, the solution represented the work associated with equipment, steel, and pipe objects as three different colors on the schedule. Rather than the typical day-to-day work planning completed by foremen on the fly, site supervisors could create a series of work packages, each defining what a foreman and typical work crew could complete in approximately one week. The work packages accurately reflected detailed information about available materials, work crews, constraints, equipment orders, and deliveries, as well as defined how to complete the work safely in the given time frame, optimizing productivity of work teams.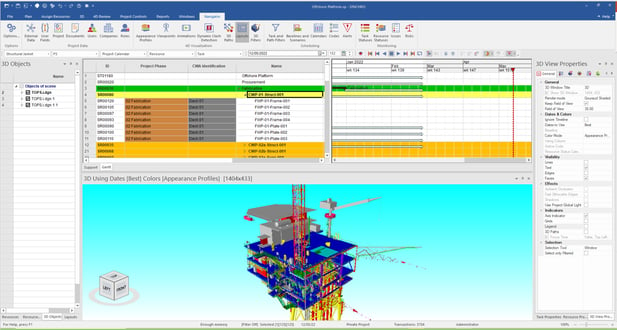 Get Complete Transparency On the Jobsite With SYNCHRO Field
SYNCHRO Field provides site managers with an immediate link to current plans and specifications, ensuring that they implement the proper plans and approve the design. By immediately addressing issues and RFIs as they arise, plant project teams can quickly make intelligent decisions at site. Field crews have an opportunity to operate more efficiently and can spend more time building the project rather than spending that time remembering and entering issues, RFIs, notes, logs, and timecards, as well as uploading photos, videos. Using SYNCHRO Field expedites the entry of the information and helps ensure accuracy.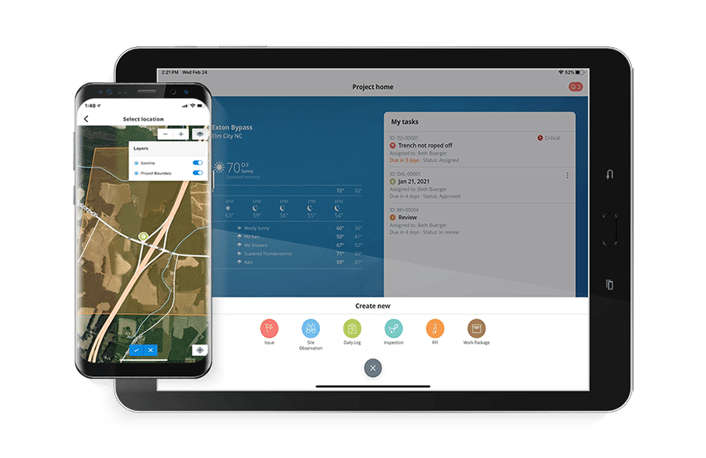 SYNCHRO Field helps with real-time resource status at plant location. Although oil and gas projects have heavy list of equipment to be installed and erected, this process can be streamlined with the mobile application.
Plant location are often in a widespread area. However, teams can manage all project information with SYNCHRO Control, turning on georeferencing for all data within the model for trusted accuracy because georeferencing gets you the exact location within the project coordinate system. One can quickly share updates and issues using real-time communication across the team. Teams can even quickly view project by task, report, 2D plan, map, and model styles for quick reference and full context decision-making. SYNCHRO Control will provide you with quick, multi-view, and accurate reporting of project key performance indicators. You can see your project stats presented in map, chart, and summary views in one dashboard. With SYNCHRO Control, teams can manage observations, issues, and requests for information—faster.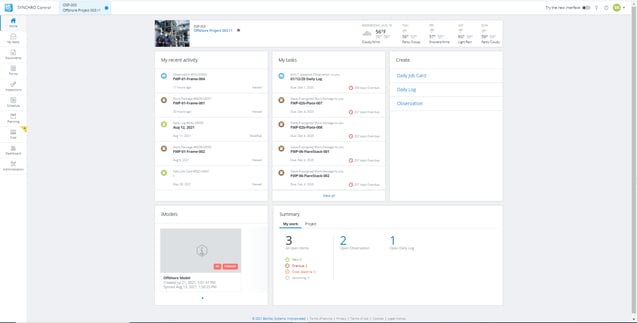 Civil Contractors Stay Ahead With Digital Construction Solutions
Civil contractors are adopting digital workflows at a fast pace to keep up with the competition. Integration of design, construction scheduling, and project management tools—with real-time data collection from the field—will unlock the value of data available to construction companies. Specialized digital tools for civil construction industry have now made it possible to utilize the data throughout the project lifecycle to avoid rework and save costs. Data visibility and insights from historic data will improve efficiency through predictive analytics. Contractors who are nimble and quickly adapt to change will have a competitive edge in the market in the coming years.
Want to learn more? Sign up for our webinar: Construction Work Packaging in SYNCHRO for Oil & Gas Projects