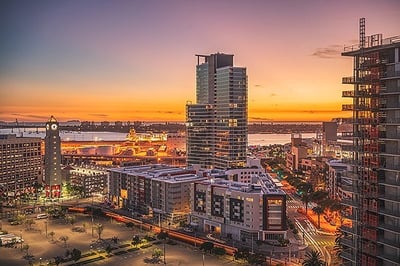 Designing a 37-story concrete building in the heart of San Diego is no easy feat, especially when the project also includes 35,500-sf of plaza and two mid-rise podiums.
Located in one of the most sought-after blocks in the city, Park 12 offers more apartment units than any other downtown development – 718 to be exact, with one "luxury" apartment unit on every floor. In addition, the complex has 45,000-sf of retail space, and almost 1,000 below-grade parking spots.
Building such a large luxury project in an incredibly dense urban environment presents several challenges, particularly geotechnical, architectural, logistical, and structural.
Image: Park 12 looks striking from any angle. The building is flanked by six and seven-story apartment buildings that sit on top of two podium structures.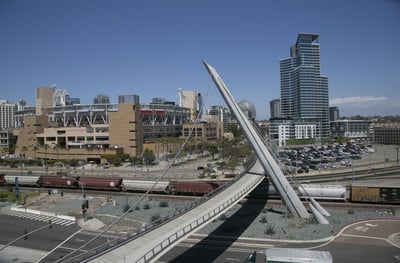 DCI Engineers provided the structural design and analysis for this project, using Bentley Systems' STAAD and RAM software to tackle the challenge. When designing a tall waterfront structure in California, engineers can expect three major influences on their design: large wind loads, large seismic loads, and a high water table. It is safe to assume that such an ambitious project would face the typical construction outcomes of going way overbudget and past schedule. Instead, DCI ended up saving hundreds of design hours and reducing costs during its final plan check and construction. How? With thoughtful design and a powerful analysis toolset.
Park 12 is seen here in the background. Construction involved rerouting a major road while attempting to minimize traffic impact.
DCI fully modeled the three structures using Bentley software. Smooth interoperability between various STAAD and RAM structural analysis products allowed for accurate and precise representation of loads, which saved hundreds of pounds of rebar from earlier estimates. To prioritize construction cost and time, DCI designed various slab types, including post-tensioned concrete slabs and mild-reinforced concrete. At points when the project's design would change, STAAD and RAM software enabled DCI's engineers to react quickly and deliver same-day structural reevaluations, which led to smooth real-time collaboration and budget tracking.

With Bentley's Structural WorkSuite product, engineers gain access to Bentley's most popular structural applications (both STAAD and RAM) in a single, cost-effective license. Our STAAD and RAM products (all designed by real engineers who have been in the field for years) help engineers on tight budgets take a project from concept all the way through to completion.

With Structural WorkSuite, you can:
• Streamline multidisciplinary team collaboration through interoperability with applications like Revit, Tekla, OpenBuildings, and AutoPIPE
• Automate your detail drawings and documentation with in-program AutoDrafter features
• View and edit models from mobile devices
• And so much more!
---

Want to talk to a Bentley Structural Expert?
For the price and benefits of the Virtuoso Subscription? Learn more here
---
Webinar Series
Watch the Virtuosity team design a brand-new building from Concept to Construction!
Join us on our Digital Construction journey in a webinar series where we take you step-by-step through the conceptual and preliminary building design processes. We will be using a variety of different software products from our collection!
To learn more about what you can accomplish with Virtuosity, you can register for the entire webinar series below or choose to just join in session 5 which is dedicated specifically to Structural Analysis!
The tools that you will see showcased in this nine-part webinar series are: