Project
Located amid a cluster of London's tallest buildings in the city's Financial District, 22 Bishopsgate was designed by PLP Architecture as a 62-story, 278-meter glass clad tower set to be the city's first vertical village featuring office space, shops, restaurants, medical and educational facilities, and a public observatory. The GBP 1.5 billion project required that the skyscraper be built using the foundation and basement previously constructed for the unfinished Pinnacle building. WSP Parsons Brinckerhoff (WSP) was retained to provide multi-disciplined engineering and structural design services, and implement a BIM methodology to adapt the existing structural elements for use in the 22 Bishopsgate superstructure.
Solution
WSP used RAM Structural System for much of the steel design work to generate and analyze multiple design schemes and optimize the design in accordance with the site and structural constraints. Using RAM Concept for design of the basement raft foundation and floor slabs below ground level enabled WSP to retain much of the existing basement construction. The interoperability of Bentley software with Revit and third-party beam design software provided an integrated model for accurate 3D visualization, drawing production, and material takeoffs, and optimized collaboration to meet the imposing deadlines.
Outcome
RAM saved WSP 40 percent in design time, reducing design production by 10 months. Linking RAM to Revit through Bentley's Integrated Structural Modeler optimized information mobility, resulting in a 3D intelligent model that can be used for generating construction drawings. Using Bentley software for schematics through to construction design ensured the most economical, efficient design within the tight deadlines, as well as strict compliance with European regulatory codes. The final design was an efficiently shaped steel frame that was 15 percent lighter, yet had 30 percent more floor space than the previous Pinnacle design.
Software
WSP relied on RAM to analyze the interaction between the new and existing structural elements and model the complex geometry required for the foundation and basement. Integrating RAM with Revit enabled WSP to use 100 percent of the existing foundations and 50 percent of the basement. The interoperability of RAM was crucial in calculating lateral stability and load analyses and determining solutions using inclined columns and trusses to optimize load transfers in the superstructure. Using Bentley applications, WSP simulated the effects of fire to determine the steel beams that required fire protection and the duration of protection necessary.
Watch the presentation: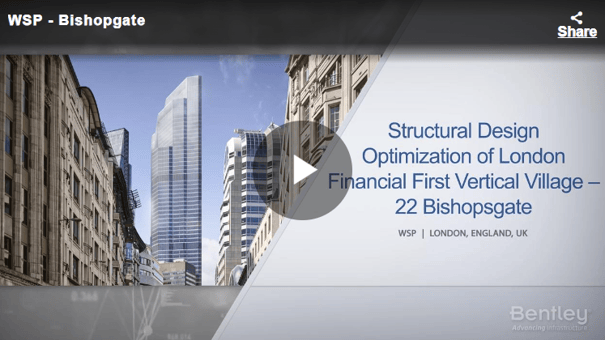 Facts
RAM Structural System and RAM Concept allowed for extensive analysis of the existing foundation and basement levels of the unfinished Pinnacle building, enabling WSP to incorporate 100 percent of the foundation and 50 percent of the basement structural elements into the 22 Bishopsgate tower.


Integrating RAM Structural System with Revit, WSP performed 70 design iterations in just 44 weeks, saving 40 percent in overall structural design time.


The interoperability of Bentley software optimized collaboration and information mobility facilitating a seamless BIM workflow and resulting in an intelligent 3D model.


Using Bentley applications to simulate fire effects saved significant costs for fire protection on the GBP 1.5 billion superstructure project.




Quote:
"WSP is committed to using RAM software for steel design on every high rise project we design. It is a prerequisite solution for our engineering designs."
Andrew Woodward