Project
Part of a strategic development plan for the Han River in the Hubei province, the Hanjiang Yakou Shipping Hub engineering initiative focuses on improving navigation, irrigation, power generation, and tourism while reducing carbon dioxide emissions. The CNY 3.35 billion project includes a ship lock, power station, sluice gates, fish pass, and cofferdams. The project will be delivered by a multidiscipline design team amid a compact footprint on a 49-month construction period. Hunan Hydro & Power Design Institute (HDI) was tasked with improving quality and efficiencies, streamlining workflows, and optimizing design to reduce costs and eliminate environmental impact.
Solution
Consisting of 12 disciplines with 32 designers, the team established a comprehensive, BIM-driven strategy using a connected data environment and open 3D modeling applications to coordinate the design of several buildings. The strategy also included a 75-megawatt power plant, a new irrigation system, and a fish ladder. HDI generated the digital terrain model and performed earthworks calculations. Integrating civil, electrical, and plant design helped the team develop an accurate digital engineering model, facilitating construction simulation and lifecycle BIM management.
Outcome
Working in an open, connected data environment streamlined workflows and standardized processes, improving design accuracy by 17% and overall efficiencies by 50%. HDI was able to complete the design in 45 days, two months ahead of schedule. The team's choice of collaborative BIM applications helped avoid more than 92 potential collisions and shortened the construction period by three months, saving CNY 30 million. Providing animated visualizations enhanced communication with project stakeholders and simplified understanding of design intent. Parametric modeling and simulation enabled the team to optimize design and operation of the fish ladder, meeting sustainable ecological and environmental design requirements.
Software
Using OpenRoads and PowerCivil helped create an accurate excavation plan to reduce earthworks by 200,000 cubic meters. Bentley Substation and Bentley Raceway and Cable Management facilitated design and layout of the electrical equipment amid the compact space. OpenBuildings Designer produced an overall 3D model, eliminating material shortages and on-site construction errors. Integrating mobile devices to interface with ProjectWise accelerated communication between headquarters and the design office to more efficiently resolve design issues. Importing the 3D models into LumenRT enabled the team to rapidly determine a green, ecological, and environmentally friendly landscape design scheme.
This project was the winner in the Power Generation category of the 2019 Year in Infrastructure Awards, now known as the Going Digital Awards in Infrastructure. Read the case study and watch the presentation: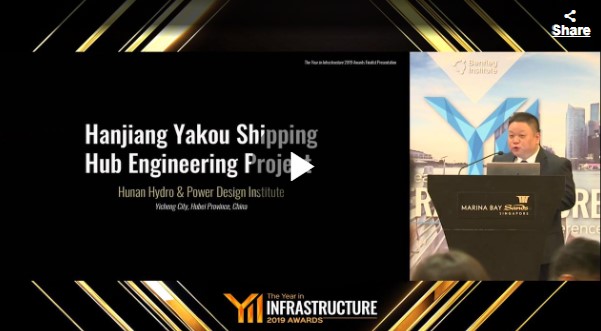 Facts
HDI used Bentley's integrated, open BIM applications to overcome site and time constraints, delivering an infrastructure project that will expand shipping capacity and alleviate the power supply shortage in the Hubei area.


Bentley's 3D collaborative digital design technology eliminated errors and material shortages to reduce on-site change orders by 80%.


Using ProjectWise and Bentley's modeling applications helped optimize workflow processes to realize electricity generation three months ahead of schedule.


Quote:
"Bentley's hydropower solutions have solved problems, such as difficult discipline coordination, compact equipment space, and difficult engineering arrangements. They also helped us visualize and coordinate the overall project design. Moreover, the solutions enabled us to develop demonstrative and transferable BIM design experience on navigation junction projects to improve overall design quality and project efficiency."
Zhongyuan Zuo
Director of BIM Technology Center
Hunan Hydro & Power Design Institute