Project
With abundant wind energy resources and a well-developed power grid expected to reach a capacity of 3.5 gigawatts by 2020, Jiangsu coast is one of the 10 million-kilowatt wind power bases in China. Three concentrated offshore wind farms are being planned in Nantong City, Yancheng City, and Lianyungang City. POWERCHINA Huadong is responsible for designing the wind farm structures. Faced with complex geological land constraints and unprecedented water depths, the multidiscipline team required a comprehensive, integrated 3D digital engineering solution.
Solution
Considering construction feasibility amid the challenging site conditions, POWERCHINA decided to use a monopile jacket and high-rise platform for the wind turbine foundation. The company used SACS for overall structural design of the wind turbine foundation and offshore substation, as well as for construction simulation. Integrating ProjectWise, POWERCHINA established this as China's first offshore wind project to implement 3D collaborative design. The flexibility of SACS facilitated development of innovative secondary applications to optimize data compatibility and integration with third-party software used by wind turbine manufacturers.
Outcome
Utilizing and expanding the capabilities of SACS saved time and costs and increased design and construction efficiencies. The integrated system facilitated accurate material estimates, saving 20% in steel material consumption, and shortened the iterative design process from three to four months to one to two months. With the help of ProjectWise, POWERCHINA developed a digital engineering and 3D collaborative design application that enhanced coordination among the different design disciplines, avoiding collisions between electrical and HVAC systems. Based on the powerful features of SACS, POWERCHINA quickly achieved optimal structural design, improving engineering and reducing construction costs of the wind farm, offering significant economic, social, and environmental benefits within the Jiangsu province.
Software
Using SACS improved design quality and helped predict offshore structural performance in a unified analysis environment. POWERCHINA used the software for finite element analysis and construction simulation to achieve design optimization and ensure construction feasibility. The team maximized the capabilities in SACS, developing a design and calculation system to integrate wind turbine load and foundation calculations, accelerating the iterative design process. Bentley's flexible, interoperable offshore modeling and analysis application enabled integration of 3D models from third-party software, facilitating collaborative design and extraction of material quantities directly from the models for more accurate estimates.
This project was a finalist in the Mining and Offshore Engineering category of the 2018 Year in Infrastructure Awards, now known as the Going Digital Awards in Infrastructure. Watch the presentation: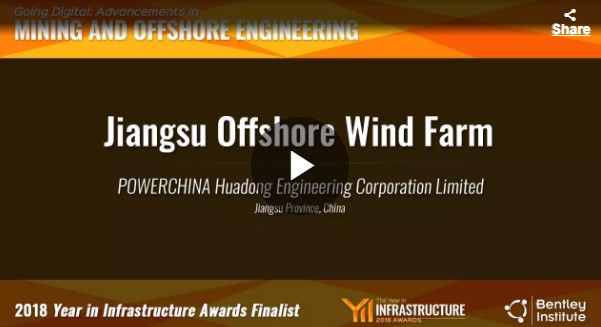 Watch the webinar Minimizing the LCOE in Offshore Wind Using Digital Workflows.
Facts
POWERCHINA used SACS to overcome significant geological challenges and unprecedented sea depths delivering the CNY 67 billion Jiangsu wind project, promoting clean energy and effectively reducing pollution discharge and carbon emissions.


Leveraging the powerful modeling and analysis features in SACS, the team developed several secondary applications that resulted in the construction period being six months ahead of schedule.


The team applied the coordinated workflow processes in ProjectWise to establish this project as China's first offshore wind project using 3D collaborative design.


The flexibility and interoperability of Bentley's software provided the basis for an integrated design system, shortening iterative design time by up to 50%.




Quote:
"Faced with [significant environmental] challenges, we still realized the project with all designs based on Bentley's platform."
Yu Li
POWERCHINA Huadong Engineering Corporation Limited