Learning from an Architect about MicroStation, CAD for Architecture
The London based architectural, design, and urban planning firm of Lifschutz Davidson Sandilands has been winning national and international design awards for decades. It's not surprising when you look at the fresh thinking they bring to every project – from residential to office, retail and hospitality, arts and culture to education, and more. But their capacity to solve problems isn't based on their innovative design ideas alone, but their use of innovative technology to get there.

Bentley product engineers spoke with Duncan Gammie, Associate Director for Lifschutz Davidson Sandilands (LDS) about the newest version of MicroStation. As a valued user of MicroStation, for well over 20 years, who better to go to for a review of the latest release. Mr. Gammie starts the conversation by saying that the latest technology has been "invaluable in increasing our efficiency and improving the accuracy of our work." He then goes on to offer the main features benefitting LDS – item types and reporting, as well as parametric modeling and parametric components.


Item Types
LDS considered a typical project that they have – a large residential project consisting of 17 towers, podium buildings, public space, commercial space, and retail. For a project of that size, to initially produce an area schedule, it would take LDS about 5-7 days. That might entail 500 files used to construct all levels of the project. Mr. Gammie says, "to go through that in a manual process is very time-consuming, but using item types, greatly increases the efficiency of this process. So, rather than somebody going around manually noting, taking off callouts from areas and shapes, etc. and transferring those into an Excel worksheet, the use of item types enables us to automate that process and it increases the efficiency and the accuracy of that blade, well, massively."

Most commonly LDS uses item types to produce area schedules and door schedules, as well as occasionally for window schedules. Duncan goes on to explain "we will also use item types for a certain degree of element re-symbolization in our information, with the ability to tag elements with phases or with different bits of information that allows us to display that information separately to how it is without having to worry about multiple levels and duplicating information to show the same thing in different phases. The advantage of this is that we have a standardized format for item types. We can then place all these elements into models very quickly and very easily and know with complete assurance that the reporting will be correct on that, i.e., that the element in the model will be on the correct level, it will have the correct symbolization and it will extract that information correctly into that schedule."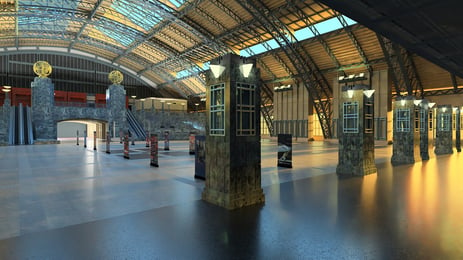 Image: Courtesy of Lifschutz Davidson Sandilands
Reporting
Understanding the real benefits of item types is to look at extracting a schedule from the model. In the LDS project example, they see that basic information entered into the item types gives them complete control over how they extract that information. LDS's Gammie explains, "we can quickly and easily filter that information and do simple grouping based on apartment type, which then shows us quite quickly that we have X number of apartments of type 1.1A, another 60 apartments 1.1E, etc. And further to that, we can then aggregate and summarize this information into the reports as well. So just a simple export to Excel can then be transferred via a pivot table in Excel, so that we can take that information, extract that out and push it into our typical information standard for issuing out the door."

Mr. Gammie goes on to share "we can use this area information to combine with display styles to then present the information graphically, as well as via schedule. So, the advantages are numerous. Primarily, that it saves us a massive amount of time in the initial setup of a schedule. I estimated that a project that size will take us a minimum of five days and up to a week to set up a schedule in the first instance. Doing this using our item type library takes us in the region of one to two days. Because of the way that information is extracted directly from the drawing, we are then able to verify this information much quicker as well. So, on extracting a sheet, you can very quickly see if there are anomalies in that information and you can trace back where that information is from, that allows you to correct that information very quickly and very easily. As the information is developed through the project, at any time, we can just basically click a button and take another report from that."

"Another advantage is reducing errors and finding mistakes before they are consequential. In the early stages of a project, where we don't have a very developed design, the basic costing is done on the area schedule. So, it's very, very easy to make mistakes, if you're doing that in a manual process, because commonly, the only way that errors are identified initially is when you start making updates to this information and you find the anomalies and the total reporting size off that.

Overall, we would estimate that item types and reporting probably saves us around about 80 to 90% of time overall in producing area schedules and door schedules, etc., from projects. And as architects, we want to be spending our time designing and solving problems and not performing administration. Extracting information on an almost instantaneous basis, is a vast improvement in workflow."

The MicroStation product team knows that the goal of automation – taking away the manual, time consuming, and let's face it, boring, parts of the job – and letting architects and designers use their talent and time for creating solutions to their clients' unique challenges is the name of the game.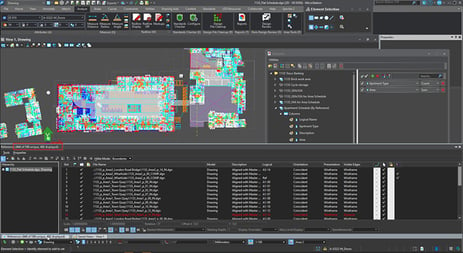 Image: Courtesy of Lifschutz Davidson Sandilands
Parametric Modeling
The next MicroStation feature area that gets LDS excited is parametric modeling. It allows them to import information into other systems and to make sure that information is robust and accurate.

Mr. Gammie starts off the discussion by sharing that "the great advantage of parametric modeling is the retention of the modeling history. The ability to backtrack different points within the process of constructing a project is a huge benefit. Feature-based modeling and parametric are extremely handy, in that we can just turn features on and off and reverse back through different stages of that modeling.

But parametric modeling, has another big benefit. It allows us to be a little bit more adventurous in how we model some geometry. We can verify what happens. When you have geometry errors and things don't quite work, it allows you to check and turn features on and off to make sure that the geometry is robust and doesn't have any errors in it. These are several aspects that are fantastically helpful for an architect."

LDS, like other MicroStation users, finds modeling components in MicroStation and then exporting is easier and offers more flexibility than creating the parametric form in other applications. Specifically, Duncan says "the number of work planes that I would have to create to be able to form the extrusions, to go form the voids, etc., is just so complex that this is why we defaulted to using MicroStation for this type of modeling because it is so much quicker and so much more flexible than doing it in a program like Revit. The combination of feature modeling with AccuDraw, is such a winner for us. It allows us such flexibility in modeling, and the bonus is that people really like using it. It's actually a very enjoyable way to work."


Parametric Components
The main advantage to parametric cells or parametric components, for LDS, is the interoperability between MicroStation and OpenBuildings. Duncan says, "We find it easy to create components within MicroStation. A door, for example, is fairly basic, but I can select and apply a variation and it will then change the size, and all the geometry has changed without me having to remodel anything. A door, despite being a very simple object, is a very complex thing to model parametrically to ensure that frames, leaves, etc., will all size correctly. But the variable list enables a large degree of control for users. What we do now is we create basic components and then we supply a library at the start of projects. Project team members are then able to take these and adapt them to the specific uses of the project very, very quickly. This saves us a massive amount of time just in typical drafting of a project component."

"The ability to use 3D cells that will then punch and perforate holes into walls as part of the same process of placing them. To be able to then extract that with a named presentation or a 2D representation in plan, section and elevation is again, a massive help to the MicroStation workflow as well. The big advantage of perforators and named presentations, is that it allows us to extract far more information from 3D models and use that directly as our 2D information."

One of the other advantages for the architects, is that they have a much smaller library to choose from. So, it's much harder to make a mistake. If you make a mistake, you can change the size. Once all the doors are placed, you don't have to redraw or cut and remodel, you just change the width of your door. For example, the perforation will adjust, the door swing will also adjust. And for the account manager, having to maintain a library with five models instead of fifty is a game changer.

Mr. Gammie says, "now we have used constraints and parametrics and 2D cells. So, it did allow us to have a bit of parity that we had a 3D object and a 2D object, but the introduction of name presentations and perforators just combines those two together and automatically it just takes away a massive amount of duplication and a massive amount of rework, if there are any changes. We are saving at least 50% in time on any given task, and we're finding that as we progress over time, and we create more and more libraries and more components that time savings is then probably increasing on projects. Early-stage projects are much easier, much quicker to produce. Later stage production drawings are much easier to then upgrade.
Conclusion
On behalf of LDA, Duncan Gammie summarizes by saying that "we are getting some very, very good results with the new MicroStation version 17. The Vue engine produces very good results. Along with the updated ecosystem materials and the ability to actually amend the atmospheres, and rendering settings are all great. The lighting representation is far superior to Luxology, is what I'll say, it just gives so much more of a natural feel to the renders. MicroStation has been invaluable in increasing our efficiency and improving the accuracy of our work."
Software
MicroStation is the computer-aided design (CAD) software that users worldwide trust for creating precise 2D and 3D drawings for infrastructure projects. Architects, designer, engineers, and construction professionals openly collaborate to deliver inspiring projects, utilizing the industry leading DGN file format. MicroStation can help you deliver your designs on time and on budget, even as project complexities and scale increase.
Facts
MicroStation enables architects to spend time designing and solving problems instead of performing administrative tasks.


Item types and reporting saves LDS an estimated 80-90% of time overall in producing area schedules and element schedules.


The advantage of parametric modeling is the retention of modeling history.

"Overall, we would estimate that item types and reporting probably saves us around about 80 to 90% of time overall in producing area schedules and door schedules, etc., from projects. And as architects, we want to be spending our time designing and solving problems and not performing administration. Extracting information on an almost instantaneous basis, is a vast improvement in workflow."
Duncan Gammie
Associate Director
Lifschutz Davidson Sandilands

Image: Courtesy of Lifschutz Davidson Sandilands