A Family Tradition
Children often get excited about a career by seeing their parents love what they do. Nicolai Oliden watched his dad, President of Ethos Engineering, use MicroStation to design, and young Nicolai couldn't wait to follow in his footsteps.

As a teenager of just 15 years of age, Nicolai got a trial version of MicroStation on his home computer and taught himself to use it in no time, creating a blueprint of his family home. Now, 15 years later, Nicolai Oliden, Roadway Project Engineer for Ethos Engineering is not only delivering critical projects for the Arizona State Department of Transportation with MicroStation, but he's now training Ethos's annual team of interns on MicroStation because he knows they can quickly be trusted to draw anything, and he loves helping these students leave with a valuable professional skill.
Required and Preferred for Transportation Design
Ethos mainly works on ADOT projects. As with the departments of transportation for the majority of US states, ADOT has standardized on MicroStation and requires DGN file format delivery for all their projects. Ethos explains that even for clients that don't insist upon Bentley solutions as their software standard, MicroStation is the exclusive solution for their firm, with plenty of good reason:
One complete solution. For Ethos, using one CAD software makes it that much easier to manage their systems – financially and from an IT perspective.
File interoperability. On the rare occasion a client requests AutoCAD files –– Ethos can easily work in MicroStation and deliver the file format requested saving Ethos money by not having to buy another product.
Easy to learn and easy to use. MicroStation is so easy to use that new team members at Ethos can start producing great work in just 2-3 weeks.
Customers satisfaction. Clients and partners love what Ethos produces – clean sheets, accuracy, and clear communications.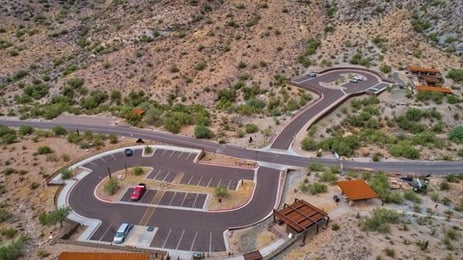 Image: Courtesy of Ethos Engineering
A Desert Designed
Ethos Engineering works on a wide variety of projects from roadways to highways, bridge design, structures, and everything in between. They recently completed projects in the City of Phoenix Piestewa Peak Mountain Preserves, including a picnic area and parking lots at the Hopi and Mohave Trailheads. What can appear, at first glance, as an uncomplicated design was actually quite a challenging engineering project when one considers the detailed requirements to limit environmental impact and disturbance of natural ground, as well as height limitations, which are imposed by a park preserve like this.

The team at Ethos received a DWG aerial survey from a vendor, which they easily converted to DGN to get to work. They imported the 3D lines to create the actual surface for use in the roads app. Once the digital terrain model was created, design and modeling for all of the proposed features began. Their thoughtful design needed to meet the constraints of height maximums while minimizing natural ground disturbance – one of the most critical factors.

"AccuDraw is an essential tool, not only for this project, but all of our work. It enables efficient, accurate drafting and workflows" explains Oliden. He goes on to say "once the model was completed, we were able to create plan sheets, drainage plans, wall plans, building plans, and seamlessly hand these off to the construction team, who requested AutoCAD files. The CAD process was completed ahead of schedule, saving the customer time and money. City of Phoenix is once again incredibly pleased with the completed project."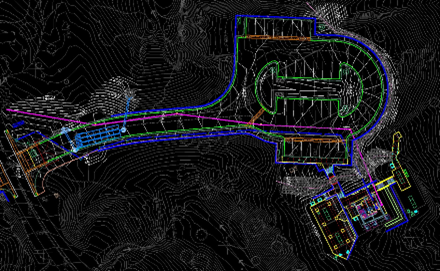 Image: Courtesy of Ethos Engineering
Students Training the Trainer
Ethos has been using Bentley's InRoads for years and now making their way to OpenRoads as the newest solution in their toolbox. But while the Ethos engineering team is busy getting work done, one of their interns downloaded the OpenRoads student version and started to teach himself how to use it! Nicolai Oliden suggests that he may even be ahead of his boss. Another intern put together a MicroStation Introduction packet that the company now uses to help train new hires and interns.

Nicolai has a passion for teaching and loves knowing that by the time his interns leave, their CAD knowledge is advanced enough so that they can be trusted to draw pretty much anything thrown their way. He says, "The fact that the Bentley solutions are that easy to learn and that intuitive, is one of the key factors that also made it an easy decision for Ethos to adopt them as our standard decades ago."
One Right Way
Ethos suggests that they save about one third of the time in producing deliverables with MicroStation compared to using AutoCAD or another system. Plus, there is no need to develop multiple training plans for multiple products. They are confident in their ability to collaborate with any customer or any vendor. Nicolai sums it up like this "Maximizing efficiency with one program has proven the right way for us. When you're more efficient in your design it gives you more time to ensure you're creating the most innovative, accurate client solution and maximizing profitability. That's what we get with MicroStation."
Transportation Design Software
MicroStation is the computer-aided design (CAD) software that users worldwide trust for creating precise 2D and 3D drawings for infrastructure projects. Engineers, architects, and construction professionals openly collaborate to deliver inspiring projects, utilizing the industry leading DGN file format. MicroStation can help you deliver your designs on time and on budget, even as project complexities and scale increase.
Facts
MicroStation is so easy to learn that new users can learn the basics in just 2-3 days with hot keys and key-in commands.


Interoperability provides Ethos with the flexibility to work with anyone – contractors or customers – and have the confidence to collaborate successfully.


Connectivity among Bentley solutions like MicroStation, OpenRoads, and ProjectWise, provides Ethos even more benefits in their design process and team collaboration.



"When you're more efficient in your design, it gives you more time to ensure you're creating the most innovative, accurate client solution and maximizing profitability. That's what we get with MicroStation."
Nicolai Oliden
PE
Ethos Engineering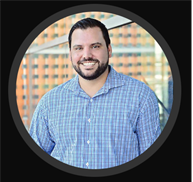 Image: Courtesy of Ethos Engineering