Project
To help meet rapid economic development and increased electricity demand in China's Hainan province, China Southern Power Grid invested CNY 4.11 billion to build the Quiongzhong Pumped Storage Hydropower Station. The 600-megawatt station supplies power to 800,000 households annually and consists of upper and lower reservoirs, a water delivery system, and a power generating plant. PowerChina Zhongnan Engineering Corporation Limited (Zhongnan) was tasked with providing a feasibility study, survey, and design of the station, delivered as a 3D digital system to be used during construction and for asset lifecycle management. Zhongnan needed integrated modeling and project management capabilities to design the plant, which consisted of complex pipelines that required multi-discipline engineering teams collaborating on a tight timeframe amid mountainous terrain.
Solution
Zhongnan implemented a collaborative 3D design approach using Bentley BIM technology and ProjectWise to deliver its digital modeling system for construction and lifecycle operations management. Using OpenRoads and Bentley Raceway and Cable Management, the team optimized earthworks planning, the excavation scheme, and design layout for more than 2,800 cables. Bentley's integrated modeling capabilities enabled simulation of geological conditions, precise calculation of engineering and material quantities, and analysis of the complex pipeline network, providing technical solutions prior to construction. ProjectWise served as the common platform to share and manage information while the use of mobile applications and iModels helped guide on-site construction.
Outcome
Using 3D models optimized design schemes for the upper and lower reservoirs, saving CNY 60 million, while OpenRoads enabled the team to reduce earthwork excavation and fill quantities by 30 percent to save an additional CNY 42 million. Bentley's 3D BIM applications shortened design time by two months and reduced design errors by 90 percent, saving more than CNY 20 million in design costs. Navigator Mobile and iModels provided on-site access to guide construction, which simplified coordination and shortened construction time by approximately three months. Using ProjectWise for information sharing and document management improved design efficiency and avoided rework.
Software
Working in a connected data environment in ProjectWise optimized coordination among the multiple disciplines to achieve a fully collaborative 3D design process. The automated capabilities of OpenRoads, enhanced earthworks planning and procurement of equipment and pipelines, reducing time, materials, and transportation costs. Through Navigator Mobile the team published 3D construction data packets in iModels to guide on-site construction. Using Bentley's integrated modeling and iModel technology for its digital delivery system provided visually accurate designs to the owner that will facilitate lifecycle operations and management.
This project was a finalist in the Power Generation category of the 2017 Be Inspired Awards, now known as the Going Digital Awards in Infrastructure. Watch the presentation: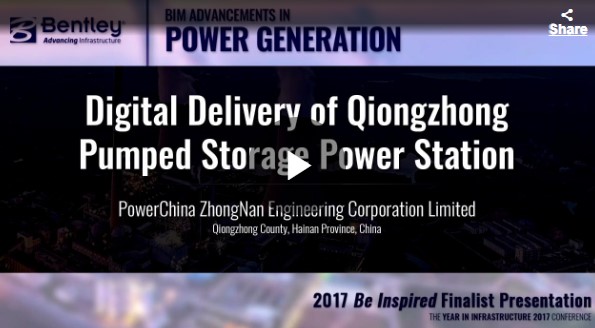 Facts
Zhonghan used Bentley's 3D BIM technology and ProjectWise software for design and construction of the CNY 4.11 billion Qiongzhong Pumped Storage Power Station in Hainan Province, China, saving more than CNY 122 million overall in engineering and design costs.


Bentley's collaborative, interoperable software enhanced optioneering, optimized materials and earthworks quantities, and accelerated accurate communication to guide and improve construction progress and facilitate operations and lifecycle management.


Utilizing a collaborative 3D BIM process resulted in the fastest constructed pumped power station project in China.


A complete set of standardized 3D solutions were created with Bentley applications that can be applied across all specialties and on all stages of hydropower design for future projects in China's hydropower industry.


Quote:
"Through Bentley 3D design software, Hainan Qiongzhong Pumped Storage Power Station completed 2.53 gigabyte 3D design models. The 3D design shortened the design time by over two months and reduced design errors by 90 percent. Through the digital delivery system, models, drawings, and engineering information were delivered seamlessly."
Mei Huang
Chief Engineer of Electromechanical Design
Hainan Qiongzhong Pumped Storage Power Station