Project
Located in the remote Pilbara region of northwestern Australia, the SINO iron ore project is the largest monomer mining project in the Australian resources field and includes the world's largest mill. The USD 10 billion project presented design, construction, and communication challenges because of the differences between Chinese and Australian construction standards and management concepts. Northern Engineering and Technology Corporation, MCC (NETC) required integrated modeling applications to meet the highly precise installation and transport requirements and to complete design, engineering, and construction.
Solution
NETC formed a BIM process team and implemented a 3D modular design and construction strategy. The team used OpenBuildings Designer (formerly AECOsim Building Designer), MicroStation, and OpenPlant Modeler to establish collaborative design standards that support modular division of the 3D models. The applications also consider integration of workflow, manufacturing, assembly, transport, and installation. The models were imported into RAM for finite element analysis to ensure structural stability and design integrity in accordance with international standards. Bentley's BIM solution provided a simulated environment for module assembly, equipment transport, and construction, which improved efficiencies and optimize project delivery.
Outcome
Using Bentley's integrated BIM applications enabled NETC to implement an innovative and efficient modular approach to 3D design and construction, saving RMB 70.3 million in costs. The automated software features facilitated accurate drawing extractions in compliance with general international standards. This capability optimized material takeoffs to reduce steel quantities by 20 percent and, using clash detection, the team was able to identify issues up front, which reduced design changes by an estimated 80 percent. Working in a collaborative, modular 3D BIM environment allowed NETC to prefabricate modules in China and install them abroad in Australia, shortening the construction period by two and a half years.
Software
NETC modeled the various modules using OpenBuildings Designer and OpenPlant Modeler and performed clash detection to optimize the 3D models and eliminate on-site collisions with Navigator. OpenPlant enabled the team to establish a pipeline construction module using flange instead of welding connections for 40 percent of the pipeline, saving significant labor costs. Bentley's BIM 3D design application facilitated extraction of material tables from the pipeline model, revealing a total reduction in pipeline length of 15 percent. Navigator Mobile optimized information sharing, which reduced data transmissions in China and Australia and improved collaboration with engineers in the field
Watch the presentation: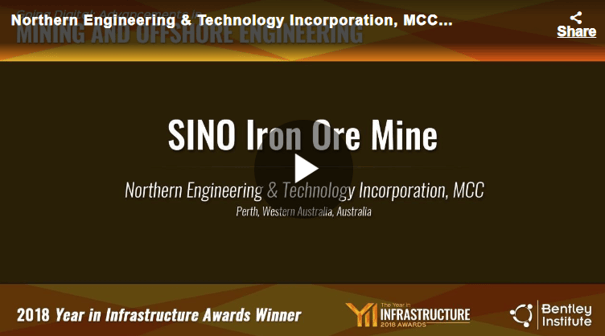 Facts
NETC simulated a 3D modular design, assembly, and construction environment to deliver Australia's largest monomer mining project and saved RMB 70.3 million in costs.


The BIM team reduced design changes by an estimated 80 percent by relying on clash detection and 3D design capabilities with accurate drawing extractions.


Using RAM to perform finite element analysis reduced transport costs and saved 20 percent in steel material quantities.


The 3D modular BIM solution optimized construction, eliminating on-site changes and shortening construction time by 30 months.



Quote:
"The use of Bentley's BIM technology effectively solves the problem of stress concentration, and evenly distributes the load on the transport equipment. This ensures transportation safety, shortens the construction period, and the difficulties in construction."
Shen Pengyu
Northern Engineering and Technology Corporation, MCC