MicroStation for Infrastructure
As an industry leader in projects spanning city roadway development, to heavy construction such as medical centers or water treatment plants, and as a pioneer in climate protection projects, STRABAG has been on the forefront of the digital landscape for the entire construction value chain. And Bentley products are part of their strategy. Whether a regional decision, such as their extensive work in Poland where Bentley's MicroStation, OpenRoads, and OpenRails, are key to designing the country's infrastructure, or a project specific scenario where the client sets the technology standards of Bentley's platform, like HS2 in the UK, Bentley has been supporting the projects that support infrastructure improvements.

Jens Hoffman, STRABAG's Head of BIM, says "a large number of international projects require we use Bentley products or already bring the decision to use Bentley with them from preliminary phases", and the company is pleased to have the resources to do that. Mr. Hoffman goes on to say that "the interface between the design and modeling products are very well done in MicroStation, and the majority of infrastructure projects are today modeled and planned in 3D."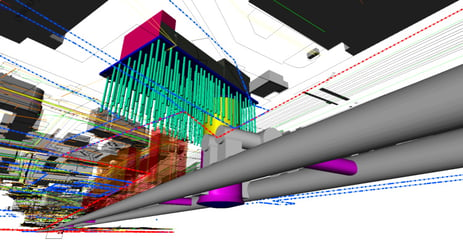 Image: Courtesy of Skanska Costain STRABAG Joint Venture
Bentley Software Powering the Design and Construction of a World Class Railway
HS2 is a new state-of-the-art, high-speed railway that will form the backbone of Britain's transport network. It is one of the largest and most complex infrastructure projects ever undertaken in the UK. HS2 is utilizing digital engineering, with Building Information Modelling (BIM) at its core, and Bentley software is the platform that is powering that.
STRABAG, as part of the Skanska Costain STRABAG Joint Venture (SCS JV), is working to deliver HS2 along the final 26.4km of HS2's journey. The JV will complete challenging work taking the railway from Northolt to Euston, building a variety of structures requiring expert precision and care. As 95% (21km) of the route will be in tunnel, SCS will be running seven tunnel boring machines (TBMs), of which five will operate simultaneously.
STRABAG's BIM Coordinator for HS2, Mikel Bastida, explains that "by using Bentley's MicroStation, we have a common platform, and one ecosystem. Architecture, MEP, everything comes together in the same environment." Mr. Bastida goes on to explain that "by using MicroStation changes are seen immediately, among different disciplines, different offices, and even different countries, which is critical on a huge, complex project such as HS2.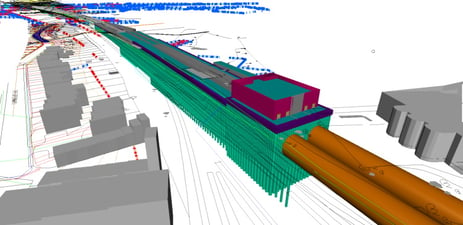 Image: Courtesy of Skanska Costain STRABAG Joint Venture
Awarding this ground-breaking project to Bentley software was an easy choice for the HS2 management. One of the benefits is that the UK's BIM information requirements are already incorporated in the application. Simply modifying the data set to their project, in order to be compliant, was easy. In addition, they knew that MicroStation doesn't require the enormous resources of other CAD and BIM platforms. STRABAG, and the HS2 team can load a great deal of data quickly and access it just as easily – even from a laptop. They appreciate how they can review large scale topography or fluidly rotate models with no problem or delay. Tasks that should be commonplace but would be unthinkable in other applications, such as AutoCAD.
Bentley's ProjectWise allows the project management team to provide limited or the appropriate access level to project partners and can inform the manager if users are meeting the exacting project standards. iModels allows STRABAG's HS2 team to share complex files and 3D models with others within the Bentley product world. And Bentley's OpenBuildings provides critical design features.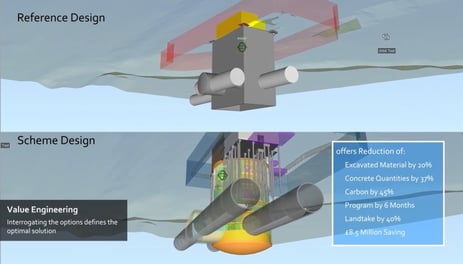 Image: Courtesy of Skanska Costain STRABAG Joint Venture
Looking to the Future
One of the newest advancements in STRABAG's digital strategy is the acquisition of high-end laser scanners. This allows them to capture and further process massive amounts of data – terrain models and surface models – and use that for the tender and construction process, the documentation, and invoicing procedures. STRABAG calls MicroStation the best product on the market for this.
CAD Rail Software
MicroStation is the computer-aided design (CAD) software that users worldwide trust for creating precise 2D and 3D drawings for infrastructure projects. Engineers, architects, and construction professionals openly collaborate to deliver inspiring projects, utilizing the industry leading DGN file format. MicroStation can help you deliver your designs on time and on budget, even as project complexities and scale increase.


Learn more about how MicroStation is powering transportation projects.
Facts
Complex infrastructure projects are modeled and planned in 3D.





MicroStation is the best product for capturing and processing massive amounts of data.





Bentley's suite of integrated applications, provide the right tools for every phase of the project and process.

"By using MicroStation changes are seen immediately, among different disciplines, different offices, and even different countries, which is critical on a huge, complex project such as HS2."
Mikel Bastida
BIM Coordinator for HS2
STRABAG SE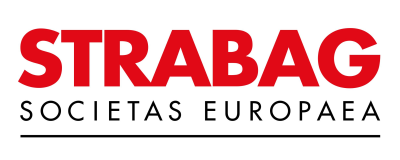 Image: Courtesy of STRABAG SE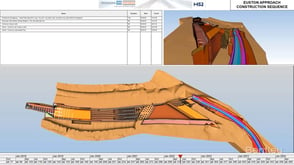 Image: Courtesy of Skanska Costain STRABAG Joint Venture