Project
The CNY 873 million Wugachong Reservoir project was one of several water resource projects launched in southwestern China to alleviate the worst drought in a century, which began in 2010. This drought affected 50 million people, leaving 20 million people without potable water and 5 million hectares of crops without irrigation. Tasked to supply water, irrigation, and power to Guizhou province, China Water Resource Pearl River Planning Surveying & Designing Co., Ltd. (PRPSDC) needed to construct an arch dam, spillway, power plant, pumping station, and other facilities to meet these goals. The narrow construction site presented complex topographic and geological challenges including a fault on the right abutment and a fissure on the upstream left bank.
Solution
Using BIM applications based on MicroStation, PRPSDC resolved the problems of irregular excavation and construction layout. Bentley's 3D analysis and design technology optimized the reservoir design scheme, enabling seamless project delivery. Parametric assembly of secondary projects saved time by avoiding repetitive design tasks. PRPSDC delivered the initial 3D model in two months using Bentley's 3D BIM platform.
Outcome
PRPSDC ensured that all project participants had a better understanding of the project design by using hypermodeling technology to connect drawings, reports, and standards to the 3D model. Bentley's BIM platform provided standards for 3D collaborative design that replaced traditional methods and improved efficiency and quality. Using ProjectWise, MicroStation, and the set of design applications, the team performed 30 percent more efficiently while decreasing the defect rate by 85 percent.
Software
Bentley software improved design quality with highly accurate, automated excavation quantity estimation (GEOPAK), road and bridge modeling (PowerCivil), hydraulic machinery layout (OpenPlant), and substation design (Substation and Bentley Raceway and Cable Management). ProjectWise promoted collaboration among multiple disciplines. Building Designer assembled the 3D models and Bentley Navigator detected collisions. GenerativeComponents allowed fast and efficient work with quickly changing parameters.
This project was the winner in the Power Generation category of the 2017 Be Inspired Awards, now known as the Going Digital Awards in Infrastructure. Watch the presentation: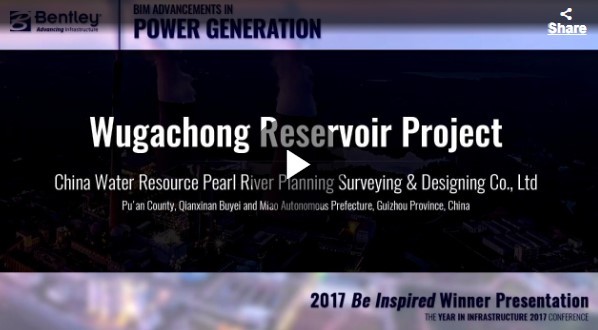 Facts
The 2010 China drought affected 50 million people, and the Wugachong Reservoir project was a water resource project initiated to alleviate consequences of the devastating drought.


Owned by Wugachong Water Conservancy and Hydropower Co., Ltd., the Wugachong Reservoir project solved the problem of local water supply and irrigation while providing a renewable energy source.


PRPSDC created 3D videos using LumenRT to explain the project design to the owner and promote the organization's BIM capabilities for other projects.


Quote:
"Bentley provides all the design specialties with platforms for collaboration, unified standards, and a unified file format. Each specialty will greatly improve the design efficiency using the powerful software functions, customization capacity, collision detection capabilities, and other functions."
Zhihao Fu
Director of BIM Technology Application Center