Today, we're discussing the role of construction project managers. What is a construction project manager, what tasks do they handle, and what digital solutions do they need for project success?
A construction project manager's multifaceted and often complex job requires a rare combination of technical, organizational and interpersonal skills. It's an increasingly difficult task as projects grow larger with tighter schedules...
What is The Role of a Construction Project Manager?
As a planner, coordinator, supervisor, and all-around problem solver, they need an aptitude for quality team building, communication, and conflict resolution to ensure that a project is completed on schedule, within budget and in keeping with the defined specifications.
The top three critical tasks are:
Schedule – plan the project, including setting project goals and milestones
Cost – manage and stay within budgets
Coordinate – resolve issues and disputes, manage risks, and communicate with both the project team and stakeholders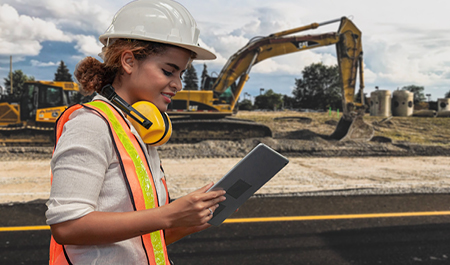 Project Manager leveraging digital solutions in field
One of the biggest challenges that the construction industry faces is data management. Studies show that the average project has over two million documents and six million tasks to manage.1 Further, data—which ranges from task registries, plan sets, and models—is often unstructured and kept in disparate systems. Various applications have helped gather data, but often serve to simply add to the growing data chaos.
For project managers, inaccurate, late, or inaccessible data makes way for errors, rework, and extra costs and delays.
Without the right digital tools in field, the risks multiply and open the door to:
Lack of transparency in field and not knowing project standing
Inability to track task progress
Delays and cost overruns
Poor management of resources
Poor communication to team members and stakeholders
Project managers need an integrated, centralized data source that can help bring all project pieces together for review, analysis, and collaboration.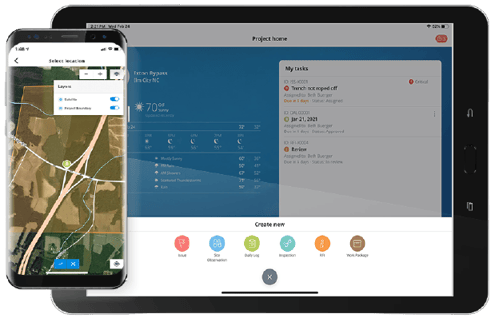 Connecting real-time project data through mobile and web solutions
Connecting the Dots: Centralized Project Intelligence
The need for a central project source for storing and managing data is a crucial tool for project managers to drive deliver successful projects. A central hub for data and insights helps manage daily information so that it's timely and efficient, which expedites decisions and issue resolution. It can also connect the larger project team, whether they are in the office or in the field.
In today's increasingly app-friendly environment, it's common to see multiple individuals walking a jobsite collecting progress reports, documenting issues, and taking pictures that the project manager must collate. Too often, that data is compiled into spreadsheets for coordination meetings—which can often take over four to five hours—and by the time those meetings occur, much of the data is already multiple days old.
A digital field solution that connects to a central source brings all data together so that project managers can gather, sort, and assemble it from the field and the office within the project context. Need to oversee issue tracking, task management, map views, RFIs, or submittals? With the right digital project management tools, these are all accessible through reports and dashboards for real-time analysis. With connected applications and workflows, a project team can review, validate, and communicate in one complete digital and interactive visual environment that includes documents, forms, and models.
Better yet, a centralized resource simplifies the top three tasks of every project manager: schedule, budget, and coordination.
Digital Tools Keep Project Tasks on Schedule
In addition to a lack of connected data, project managers must remain vigilant on meeting project schedules and budgets.
According to a Dodge report, about 46% of contractors surveyed said the most important way field management and project management tools help firms to reap the largest benefit from project data is through improved schedule performance.
The Dodge report found that construction cost overruns (65%) are most often mentioned as the project risk that is most likely to be reduced through using field management and project management tools. At least half also named rework due to construction errors (54%) and inaccurate estimating (50%) in this context.
The most likely way to lower the risk of construction cost overruns is with field management and project management technology. Others include rework due to construction errors, inaccurate estimating, and errors or omissions in design documentation.
A connected field solution provides a vehicle for reviewing, editing, and engaging with stakeholders in an immersive environment. With fast-track projects, continuous supply chain issues, and more complex conditions, project managers need full access to real-time progress updates, visual planning, issue resolution applications and "what if" scenarios. All these benefits can help reduce project risks, delays, and time-consuming rework—all while providing the necessary reports and progress updates for stakeholders.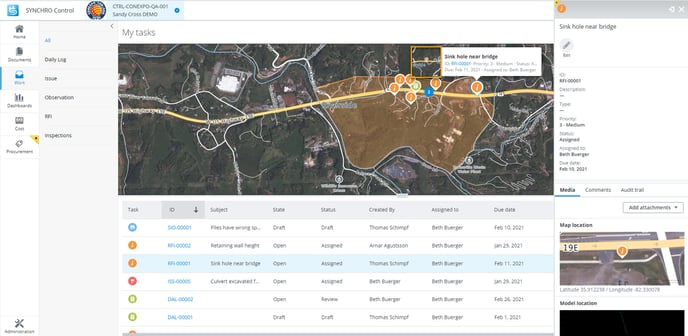 Full project dashboard and map views
Digital Solutions Matter for Project Managers
Curious to learn more?
To see how a digital construction management solution can benefit your project management workflows, get a first-hand demonstration of SYNCHRO, a complete portfolio of integrated applications from field to office that was purpose-built to help construction teams win projects, deliver projects more efficiently, and optimize decision-making.
SYNCHRO helps both small specialty contractors and large construction firms capture, access, and analyze data in the most efficient, visible, and automated way possible.
1. The construction productivity imperative, McKinsey & Company, 2015
Discover the power of SYNCHRO Field and Control for Project Managers