There are many potential issues that can occur during the design phase of an infrastructure project that require changes including:
Restoring changes at specific stages of the project life cycle
Managing complex designs
Tracking revisions
Comparing changes between different versions


MicroStation's Design History Tool Solves Your Issues
The Design History tool in MicroStation CONNECT Edition gives you full control of revisions made in an active DGN file to manage your design process. This tool can make the design process more efficient. You can view and track changes made to the design, who made the changes, and when. If needed, you can restore changes to a prior state using the Design History tool. This tool eases the worry of constantly saving every change you have made to your file. This tool will save you a lot of time and worry during your design process. All it takes is a few easy clicks, and your Design History is enabled.
How to Use Design History in MicroStation
Your Design History can be initiated in a Seed file to ensure it is active when a new file is created from the seed. You can begin it at any stage; however, changes made to the DGN before the initialization of Design History will not be recorded.

You can initiate Design History from the Ribbon:

Drawing > Utilities > Design History > Initialize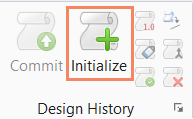 Or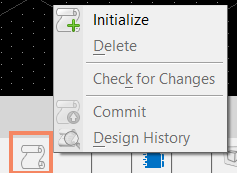 Commit Changes in MicroStation
Once Design History is initiated, all changes made in the design file are identified and saved when you commit the changes. To save a set of design changes, you must periodically commit revisions using the Commit changes tool. You can decide the frequency of committing revisions based on your project needs.
When you commit a revision, the set of changes made after the last committed revision are recorded as a new revision and displayed in the Design History dialog. Revisions pending for committing are displayed without a revision number as 'Recent' in the Design History dialog.

In the Design History dialog, you can view the revision number, file name, date and time, author, description of the change, and tags.
Audit Trails in MicroStation
The Audit trail shows a record of Design History actions like initializing, combining, and retiring. In the Design History Audit Trail dialog, you will see information about the type of action recorded, timestamp, username, and other details.
To find out how you can use Design History in your projects, read here.
Delete Design History in MicroStation
You can delete Design History using this tool or by using the key-in HISTORY MANAGE DELETE. In MicroStation, you will find a set of Configuration Variables that help you set up various aspects of Design History. It is recommended that you save your work often and only commit a change after a significant amount of work is done.
Click here for more information on the Design History tool.