Planning a construction project in 4D is becoming more popular these days. In fact, new guidelines are starting to appear that require 4D as part of the overall deliverables when bidding for new projects. Companies are starting to see the value in utilizing software tools to create a digital replication of conditions in the field while at the same time plan for any changes that could occur over the duration of a project's lifecycle. So, what does 4D planning mean? Simply put, it is the process of utilizing the 3D design model and combining it with construction data such as schedules, cost codes, materials, safety, risk, and many other resources. All relevant project data can exist in one place as a single source of truth.In this article, I will briefly be covering each of the tools available with a SYNCHRO 4D license:
I'll explain how each tool can be used together to create a full 4D workflow from the office to the field.
SYNCHRO 4D Pro
The first tool in the lineup is SYNCHRO 4D Pro (Pro for short). Pro is the main powerhouse for generating 4D models. You would typically start by either creating a construction schedule, within Pro, or importing one from a separate scheduling software. You would then import a 3D model and link the activities in the construction schedule to their corresponding 3D objects in the model. Once that initial setup is complete, you'll be able to take advantage of the many robust features in Pro such as:
Creating baselines to compare planned vs. actual schedules
Running "what-if" scenarios for any project contingencies anticipated
Filtering the 4D model by phase, material types, activity ID's, and many other options
Generating earned-value analysis charts to track costs over time
Utilizing growth simulators to show realistic construction sequences
Incorporating safety and risk protocols
Producing high-quality animations and reports for deliverables
Utilizing the iRay Plugin to achieve high quality renderings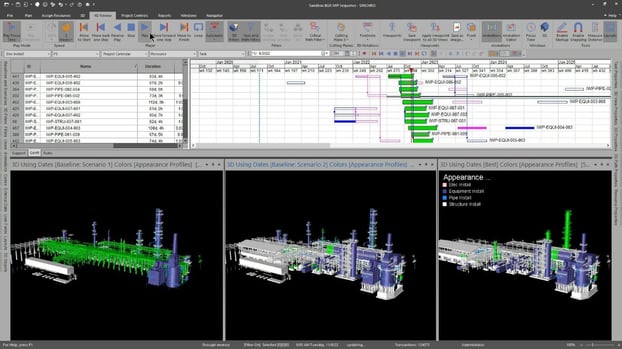 SYNCHRO 4D Pro's baseline feature for comparing multiple schedule scenarios
Pro communicates well with many scheduling and design software on the market. Applications such as Primavera P6, Microsoft Project, Autodesk products, SketchUp, and many others can be imported into Pro easily. Any changes or updates made over time can be reflected in Pro using the synchronization feature built in. To learn more about SYNCHRO 4D Pro, check out the video down below.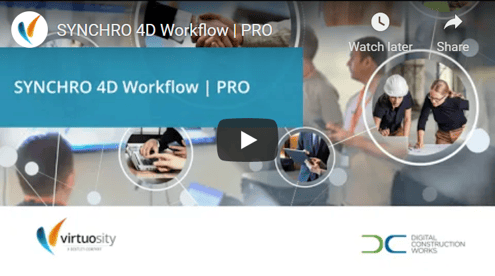 SYNCHRO Modeler
SYNCHRO Modeler (Modeler for short) is a tool that converts un-constructible models into constructible components. Modeler can easily slice the geometry of a design model, break the model into realistic quantities, and assign cost codes to those quantities based on individual project conditions. Some practical examples would be for slab breaks, bridge decks, or column splices. Modeler retains the geometric information associated with each quantity after it is split. Data such as the volume, length, or area will automatically be generated as the splits are happening.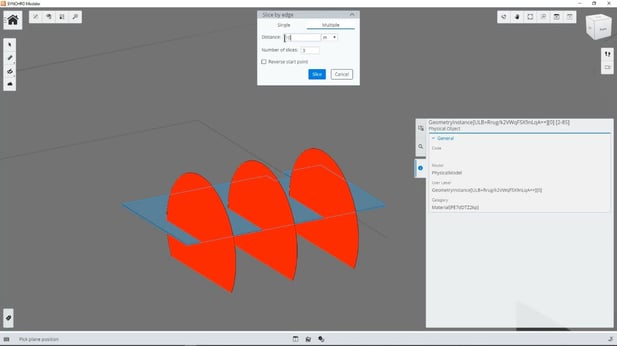 SYNCHRO Modeler's geometry splitting feature for a slab deck
Once the geometry is split and the cost codes are assigned, quantity take-offs can then be generated, and the information can be exported to an Excel sheet.
This method of estimating how much a project will cost is based around the design model and the work performed in Modeler can be sent over to Pro to feed more data into the overall 4D model. The user interface is simple and compliments the overall 4D workflow. To learn more about SYNCHRO Modeler, check out the video down below.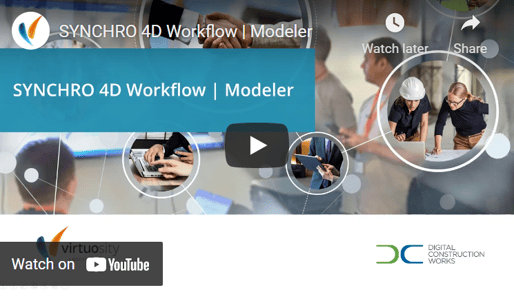 SYNCHRO Control
SYNCHRO Control (Control for short) is a web-based project management portal. It is a place to hold construction documentation that is associated with a project. Documents such as RFI's, submittals, engineering drawings, and observation reports can all be housed in Control. Project managers can grant as little or as much access to their teammates for various projects that are being worked on. In addition, each new task created can be geo-located on the 4D model or on a map view, adding context for where the issue is occurring on the project.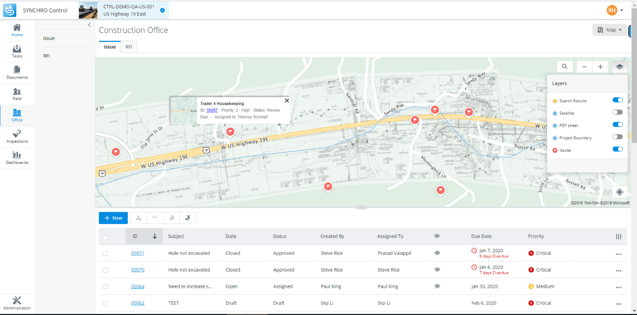 View where tasks are occurring on a project in SYNCHRO Control
In addition, 4D models created in Pro can be shared with colleagues or clients, all through Control's web-based portal. This is great if access to the 4D model is needed and Pro is not downloaded on a desktop. The construction sequence can be played back, the schedule can be analyzed in detail, and comments can be added at any point.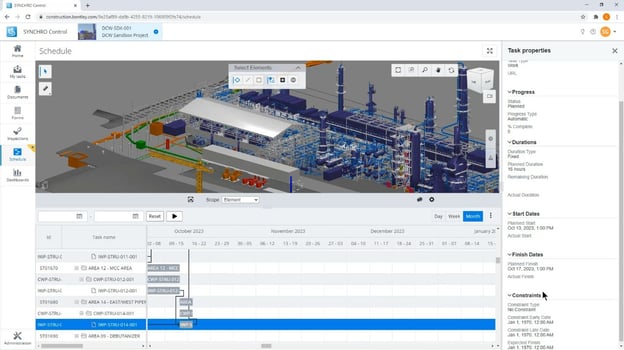 View the 4D model and schedule through SYNCHRO Control's web-based portal
Within Control, there are also built in dashboards that reveal key insights on construction documents. You can view how long an RFI has been open, the average time it takes to address an issue, which colleagues have open items, and other useful information that is related to a project. With the average construction project having millions of documents, it's nice to have a dashboard feature that can make some sense of all that data.
SYNCHRO Field
SYNCHRO Field (Field for short) is the companion to SYNCHRO Control. As the name implies, Field is an application that is designed to be used on a construction site. It can be downloaded on either an iPad, iPhone, or any Android device. With Field, construction crews can view project documentation on site, create new issues, write observation reports, take site photos, and view the 4D model at any given time. The Field application enables site engineers, superintendents, foreman, and inspectors to have the right information and report on what the actual project conditions are.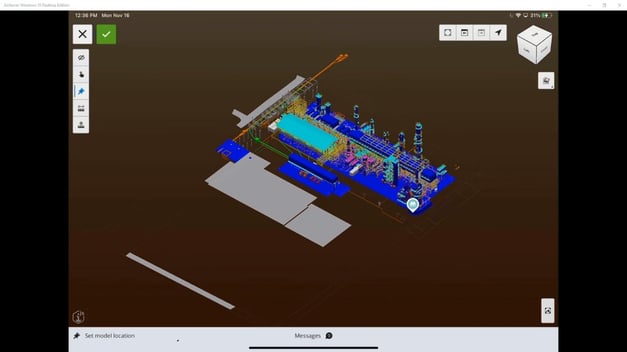 View the 4D model in the SYNCHRO Field App
Field can be used offline as well, eliminating the need for reliable internet connection. Construction crews can download the latest 4D model, grab relevant documentation, and take that information to the project site. Once the workday is complete, crews can return to the office, sync the work completed in the Field application, and have everything available for teammates to view in Control. To learn more about SYNCHRO Control and Field, check out the video down below.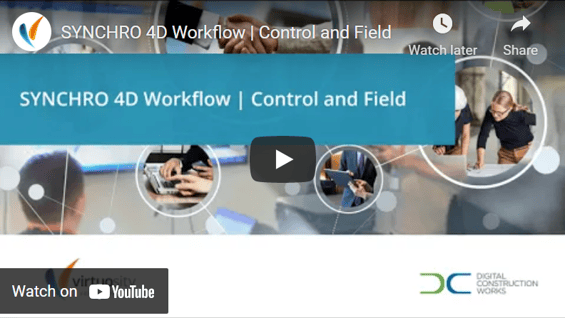 SYNCHRO Cost
SYNCHRO Cost is an additional module built into the SYNCHRO Control platform. It allows authorized project administrators to create and manage project contracts. A full schedule of values can be generated with every work item required for a complete build. All construction documentation in Control (such as RFI's, issues, drawings, or daily reports) that are related to a contract item can easily be referenced for any potential change orders or general modifications that could impact the contract. SYNCHRO Cost also grants project teams the ability to create payment applications to pay out (or request) vendors for completed work on a contract item. Payee's can specify the amount of work that has been finished in a certain time frame, attach any relevant proof/records of completion, and submit for approval.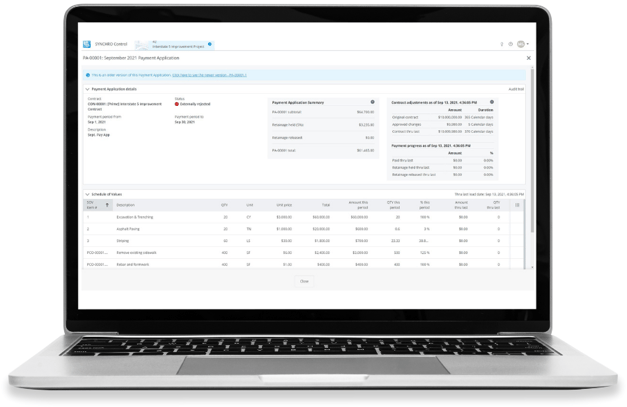 View project contract information in the 'Cost' tab located within SYNCHRO Control
SYNCHRO Cost allows teams to have a thorough record of project financials, which can be beneficial for any future issues or potential litigation. With customizable accessibility permissions, only key team members will be able to modify contractual items and gain insight into the overall monetary health of their projects. To learn more about SYNCHRO Cost, check out the video down below.
Full SYNCHRO 4D Workflow
With a SYNCHRO 4D license, construction and design teams have everything needed to plan a successful project in 4D. SYNCHRO 4D Pro is where the main scheduling happens. Pro takes the 3D design model information and connects it to the resources available on a project. SYNCHRO Modeler provides the flexibility to generate model-based quantity take-offs. SYNCHRO Control holds the construction documents and gives context to where each item is located, in relation to the 4D model. SYNCHRO Field delivers mobile access for construction crews to always have the right information when they need it. SYNCHRO Cost enables access to key contract financials. All these tools are part of the SYNCHRO 4D license and together they equip project teams to turn a design into reality.
Watch the OnDemand webinar: From Concept to Construction - SYNCHRO
To discuss SYNCHRO in more depth or request a trial, please fill out the contact form HERE