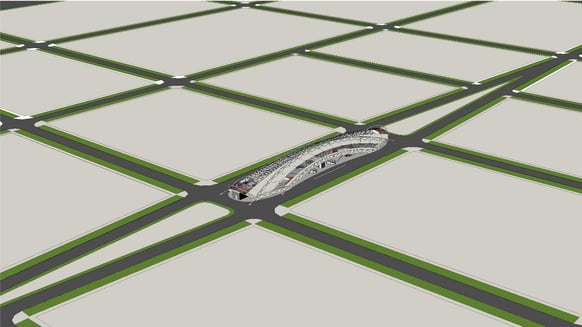 As a practicing architect, it's critical to create visuals that sell. Even if your design is the best of the best, no developers will buy it unless you make a concerted effort to clearly communicate your design intent.
Naturally, to sell your visualizations, they must be compelling and appealing. Better visualization also results in fewer change requests and more transparent communication.
Most firms use sophisticated 3D modeling software and authoring tools. But surprisingly, many still communicate their conceptual designs to clients in the form of 2D static renderings.
How can your client or prospect gain a holistic understanding from static drawings on a piece of paper or lifeless renderings on a flat computer screen?

There is a better way.
Avoid Confusion with High-impact Visuals and Lifelike Animations
You've put a lot of work into your designs. Why leave it to chance? There's no need to risk the possible confusion that can arise when your clients can only imagine what your paper plans will look like in real life.
Seeing is believing!
Eliminate any misunderstanding with realistic visualizations that are true to life, attention-grabbing, and, quite frankly, stunning. With the ability to visualize the final product, you will:
Improve conversations on design intent and which revisions the client desires

Speed up the approval process across stakeholders

Boost buy-in from real estate developers

Stand out from the competition

Enhance your customer service reputation



Go the extra mile to help your client understand their investment - This could be your game-changer.
There is No Need to be a Computer Graphics Specialist
Creating realistic and easily comprehensible visualizations has previously been out of reach for most architecture and design firms. Many architects have considered visualization as an optional, time-consuming activity that required hiring a dedicated visualization expert and incurring additional software costs.
But Bentley Systems now offers an affordable, easy-to-use solution. OpenBuildings Designer building information modeling (BIM) software makes visualizations possible using LumenRT real-time visualization software.
Bring your design to life
OpenBuildings Designer is simple to use and requires no extra fees, staff, or time! With a few simple mouse clicks, you can animate your model with lifelike elements in motion, such as:
Present Visualizations in Context to Your Building Design

Realistic images and animations offer much more value than cold, static pictures. Your client will not only better comprehend your building infrastructure design but also how the design interacts with its surroundings.

See how modifications to a room's dimensions can change the flow of light. Try out different residential roofing types and ensure they fit with the context of your project's actual environment. Experience a landscape design on a bright sunny morning, or a commercial building on a foggy winter evening. The choice is yours!

The ability to envision and better comprehend the end result of a project before committing is simply invaluable.
Discover the Best Approach to Bring Your Building Designs to Life
Want to learn more about OpenBuildings Designer and LumenRT? Watch this short video to see how these applications can work together to help you bring your design models to life by easily creating attention-grabbing, real-time visualizations.
Questions? Hit the chat button below.