In today's modern learning environment, there are many types of learning opportunities that present themselves to us. These learning opportunities range from complete courses that cover an entire workflow to just-in-time training that only take a few minutes to learn something. Bentley believes in and encourages you to become a lifelong learner. Take advantage of the many types of learning you have access to fit your learning styles and needs.
Bentley provides a wide variety of learning types to help fill the modern training demands, especially when it comes to learning MicroStation. In some cases, a workbook and dataset are provided, allowing a student to follow along step-by-step. For others, it is just a short, focused video explaining the use of a specific tool or feature. This provides many ways to learn about Bentley products and their capabilities. Our intent is for you to learn at the location and style you want. Take advantage of the many types of learning that Bentley has to offer!
We are going to start by breaking these into several main categories. The types of Bentley learning offerings include:
Let's examine some of these types of learning in greater detail.
Bentley provides a variety of "full courses," including:
Complete courses (live and on-demand, hands-on, and most with datasets, etc.)
Hands-on workshops
Assessments
The Bentley LEARNserver
Let's begin with the Bentley LEARNserver. The LEARNserver offers full courses, hands-on workshops, assessments, and more. Complete MicroStation courses are available in both live and on-demand versions. Step-by-step workbooks and dataset accompany most trainings to facilitate the students following along, allowing them to master the illustrated concepts and workflows.
Examples of these include:

MicroStation Training for New Users
https://learn.bentley.com/app/Public/ViewLearningPathDetails?lpId=115991&aftkn=c12859f5-d5a1-4871-8462-302239f1ac04
MicroStation CONNECT Edition Basics for Civil Designers
https://learn.bentley.com/app/Public/ViewLearningPathDetails?lpId=110039&aftkn=9bfe5489-cd3f-4e5f-a7ef-58e3c8c491e5
MicroStation CONNECT Edition Basics for Building Designers
https://learn.bentley.com/app/Public/ViewLearningPathDetails?lpId=110694&aftkn=c12859f5-d5a1-4871-8462-302239f1ac04
Deliverables - Sheet Creation and Annotation in MicroStation CONNECT Edition
https://learn.bentley.com/app/Public/ViewLearningPathDetails?lpId=109141&aftkn=9bfe5489-cd3f-4e5f-a7ef-58e3c8c491e5
LinkedIn Learning
Bentley also creates content for LinkedIn Learning. LinkedIn Learning offers video-based courses taught by industry experts. It contains MicroStation training courses, as well as for other Bentley products. For many, this can be a great source of learning! Note that LinkedIn Learning does require a LinkedIn Learning subscription to access content on their site.
Example LinkedIn Learning courses:
Learning MicroStation CONNECT Edition for General Users
https://www.linkedin.com/learning/learning-microstation-connect-edition-for-general-users/learning-your-way-around-microstation-connect-edition?u=2198250


Learning MicroStation CONNECT Edition for Building Designers
https://www.linkedin.com/learning/learning-microstation-connect-edition-for-building-designers/what-is-microstation?u=21
MicroStation User Events
User Success Events offer an opportunity for you to connect directly with Bentley subject matter experts.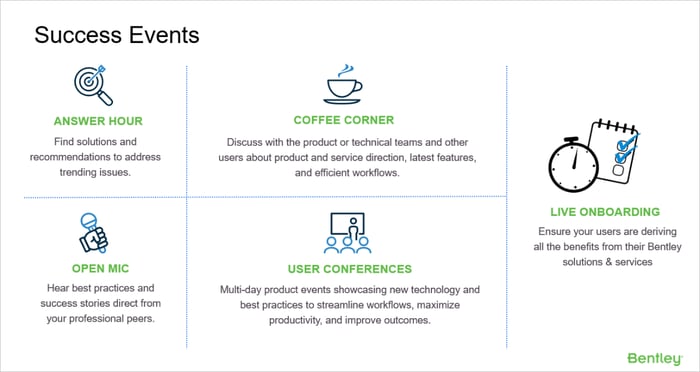 Answer Hours – An online interactive event hosted by a Bentley Support Specialist or other Subject Matter Expert. They provide opportunities for discussion, answers to frequently asked questions, and solutions to trending issues.
Coffee Corners – Feature expert speakers from the Bentley product development team and focuses on a key area of interest. For example, a Coffee Corner might feature a Bentley product manager providing an overview of how to use new product features or explaining how new capabilities can help you improve specific workflows.
Open Mic sessions – Sessions where users can hear successes, challenges and benchmarking from their peers, and share practices leading or cutting edge in the industry.
User Conferences (live and virtual) – These are typically multi-day events for products that showcase new technology and best practices to streamline workflows, maximize productivity, and improve outcomes.
Live Onboarding – An invitation-only session intended to help ensure that you and your users derive all of the benefits from their Bentley solutions and services.
You can review and register for any of the User Success Events at: https://www.bentley.com/en/global-events/events-overview
Just-in-Time Learning
Bentley also offers a tremendous amount of on-demand training content for many Bentley applications on product-specific YouTube channels. While complete courses typically offer study guides and datasets, the YouTube channels contain just-in-time learning, including short, targeted videos relating to specific product features and concepts. Learn what you need to know quickly and then get back into production.
The following are some of the Bentley YouTube product channels:
Bentley Communities
The Bentley Communities is an excellent source of information, providing interaction with Bentley subject matter experts and your peers. From here, you can access how-to tips, Bentley product support, best practices, and get advice from Bentley colleagues and other knowledgeable users.

MicroStation Wiki
The MicroStation Wiki, offered in various languages, contains several individual MicroStation-related wikis' covering various topics ranging from Batch Processing to Custom Line Styles, including an ongoing set of MicroStation Learning Tips (Tips & Tricks).
MicroStation Blog
The MicroStation Blog features articles covering virtually any individual product feature or tool, product updates, etc. This is a great source for best practices and information from Bentley Subject Matter Experts (SME's) and other MicroStation users.
Wiki Source: https://communities.bentley.com/products/microstation/w/
Blog Source: https://communities.bentley.com/products/microstation/b/microstation_blog
Onboarding Learning
A new offering in 2021, Foundational Blueprints are available to all users at no charge. These can be found on a new dedicated Bentley Community – User Success Onboarding and Adoption.

Foundational Blueprints
Foundational Blueprints are self-service and OnDemand, intended to help improve your experience working with Bentley by increasing knowledge and productivity.
The Blueprints are curated, aggregated journeys that consolidate all relevant content from the multiple content sources into one place, based on your role type, to help get your learning path started.
They introduce users to where content can be found and help them to navigate and find the most suitable content for their needs. The foundational blueprints are constantly updated and refined to help everyone, from the smallest to the largest, access our content quickly and easily!
Blueprint Source: https://communities.bentley.com/communities/other_communities/user-success-onboarding-and-adoption/w/onboarding-and-adoption-wiki
Product Documentation
Product documentation is also a great way to learn about Bentley's product features and workflows. Generally, "Help" is easily accessible from within the product. In the case of MicroStation, this is accessed from the Help ribbon tab, opening the online help within a web browser. Or you can access MicroStation Help directly from the web.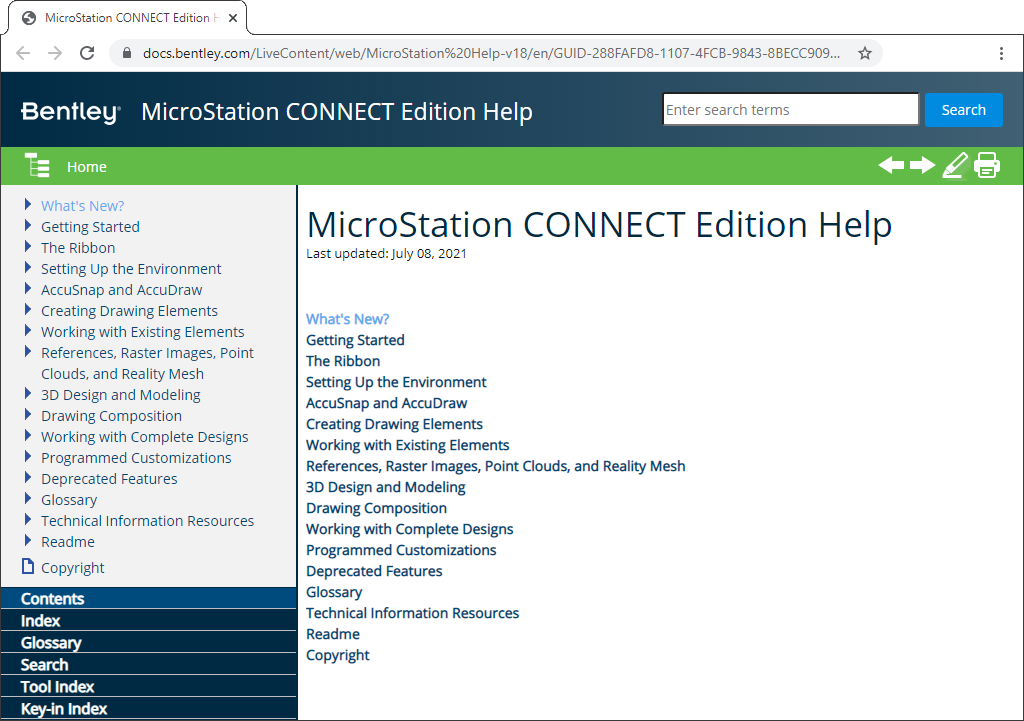 User Accreditation
Would you like to showcase your Bentley product skills? If so, Bentley User Accreditation is for you!
Accreditation is the endorsement from Bentley Systems that verifies learners have the essential skills in the latest Bentley applications. When you get accredited, you'll get a personalized badge that is verifiable and publicly shareable. Badges are provided through Credly, a recognized credentialing organization. This can be a great way to showcase that you are a productive asset to your current or prospective employer!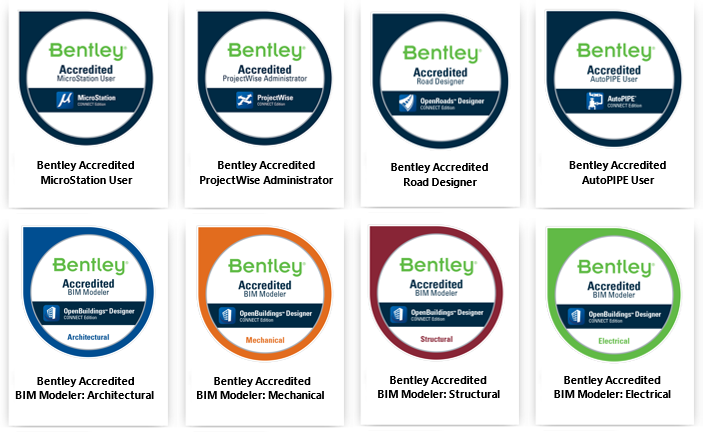 You can get accredited from Bentley on MicroStation, BIM, OpenRoads Designer, ProjectWise, AutoPIPE, and more. Bentley is proud to currently offer 11 accreditations, and we are constantly adding new accreditations. Learn more about the MicroStation User Accreditation program!
Source: https://communities.bentley.com/products/microstation/f/microstation-announcements-forum/200809/have-you-heard-about-bentley-microstation-user-accreditation
---
As we have just discussed, there are many ways to learn, allowing you to tailor your MicroStation learning based upon your individual needs and styles. We hope we have given you many ways to learn!
The following are useful links to Bentley-related learning sites: