For small and medium organizations, facilitating a collaborative work environment is considerably more complex, particularly in the civil infrastructure environment. What used to be easily managed in an office through a LAN or similar network is now distributed amongst multiple locations—and likely that's not going to change anytime soon.
For many, the necessary work adaptations required to deal with the pandemic have underscored the limitations of existing solutions in the way of digital collaboration tools and large file sharing.

Here's three reasons civil design organizations of any size might consider investing in an online, on-demand project collaboration solution to drive process improvements:
Get Simple & Secure Access to Current Data
Access reliability became a differentiator during the pandemic. LAN-based environments struggled to keep up with the reality of multiple 'offices.' In today's environment, cloud-based solutions are the norm and available at a price point that's unbeatable, while providing a forum for integration and large file sharing. These solutions allow organizations to create, share, review, and coordinate on project information, monitor tasks, and conduct reviews from a single cloud-based portal.
Access Design Models from a Browser
Point solutions are very powerful, no doubt, but very few are able to bring different design file types into a single federated model and then grow that model into an intelligent digital twin. That's the value of "instant-on" collaboration tools designed specifically for engineering projects. Along with real-time collaboration via a browser, a cloud-based design solution provides a common data environment where everyone has access to current, accurate information.
Increase Project Performance & Productivity
How much time does your design team spend sharing documents, tracking submittals and RFI correspondence, deliverables, etc.? Digital project collaboration solutions make it easy for your entire extended project team to readily share and find information, collaborate in real-time design reviews, manage tasks, and process contractual exchanges, and gain project insights—all from an online portal!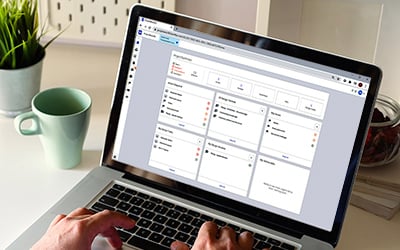 So, ditch the familiar LAN-based point solutions and see how instant-on capabilities can make digital collaboration a powerful part of your day-to-day engineering workflows.
Learn more about instant-on web-based project collaboration and streamline your design delivery now.