The often costly, complicated, and sometimes overlooked aspect of today's technology-enabled workflows is software licensing.
Over the years, software licensing models have evolved considerably in scope and scale from the premium plans typically designed for large global accounts with hundreds of users to the subscription-based models for more focused applications.
For many contractors and companies, budgeting for software licensing can be a moving target with unexpected fees, uncertain overhead costs and limited ability to adapt or adjust to strategic business directions.
Let's break down the various licensing types here as we compare and contrast the most prevalent licensing solutions.
The Norm
There are three licensing types that most firms are familiar with. Each is designed to accommodate organizations of any size.
Perpetual license
The perpetual license with annual maintenance provides benefits such as technical support, free updates, and upgrades. Things to know about perpetual licenses:

You have the ability to exchange solutions as needed at renewal times (e.g., a shift from civil design software versus structural engineering).

It requires an initial upfront investment and then annual maintenance renewal on yearly basis.

A perpetual software license authorizes an individual to use a program indefinitely.

Generally, outside of termination, a perpetual software license allows the holder to use a specific version of a given software program continually with payment of a single fee.

Along with a perpetual software license, the vendor typically provides a technical support period of one to three years.


Cloud service
Cloud Service Subscription (CSS) offers users assured annualized consumption, and flexibility to accommodate an increase in software licenses or different solutions is limited. It is important for CSS users to manage their usage properly in order to plan their budget.


Pay as you use
Many smaller and medium firms prefer the pay as you use model, which works well for companies that need some flexibility to accommodate short term projects. For instance, the Quarterly Term License (QTL) introduced by Bentley offers some flexibility as one license can be installed on as many machines as needed. These licensing agreements work well for many, though it can be difficult to accurately forecast annual software expenses.
One of the biggest challenges is that regardless of which licensing type you choose, there is still that additional expense of training and often technical support. The costs all start adding up.
The New
The newest and most modern licensing model is the practitioner license, which is a 12-month software license for a named user. This licensing model offers flexibility, affordability, and eliminates unexpected licensing costs.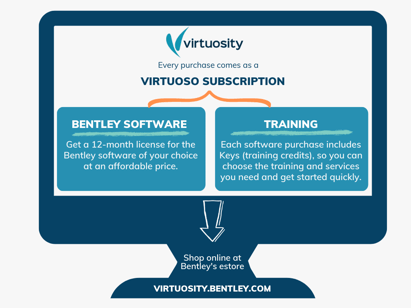 Virtuosity, a Bentley company, has created a unique licensing model that allows companies to quickly buy, learn, and utilize a product.
Virtuosity offers online sales of the Virtuoso Subscription which includes a practitioner license paired with expert training. The Virtuoso Subscription has an emphasis on flexibility, cost assurance, and enhancing productivity.
The Virtuosity Subscription includes:
12-month practitioner license

for one named user (i.e., it's transferable)

Keys, which are like tokens, that can be redeemed towards

customized instruction, one-to-one mentoring, and/or on-demand learning.
Engineering and construction firms find that purchasing Virtuoso Subscriptions helps meet their economic and project needs with lower upfront cost, and access to expert training.

Werner Felber, Managing Partner at engineering firm, Boley Geotechnick GmbH, Beratende Ingenieure, especially likes the unlimited usage and access to the software products across international offices. "As a result, we can support projects with an international team more effectively and by constantly applying the latest developments of Virtuosity's products, we ensure our competitiveness in the market and the best results for our customers."


In Summary
Types of Licensing

Good for…

Perpetual License
(with annual maintenance)

Long term commitments

Quarterly Term License

Accommodating short term projects that closely monitor usage

Cloud Service Subscription

Companies with small or prescribed budgets that closely monitor usage

Practitioner License
(Virtuoso Subscription)


Companies that require lower upfront costs and access to expert training to get started quickly
Every company has different needs and a license type that suits one company does not necessarily suit another. So, choose what's right for you and consider the latest license type offered through Virtuosity, the Practitioner License. Through Virtuosity, you will get a 12-month software license, for a named user, unlimited usage and no unexpected fees, plus you get the training you need to get started quickly!
---
Related articles:
Are you a small or medium business looking for the most practical licensing option? Read this article to learn about the new licensing trend for small and medium businesses that helps you get the most out of your software investment. Best Software License Option for Small and Medium Engineering Firms.
Are you using your software to its max potential? Get the most out of your Bentley software with Virtuosity. Learn more in this article about the Virtuoso Subscription and your "key" to success.
Contact us if you have questions. Our software experts are here to help!