Project
As a global turnkey supplier of original coating plants for the vehicle industry, Geico delivered an automotive paint shop covering 108,000 square feet for a car factory in Russia. The EUR 62 million project required Geico to work with multiple engineers in various locations to design the complex layout. Geico needed collaborative modeling tools to produce quality 3D digital models and minimize construction discrepancies on site to ensure a timely, state-of-the-art deliverable.
Solution
Geico used Bentley software to design the automotive paint shop within six months. Bentley's modeling technology provided engineers a user-friendly platform to access necessary information in real time, allowing verification of discrepancies throughout every phase of this turnkey project. With the ability to visualize the entire project through 3D digital modeling, the team could identify and correct discrepancies before onsite realization and construction.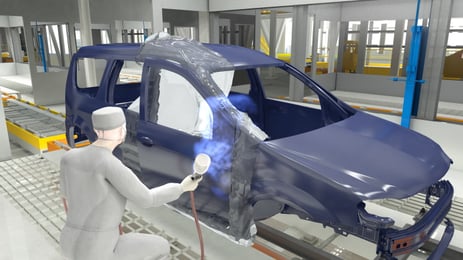 Image: Courtesy of Geico
Outcome
Working in a high quality, 3D modeling environment accelerated an effective design process and facilitated concrete realization of the automotive paint shop consistent with the models, with minimal discrepancies. Compared to previous projects, the number of discrepancies was reduced by 30%. Using Bentley software enabled Geico to reduce modeling time by 20-25% and realize the models in six months, resulting in an estimated 20% savings in costs compared to previous projects
Software
Geico used MicroStation and OpenBuildings Designer to verify discrepancies in real time during every phase of its turnkey project, resulting in a dramatic reduction in modeling times. With Bentley's collaborative and interoperable software, the engineering team was able to access necessary information efficiently, identify discrepancies, and make adjustments accordingly, minimizing onsite changes during concrete realization. Bentley's user-friendly, effective, high quality modeling tools saved Geico significant time and costs.
Facts
Using Bentley software, Geico reduced the number of discrepancies by 30%, and modeling time by 20-25%, resulting in an estimated 20% cost savings compared to previous projects.


MicroStation and OpenBuildings Designer provided the team real-time access to required information enabling them to verify discrepancies throughout every phase of this EUR 62 million turnkey project.


The accuracy and reliability of Bentley's modeling environment facilitated an effective design process, dramatically reducing modeling times and discrepancies between the model and final deliverable.
Listen to the podcast where Geico discusses MicroStation's role in Manufacturing Facilities