Project
The city of Bydgoszcz wanted to revitalize its town center with strategic infrastructure investments – particularly in the Old Town and River Brda areas – while enhancing rural attractiveness of the vicinities. To meet the various demands, city planners needed a series of studies on the impact of planned development on the city's landscape. The goal of the project was to enable the reconstruction of the transport system and define acceptable dimensions for the new development.


Solution
Using MicroStation and Descartes, the Municipal Urban Laboratory of Bydgoszczy created a highly accurate virtual model of the city and used it to analyze the impact of various proposed investments (such as new buildings on visibility and the overall urban landscape), as well as restrictions related to the airport zone. Bentley software enabled them to integrate data from various sources such as geodetic, orthophotomap, and photogrammetric data for a more complete city model.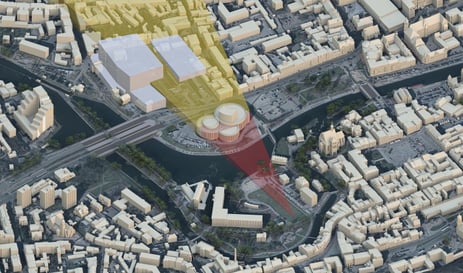 Image: Courtesy of Municipal Urban Laboratory of Bydgoszcz
Outcome
Using the 3D model, city planners were able to execute multiple versions of the city and analyze different scenarios for land development. This analysis was used to justify plans and support the authorities responsible for reconciling the project, such as the Historic Preservation Commission and the Commission of Architecture and Urban Planning.
Software
To meet the city's need for highly accurate 3D modeling and analysis, city planners used Descartes and MicroStation. Bentley software also accelerated the productivity of the project team and, thanks to seamless interoperability, streamlined 3D workflows that reduced the cost of integrating 2D and 3D documentation and models.
Facts
City planners were able to build a highly accurate city model quickly and efficiently from a wide range of data types.


Decision makers can make faster, more informed decisions regarding urban revitalization plans that will help to halt the exodus of people from center city.


Potential city investors and residents will be able to view the city model, analyze it, and make informed decisions about their own future investments.

"Bentley software provides a perfect environment for CAD projects focused on urban planning where a digital city model is needed. The software greatly improved interoperability between our departments and collaboration with investors interested in development projects in Bydgoszcz."
Anna Rembowicz-Dziekciowska
Director, Department of Urban Planning
Municipality of Bydgoszcz