First of all - who is using MicroStation?
MicroStation is used by architects, engineers and utility engineers.
Design teams are worldwide responsible for creating and managing a wide range of infrastructure projects, including roads, bridges, airports, hospitals, industrial and power plants, utility networks, and all kinds of buildings.



What is MicroStation?
MicroStation is a CAD software that users around the world trust for creating precise 2D and 3D drawings for infrastructure projects.
MicroStation's advanced parametric 3D modeling, visualization, and drawing capabilities enable infrastructure professionals from any industry of any size to deliver projects of any scale or complexity. Your team can collect their work on MicroStation, including designs and models created using Bentley's industry-specific BIM applications. As a result, you can create comprehensive multidisciplinary models, documentation, and other deliverables.
What makes MicroStation so unique?
Some users specify that it is a great CAD product that has evolved into the strongest available, mainly due to the ease of project creation and distribution. The ability to open DGN files that date back to the '90s as well as other formats is unbeatable.
But there are more advantages
You have the ability to scale MicroStation to meet your project's needs. Compared to competitors, MicroStation gives you the flexibility to work with file sizes that are usually only a fraction of comparable software. Also, the amounts of control for many of the elements is beyond comparison! Text styles, dimension styles, references, and line styles can be controlled and manipulated to the greatest extent. This enables you to easily use these objects.

Printing in MicroStation is the most reliable and predictable of any competitor's CAD product. At the same time, some shift the print from one user to another, even if the same printer is being used. Using MicroStation helps you overcome simple obstacles and yield the same results from printer to printer.

There are lots of tools that exist in other CAD platforms can be implemented in MicroStation. The ability to select an element and trigger a tool that would then select similar objects based on type, level, color, etc. This selection tool is very powerful and gives you various options to define your selection very precisely.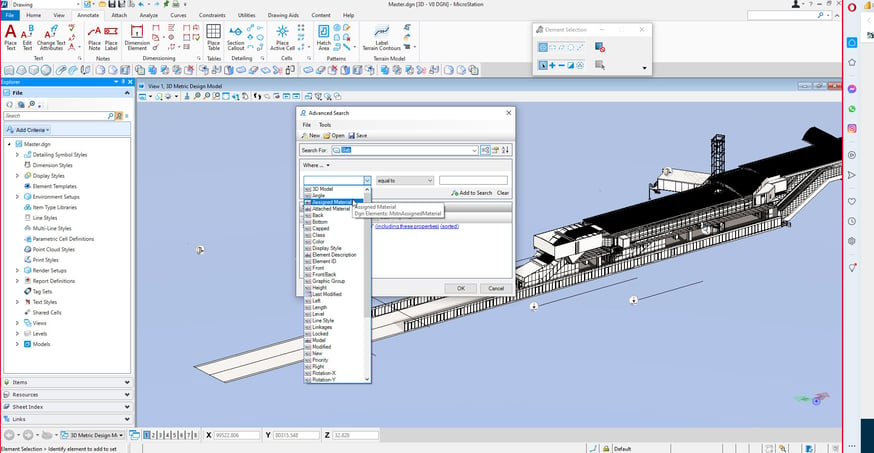 So, summarizing this up, we can say that MicroStation is a tool that you can use during your whole business life.
MicroStation is the most :
Customizable to user needs and multiply workflows.

Intuitive dialog tools.

Easy to learn.

Prepackaged with excellent tools to improve workflows and can emulate AutoCAD and work with DWG files in a MicroStation environment.

Comes with 2D & 3D tools and some GIS features,

Backward compatibility of old files, that is to say you can open DOS version DGN files from 25 years ago, and they still work in the current version.

MicroStation software allows us to open and convert AutoCAD files.
So – the answer on the "why-question" is obviously - MicroStation is no doubt the best software working for the development of 3D models.